STEFAN ORINS TRIO
THE MIDDLE WAY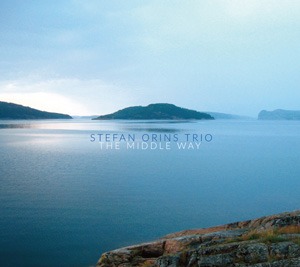 BUY / ACHETER
1 CD-Audio / Digifile 9 tracks / 51'15" Downloads included

10 €

FLAC HD / Lossless 1 Zip file / 940 Mo

5.00 €

mp3 / 320 Kbps CBR 1 Zip file / 101 Mb

5.00 €
Since 1996 and its first concerts in Lille, the trio of the Lille-born pianist Stefan Orins traces his way. "The Middle Way" is the fifth album of this adventure. More than 20 years of collaboration, a relatively rare thing in music that concurs with a desire to carry out a real background work, to persevere with this trio and "remain true to a spirit of freedom, beauty and authenticity". A guideline emerges through the recordings, a true coherence that has been built step by step.
EQUILATERAL TRIANGLE
Stefan Orins brings the compositions, and Peter and Christophe, however, have a large share of responsibility in establishing the shape of the pieces, which is not necessarily established in advance. "The compositions in themselves have always left a great place to the personality of each one, the music remains very free and can only be the reflection of the people who interpret it". The characters evolution made the compositions of the trio evolve. The music is not frozen: this trio has an equilateral operation like the trios of Bill Evans or Keith Jarret which are the assumed influences. "The three-way dialogue, the listening and the freedom of everyone to express themselves, have always been present. Music is never closed, constantly changing, concerts are essential until blossoming. The recording seeks to capture this moment of fulfillment. "
Stefan also easily quotes Charlie Haden and Paul Motian, Bobo Stenson, Michael Wollny or Craig Taborn.
BETWEEN THE VISIBLE AND THE INVISIBLE
With "The Middle Way" – the middle path – the trio seeks the way that harmonizes what is visible and invisible, always structures that are both simple and open, allowing the free flow of energies. Like all previous albums, there is a natural balance between material and spiritual.
The music evokes both the spaces and a certain warmth, the music remains alive and unexpected.
---
NOCES DE PORCELAINE
Depuis 1996 et ses premiers concerts lillois, le trio du pianiste lillois Stefan Orins trace sa route. « The Middle Way » est le 5ème disque de cette aventure. Plus de 20 ans de collaboration, chose relativement rare dans la musique et qui correspond à une envie de mener un vrai travail de fond, persévérer avec ce trio et « rester fidèle à un esprit de recherche de liberté, de beauté et d'authenticité. » Une ligne directrice se dégage au fil des albums, une vraie cohérence qui s'est construite pas à pas.
TRIANGLE ÉQUILATÉRAL
Stefan Orins apporte les compositions et Peter et Christophe ont cependant une large part de responsabilité dans l'établissement de la forme des morceaux, qui n'est pas forcément établie à l'avance. « Les compositions en elles-mêmes ont toujours laissées une grande place à la personnalité de chacun, la musique reste très libre et ne peut qu'être le reflet des personnes qui l'interprètent. » C'est l'évolution des personnalités qui a fait évoluer les compositions du trio. La musique n'est pas figée : ce trio a un fonctionnement équilatéral comme les trios de Bill Evans ou Keith Jarret qui sont les influences assumées. « Le dialogue à trois, l'écoute et la liberté de chacun à s'exprimer, ont toujours été présents. La musique n'est jamais figée, en constante évolution, les concerts sont essentiels jusqu'à la floraison. L'enregistrement cherche à capturer ce moment d'épanouissement. »
Stefan cite aussi facilement Charlie Haden et Paul Motian, Bobo Stenson, Michael Wollny ou Craig Taborn.
ENTRE LE VISIBLE ET L'INVISIBLE
Avec « The Middle Way » – le chemin du milieu – le trio cherche la voie qui harmonise ce qui est visible et invisible, toujours des formes à la fois simples et ouvertes permettant la libre circulation des énergies. Comme tout au long des précédents albums, il y a un équilibre naturel qui se crée entre le matériel et le spirituel.
La musique évoque à la fois les espaces et une certaine chaleur, la musique reste vivante et inattendue.
---
Recorded on February 21 and 22 2017 at home by Peter Orins. Mix : Peter Orins. Mastering : Philippe Tessier du Cros. Graphic design and photo by Stefan Orins.
Produced by Circum-Disc
Avalaible in CD, mp3 and FLAC HD (88.2 kHz/24 bits)
---
See also :

---