RENÉ LUSSIER
AU DIABLE VERT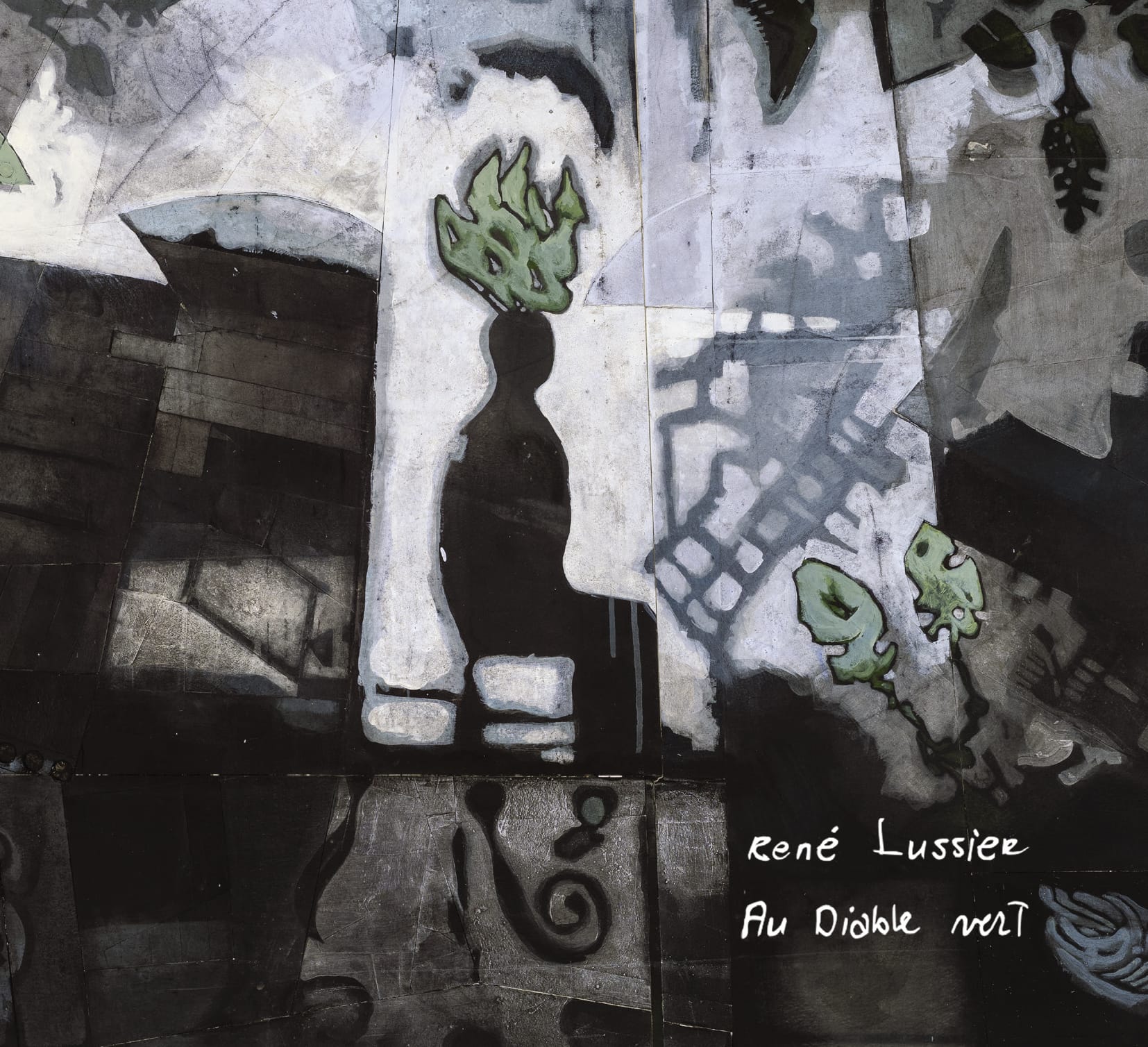 BUY / ACHETER
CD-Audio / Digifile

9 tracks / 48:14

Download included

12.00 €

FLAC 44kHz / 16 bits

1 Zip File / 330 Mo

5.00 €

mp3 320 kbps CBR

320 kbps CBR 1 Zip File / 150 Mo

5.00 €
For René Lussier, le diable vert is "a withdrawn place where Nature has kept or regained its rights; a place where you find yourself lost without really knowing when exactly you lost your bearings. I suppose this definition could also apply to my music. I would add a dimension of freedom: the joy of moving forward blindly and holding on until the end of the journey."
The project started with new compositions for the guitarist's quintet, with accordion, tuba, two drums and more, featuring Luzio Altobelli, Julie Houle, Robbie Kuster and Marton Maderspach. And then the pandemic struck and nothing went as planned.
Lussier says, "As the months of digital correspondence went by, the lineup changed to include new players: Guillaume Bourque and Alain Trudel. I also invited Koichi Makigami and Takashi Harada with whom the quintet had played in Tokyo, asked my friend Chris Cutler to read me one of his poems on the state of the world, recorded the musicians' voices the first time we met in the studio in 15 months, my therapist's and my own voices at our 13th session, the purr of the wandering tomcat coming to ask for kibble, and the bewitching songs of frogs when spring finally this remote place I call home. »
Born in Montreal in 1957, guitarist René Lussier is one of the leading figures in innovative Quebec music. He divides his practice between composition, improvisation, soundtrack, songwriting, directing and producing. He has produced some sixty film scores, the extraordinary soundtrack for Robert Lepage's Moulin à Images (2008-2012) and some thirty recordings, including Le Trésor de la langue, Grand prix Paul Gilson in 1989, a fresco on speech and history described as a masterpiece by critics and re-released on the English label Recommended Records in 2021. In recent years, he has composed for the stage, sounded installations by filmmaker Pierre Hébert, written for the ensembles Hard Rubber (Vancouver) and Bang on a Can (New York), and released the albums Reza et moi (2020) and Complètement marteau (2021). Since 2003, he has been living and working in the country, where he has built a working laboratory. His activity is as effervescent as ever, in the relentless pursuit of an eclectic approach guided by experimentation.
---
Pour René Lussier, le diable vert, c'est « c'est un lieu retiré où la nature a gardé ou repris ses droits ; un lieu où l'on se découvre égaré, sans trop savoir quand on a perdu ses repères. Je suppose que cette définition pourrait aussi s'appliquer à ma musique. J'ajouterais une dimension de liberté : la joie d'avancer à l'aveugle et de tenir bon jusqu'à la conclusion du voyage. »
À l'origine de ce projet sont de nouvelles compositions pour le quintette du guitariste, avec accordéon, tuba, deux batteries et plus encore, où on retrouve Luzio Altobelli, Julie Houle, Robbie Kuster et Marton Maderspach. Et puis la pandémie est arrivée et rien ne s'est passé comme prévu.
Lussier raconte : « Au fil des mois de correspondance numérique, les compositions se sont transformées pour accueillir de nouveaux joueurs : Guillaume Bourque et Alain Trudel. J'ai aussi invité Koichi Makigami et Takashi Harada avec qui le quintette avait joué à Tokyo, demandé à mon ami Chris Cutler de me lire un de ses poèmes sur l'état du monde, enregistré les voix des musiciens la première fois que nous nous sommes revus en studio après 15 mois, celle de mon psy et la mienne lors de notre 13e séance, le ronron du matou errant qui venait réclamer des croquettes et le chant ensorcelant des grenouilles quand le printemps est enfin arrivé au diable vert. »
Né à Montréal en 1957, le guitariste René Lussier est une des figures dominantes de la musique innovatrice québécoise. Il partage sa pratique entre la composition, l'improvisation, la trame sonore, la chanson, la réalisation et la production. On lui doit une soixantaine de musiques de film, l'extraordinaire bande sonore du Moulin à Images de Robert Lepage (2008-2012) et une trentaine de disques, dont Le Trésor de la langue, Grand prix Paul Gilson en 1989, une fresque sur la parole et l'histoire qualifiée de chef-d'œuvre par la critique et dont une réédition est parue sur l'étiquette anglaise Recommended Records en 2021. Au cours des dernières années, il a composé pour la scène, sonorisé des installations du cinéaste Pierre Hébert, écrit pour les ensembles Hard Rubber (Vancouver) et Bang on a Can (New York) et fait paraître les disques Reza et moi (2020) et Complètement marteau (2021). Depuis 2003, il vit et travaille à la campagne, où il s'est construit un laboratoire de travail. Son activité y est toujours aussi effervescente, à la poursuite inlassable d'une démarche éclectique guidée par l'expérimentation.
---
Compositions René Lussier 2022
Except Leçon de danse Robert M Lepage and René Lussier
Production, editing: René Lussier
Sound recording: Pierre Girard et René Lussier
Mixing: Pierre Girard
Mastering : Trillium sound
Graphic design: Julie Gauthier
Artwork: Louis-Pierre Bougie
Artwork photograph: Guy l'Heureux
Translation : François Couture
Available in CD-Audio / Digifile, FLAC 44kHz / 16 bits & mp3 320 kbps CBR
Produced by ReR Megacorp & Circum-Disc
---
See Also
---