RENÉ LUSSIER
COMPLÈTEMENT MARTEAU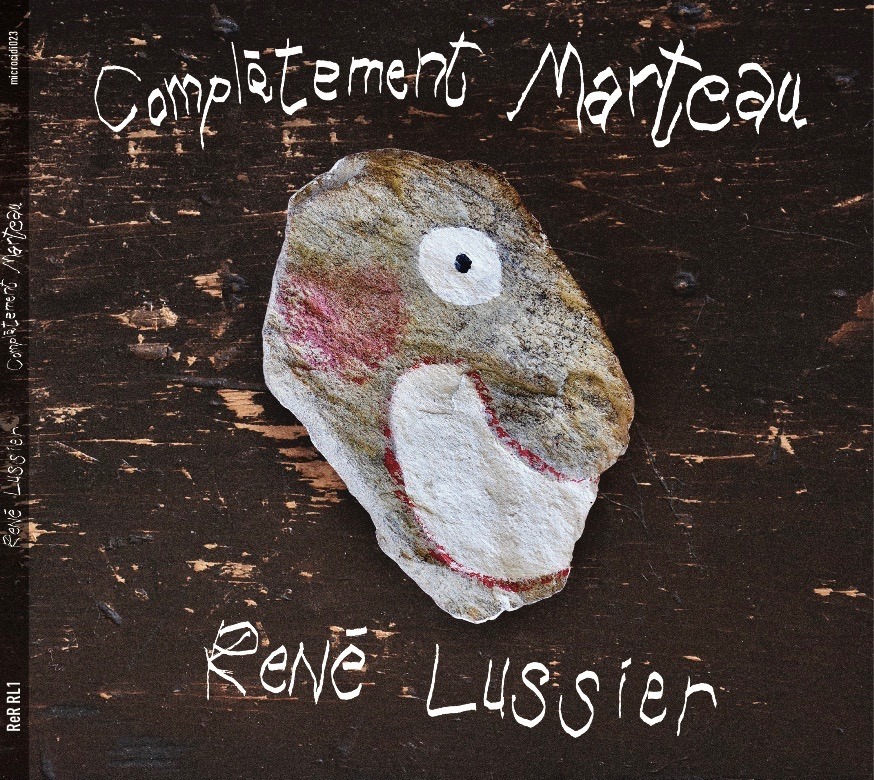 BUY / ACHETER
1 CD-Audio / Digifile

7 tracks / 49:47

Download included

12.00 €

FLAC 48 kHz / 24 bits

1 Zip File / 556 Mo

5.00 €

mp3 320 kbps CBR

320 kbps CBR 1 Zip File / 127 Mo

5.00 €
For René Lussier, this album is an unexpected assembly:
"I gathered four compositions from commissions to which I responded with a maximum of freedom. They all testify to a long process of gossiping and pecking. As a proud patentee of out-of-the-box music, I have grouped them together under the title Complètement marteau, as in crazy stiff, unbridled and surprising, but also as in handcrafted, patiently and laboriously, with my self-taught tools."
The Burletta series (2009) and the BanQ piece (2015) were recorded for a clown theater show and an architectural projection, respectively. Pour modifier vos options personnelles appuyez sur l'étoile * (quartet for guitars and electric toothbrushes, 2019) and Le clou (double bass quartet, 1999), were performed by the ensembles that commissioned them, but never recorded.
Despite the years between them, these pieces fit together easily, thanks to similar compositional processes. A pointillist approach runs through the album, with motifs divided among several voices, the sum of which draws the rhythmic and melodic phrases. All multi-movement pieces, they are interspersed here between the paintings of the Burletta suite, as if in a playful setting. BanQ and Burletta benefit from a large orchestration, with a whole lot of homemade percussions made of rubbing, mouth noises, cake spatulas, barbecue spits and styrofoam on a wet window. There is also the recurring and inimitable presence of the daxophone, an idiophone invented by the German musician Hans Reichel.
Born in Montreal in 1957, guitarist René Lussier is one of the leading figures in innovative Quebec music. He divides his practice between composition, improvisation, soundtrack, songwriting, directing and producing. He has produced some sixty film scores, the extraordinary soundtrack for Robert Lepage's Moulin à Images (2008-2012) and some thirty recordings, including Le Trésor de la langue, Grand prix Paul Gilson in 1989, a fresco on speech and history described as a masterpiece by critics. He has initiated or been a member of numerous ensembles that have allowed him to tour throughout the world, including with British musician Fred Frith (Nous autres, Keep the Dog, Fred Frith Guitar Quartet). René Lussier has received the Freddy Stone Award "…for his artistic integrity, innovative spirit and contribution to Canadian new music" and the Canada Council's Victor Martyn Lynch-Staunton Award "for outstanding achievement and excellence". In recent years, he has composed for the stage, sounded installations by filmmaker Pierre Hébert, written for the ensembles Hard Rubber (Vancouver) and Bang on a Can (New York), as well as for his own René Lussier Quintet (festivals and Japanese tour in 2018), with whom he is about to record a second disc. Since 2003, he has been living and working in the countryside, where he has built a working laboratory. His activity is as effervescent as ever, in the tireless pursuit of an eclectic approach guided by experimentation.
---
Pour René Lussier, cet album est un assemblage inattendu :
« J'ai réuni quatre compositions issues de commandes auxquelles j'ai répondu avec un maximum de liberté. Elles témoignent toutes d'un long processus de gossage et de picossage. En tant que fier patenteux de musique hors normes, je les ai regroupées sous le titre de Complètement marteau, comme dans fou raide, débridé et surprenant, mais aussi comme dans fabriqué à la main, patiemment et laborieusement, avec mes outils d'autodidacte. »
La série des Burletta (2009) et la pièce BanQ (2015) ont été enregistrées respectivement pour un spectacle de théâtre clownesque et une projection architecturale. Pour modifier vos options personnelles appuyez sur l'étoile * (quatuor pour guitares et brosses à dents électriques, 2019) et Le clou (quatuor de contrebasses, 1999), ont été jouées par les ensembles qui les avaient commandées, mais jamais enregistrées.
Malgré les années qui les séparent, ces pièces s'assemblent facilement, grâce à des procédés de composition similaires. Une approche pointilliste traverse l'album, avec des motifs répartis entre plusieurs voix dont la somme dessine les phrases rythmiques et mélodiques. Toutes des pièces à plusieurs mouvements, elles s'intercalent ici entre les tableaux de la suite Burletta, comme dans un écrin ludique. BanQ et Burletta bénéficient d'une large orchestration, avec tout un lot de percussions maison faites de frottements, de bruits de bouche, de spatules à gâteau, de broches à barbecue et de styromousse sur une vitre mouillée. On y retrouve également la présence récurrente et inimitable du daxophone, un idiophone inventé par le musicien allemand Hans Reichel.
Né à Montréal en 1957, le guitariste René Lussier est une des figures dominantes de la musique innovatrice québécoise. Il partage sa pratique entre la composition, l'improvisation, la trame sonore, la chanson, la réalisation et la production. On lui doit une soixantaine de musiques de film, l'extraordinaire bande sonore du Moulin à Images de Robert Lepage (2008-2012) et une trentaine de disques, dont Le Trésor de la langue, Grand prix Paul Gilson en 1989, une fresque sur la parole et l'histoire qualifiée de chef d'œuvre par la critique. Il a initié ou fait partie de multiples ensembles qui lui ont permis de tourner un peu partout dans le monde, entre autres avec le musicien britannique Fred Frith (Nous autres, Keep the Dog, Fred Frith Guitar Quartet). René Lussier a reçu le Freddy Stone Award  "…pour son intégrité artistique, son esprit novateur et son apport à la musique nouvelle canadienne" et le prix Victor-Martyn-Lynch-Staunton du Conseil des Arts du Canada "pour honorer les réalisations exceptionnelles et l'excellence". Au cours des dernières années, il a composé pour la scène, sonorisé des installations du cinéaste Pierre Hébert, écrit pour les ensembles Hard Rubber (Vancouver) et Bang on a Can (New York), ainsi que pour son propre Quintette René Lussier (festivals et tournée japonaise en 2018), avec lequel il s'apprête à enregistrer un deuxième disque. Depuis 2003, il vit et travaille à la campagne, où il s'est construit un laboratoire de travail. Son activité y est toujours aussi effervescente, à la poursuite inlassable d'une démarche éclectique guidée par l'expérimentation.
---
Recording: René Lussier #1-7
Mix: Martin M Messier #1, 2, 5, 6, 7
Mix: Gilles Gobeil #3, 4.
Mastering: Ross Murray
Graphic design: Julie Gauthier
Realization (and stone painting) : René Lussier
Available in CD-Audio / Digifile, FLAC 48 kHz / 24 bits & mp3 320 kbps CBR
Produced by René Lussier, ReR MEGACORP et Circum-Disc
---
See Also
---