LA PIEUVRE & CIRCUM GRAND ORCHESTRA
FELDSPATH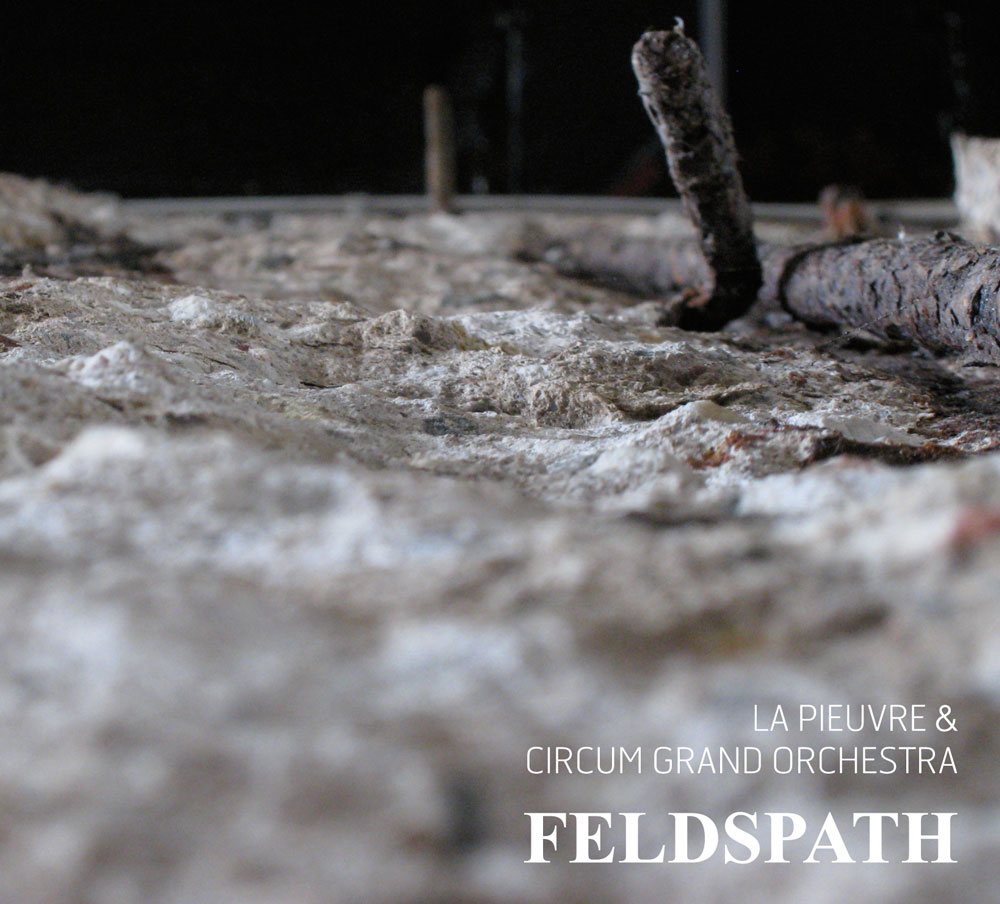 BUY / ACHETER
2 CD-Audio / Digifile 26 tracks / 110'28" Downloads included

10 €

FLAC / Lossless 1 Zip file / 777 Mo

5.00 €

mp3 / 320 Kbps CBR 1 Zip file / 339 Mo

5.00 €
---
OLIVIER BENOIT : COMPOSITION AND CONDUCTION
SAKINA ABDOU, VINCENT DEBAETS, JULIEN FAVREUILLE, JEAN-BAPTISTE PEREZ, JEAN-BAPTISTE RUBIN : SAXOPHONE
YANIK MIOSSEC, CHRISTOPHE ROCHER : CLARINET
NATHALIE GOUTAILLER, CHRISTOPHE MOTURY, CHRISTIAN PRUVOST : TRUMPET
SAMUEL CARPENTIER, CLAUDE COLPAERT : TROMBONE
MAXIME MOREL : TUBA
MARTIN HACKETT : MELODICA, FLUTE, VOICE
LUNE GRAZILLY, PATRICK GUIONNET : VOICE
DAVID BAUSSERON, SEBASTIEN BEAUMONT, IVANN CRUZ, PHILIPPE LENGLET : GUITAR
STEFAN ORINS : PIANO
BARBARA DANG, MARTIN GRANGER : KEYBOARD
PIERRE CRETEL, NICOLAS MAHIEUX : DOUBLE-BASS
CHRISTOPHE HACHE, STEPHANE LEVEQUE, ANTOINE ROUSSEAU : ELECTRIC BASS
NICOLAS CHACHIGNOT, JEAN-LUC LANDSWEERDT, PETER ORINS : DRUMS
---
Feldspath is a project unusual in bringing together two already large ensembles, La Pieuvre and Circum Grand Orchestra, 32 musicians in all, under the single direction of the composer, Olivier Benoit. More than a simple concert, Feldspath is an exhilarating spectacle to see as much as to hear, mixing tribal energy, dadaist humour, austere brilliance, studied refinement.
La Pieuvre, although a conducted improvisation ensemble, is quite ready from time to time to indulge in certain written forms, as their second CD 'Ellipse', issued in 2007, can attest. The Circum Grand Orchestra is one of those contemporary jazz orchestras looking eagerly at a wide range of musical aesthetics – rock, improv, free etc. Olivier Benoit, who directs La Pieuvre and composes for CGO, has written the music for Feldspath, drawing on the characteristics of both ensembles. The piece brings together more than 30 musicians.
"The project here is to bring together two large ensembles with different musical trajectories, to create a music which will exist at the boundary between a number of disciplines. Rather than meld the two groups into one, the sound and the particularities of each are left distinct, so that the two play simultaneously or in alternation within one musical unity. La Pieuvre keeps its character as an orchestral body, conducted as usual, and integrated into a form where the written music (in the traditional sense of the term), rhythmic or not, is entrusted to the CGO. On the other hand, the composition takes account of the fact that both ensembles are made up of improvisers, with their respectively different aesthetics. It is a matter of exploiting the signal capacities of each ensemble and each player, while always avoiding a music which is simply a mixture or superimposition of two styles." Olivier Benoit



Projet hors du commun, Feldspath réunit deux orchestres d'envergure : la Pieuvre et Circum Grand Orchestra soit un total de 32 musiciens, autour de la direction et de la composition d'Olivier Benoit. Plus qu'un concert, Feldspath est un spectacle jubilatoire à voir autant qu'à entendre, mêlant énergie tribale, humour dadaïste, austérité radieuse, savante finesse.
La Pieuvre est un orchestre d'improvisation dirigée qui n'hésite pas à s'adonner parfois à certaines formes d'écriture comme en atteste son deuxième disque paru en 2007 (Ellipse). Le Circum Grand Orchestra fait partie de ces orchestres de jazz contemporain qui lorgnent avec avidité sur de nombreuses esthétiques musicales : rock, musique improvisée, free, etc… Olivier Benoit, qui dirige la Pieuvre et compose pour le Circum Grand Orchestra a écrit la musique de Feldspath, tirant parti des caractéristiques propres à chaque orchestre. Cette création réunit plus de 30 musiciens !
« Le projet est ici de réunir 2 orchestres d'envergure qui évoluent dans des registres musicaux différents, pour créer une musique qui est à la frontière entre plusieurs esthétiques. Plutôt que de réunir ces deux ensembles en un, il s'agit de conserver les propriétés et le son de chaque orchestre et donc de faire jouer simultanément ou alternativement les deux orchestres au sein d'une même musique. La Pieuvre tout en gardant ses propriétés de masse orchestrale est dirigée comme à l'habitude et s'intègre dans une musique dont l'interprétation de la musique écrite (au sens traditionnel du terme), rythmique ou non, est confiée à Circum Grand Orchestra. Par ailleurs, la composition tient compte du fait que les deux orchestres ont pour membres des improvisateurs, mais dans une esthétique différente. Il s'agit d'exploiter les capacités propres à chaque orchestre et à chaque membre, tout en évitant une musique qui ne ferait que mélanger ou superposer deux styles musicaux. » Olivier Benoit



Recorded at La rose des vents (F) by Boris Darley. Mixing and editing at Studio Sextan (F) by Boris Darley and Olivier Benoit. Mastering Marwan Danoun (Galaxy Studios – B)



Produced by Circum-Disc and Muzzix, with the support of MFA



see also :
---