WEI3 – SINGLA/GARBOWSKI/ORINS
KALIKO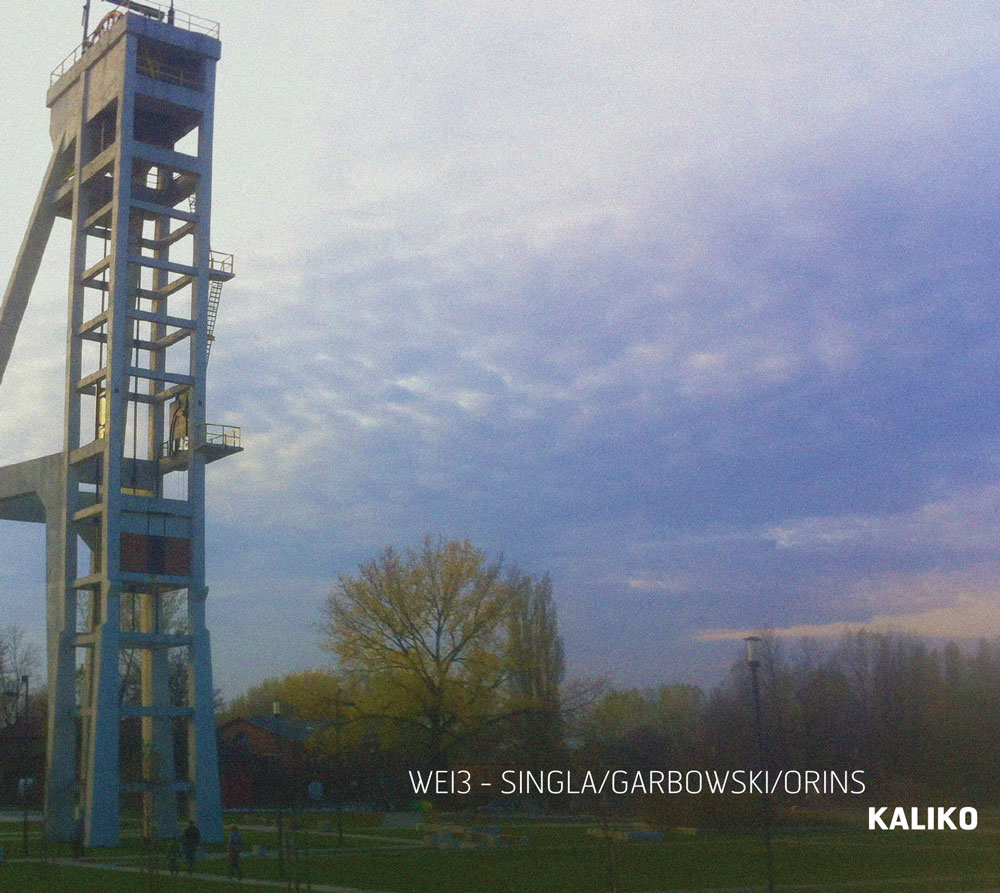 BUY / ACHETER
1 CD-Audio / Digifile 10 tracks / 50'12" Downloads included

8 €

FLAC / Lossless 1 Zip file / 322 Mb

5.00 €

mp3 / 320 Kbps CBR 1 Zip file / 144 Mb

5.00 €
Wei 3 is a trio founded in Katowice (Poland) in November 2013, with the German pianist Jarry Singla, Polish double-bass player Maciej Garbowski and the French drummer Peter Orins. Symbol of the cooperation between those 3 countries, also called Weimar Triangle, this no-leader trio is the result of all the influences of its musicians : indian tradition, european (popular, classical, free…), jazz, eletronic music…
This first release, recorded in Cologne (Germany) in June 2015, reflects this diversity, offering a jazz anchored in modernity, where electronic sounds meet the deepness of the piano and the double-bass, where composition easily mixes with total improvisation.
Jarry Singla is an Indo-German pianist. His music combines European musical traditions not only with a variety of jazz-styles, but also with classical and folk music drawn from non-European musical cultures. He's part of several projects mixing those cultures. Maciej Garbowski is a Polish double-bass player, with a strong classical background. He founded the RGG trio and he can be heard in lots of projects with Tomasz Stanko, Terje Rypdal, Jon Fält, Maciej Obara or Anders Jormin and Lena Willemark. Peter Orins is a drummer, one of the founders of the French collective Muzzix. He's part of several projects of the collective, from jazz to free music, experimental or contemporary music. He can be heard with the quartet Kaze (Satoko Fujii, Natsuki Tamura, Christian Pruvost) or the trio Toc (Jérémie Ternoy, Ivann Cruz).
---
Wei 3 est un trio créé à Katowice (Pologne) en novembre 2013 autour du pianiste allemand Jarry Singla, du contrebassiste polonais Maciej Garbowski et du batteur français Peter Orins. Symbolisant la coopération qui lie ces 3 pays, également appelée Triangle de Weimar, ce trio sans leader est la somme de toutes les influences de ses musiciens : tradition indienne, européenne (traditionnelle, savante, libre…), jazz, électroniques…
Ce premier album, enregistré en juin 2015 à Cologne (Allemagne) présente cette diversité, distillant un jazz ancré dans la modernité, où les sons électroniques rencontrent la profondeur du piano et de la contrebasse, où l'écriture se mêle habilement à l'improvisation la plus totale.
Jarry Singla est pianiste, allemand d'origine indienne. Sa musique mélange le jazz européen avec ses influences classiques et traditionnelles, et les traditions extra-européennes, notamment indienne. Il est à l'origine de nombreux projets qui mixent toutes ces cultures. Maciej Garbowski, contrebassiste polonais de tradition classique, est membre fondateur du trio RGG, au jazz minimaliste et aérien, et on le retrouve dans de nombreux projets, notamment avec Tomasz Stanko, Terje Rypdal, Jon Fält, Maciej Obara ou encore Anders Jormin et Lena Willemark. Peter Orins est batteur, membre fondateur du collectif Muzzix. On le retrouve dans de nombreux projets du collectif, allant du jazz au free en passant par les musiques expérimentales et contemporaines. On peut l'entendre notamment dans le quartet Kaze avec Satoko Fujii, Natsuki Tamura et Christian Pruvost, ou encore le trio Toc avec Jérémie Ternoy et Ivann Cruz.
---
Recorded on June 8 and 9 -2 015 at Topaz Studios (Cologne – D) by Reinhard Kobialka. Mix, edit, mastering : Reinhard Kobialka. Graphic design and photo : Peter Orins.
Produced by Circum-Disc with Muzzix.
Available in CD, FLAC and mp3
---