FALTER BRAMNK
GLASSICAL MUSIC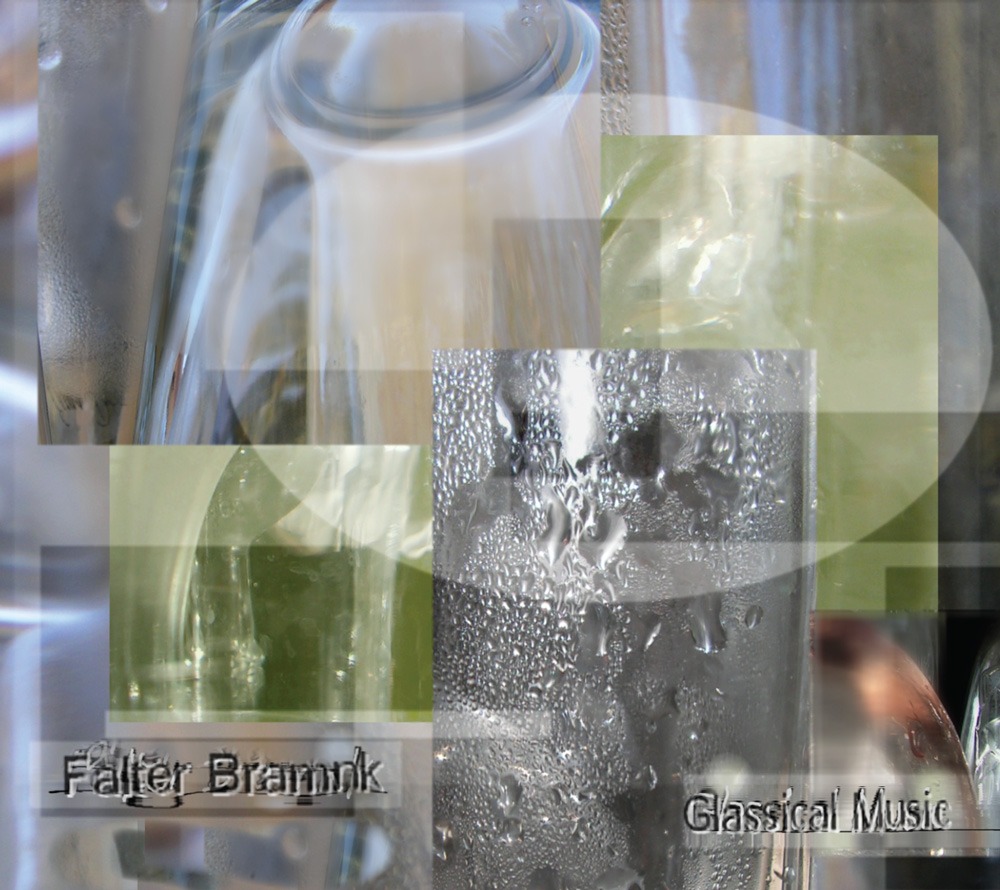 BUY / ACHETER
1 CD-Audio / Digifile 11 tracks / 47'59" Downloads included

8 €

FLAC / Lossless 1 Zip file / 232 Mo

5.00 €

mp3 / 320 Kbps CBR 1 Zip file / 105 Mb

5.00 €
The project "Glassical Music" is born from an astonishing hearing sensation, barely perceptible, coming from returned glasses rinsed with hot water.
The resulting phenomenon of condensation reveals, between water, air and glass, the presence of specific timbric textures and continuous rhythmic patterns, quite different according to the choice of containers (glasses, bottles, and by extension of the materials: plastic or metal).
Glass and water vapour are thus the only sound materials used, and less so with the intention of making them heard for themselves than in a desire for composition.
French composer, improvisor, sound designer and sound editor, Falter Bramnk lives and works in Lille (France). Musical education: studied piano and singing. Activities: starts with music for theater, video art, then contemporary dance and at present mainly short films (fiction and animated).
Plays and composes with live bands (currently the band Grand Orchestre de Muzzix), also live music with silent films and involved in multi-instruments solo projects and sound art (sound-portraits and phonographies). Co-founder of MUZZIX, DJ on the radio show "Opposition de phase" on RCV.99.FM since 1998.
---
Le projet "Glassical Music" est né d'une étonnante sensation auditive à peine perceptible provenant de verres retournés rincés à l'eau chaude.
Le phénomène de condensation qui en résulte révèle entre l'eau, l'air et le verre la présence de textures timbriques spécifiques et de motifs rythmiques continus assez différents selon le choix des contenants (flacons, verres, bouteilles, et par extension des matières : plastique ou métal).
Verre et vapeur d'eau constituent ainsi les seules matières sonores utilisées, et ce, moins dans l'intention de les faire entendre pour elles-mêmes que dans une volonté de composition.
Falter Bramnk étudie un temps le piano au conservatoire puis d'autres instruments en autodidacte et découvre la musique électro-acoustique.
Abandonne tout pendant quelques années puis, parallèlement à des études de filmologie, retourne à la musique des notes et des sons.
Compositeur, improvisateur, sound-designer et monteur son, il vit et travaille à Lille, d'abord pour le théâtre professionnel puis la danse contemporaine et depuis 2003 principalement pour le court-métrage, de fiction et surtout d'animation (la plupart primés dans de nombreux festivals internationaux). A enregistré divers projets solo sur divers labels (Gazul, Acidsoxx, Trace, Organic, Snowdonia…), joué dans plusieurs formations de musiques improvisées et en ciné-concerts. Actuellement, joue et compose pour le Grand Orchestre de Muzzix. A réalisé également près de 70 portraits sonores et diverses phonographies / journaux sonores (Gruenrekorder, Herbal International). Co-fondateur du CRIME en 1997, aujourd'hui MUZZIX. Anime depuis 1998 l'émission "Opposition de phase" sur RCV. 99FM
---
48 : 33 – 11 titles (2017). All compositions by Falter Bramnk.
Liner notes : All sounds heard on this recording are the direct (and intentional) result of water vapour condensation formed inside glass containers (bottles, glasses). Then they were somewhat mixed and edited together without compression nor other effects.
Avalaible in : CD (digifile cover), mp3, FLAC
---
See also :

---