MÜLLER/NORMAND/VRBA
TRICHE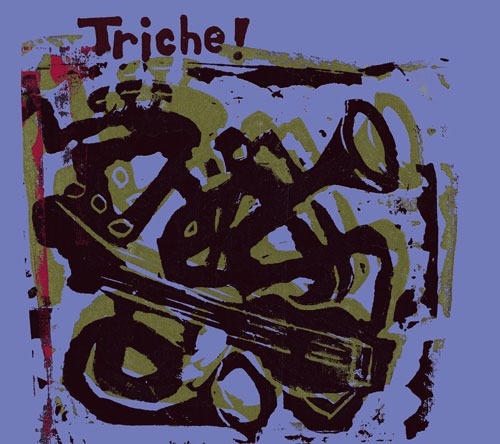 BUY / ACHETER
1 CD-Audio / Digifile 10 tracks / 52'16" Downloads included

10.00 €

FLAC / Lossless 1 Zip file / 505 Mo

5.00 €

mp3 320 Kbps CBR 1 Zip file / 95 Mo

5.00 €
Triche brings together three well experienced improvisers naturally blending their unique musical languages. Recorded in Vienna, their reunion is totally improvised, without concept or preparation, and let place to all kind of influences, ranging from minimalist jazz to chamber punk.
Matthias Müller commands his instrument extraordinarily well using all kinds of mutes and circular breathing as well as extended techniques like overtones and overblowing. Éric Normand uses his radical playing on a homemade electric bass, creating electric flux interrupted by the instrumental gesture. Petr Vrba is placing his trumpet in new contexts, blending acoustic and electronic in connexion with the magic of the acoustic experience.
Concentrated on the essence, the trio creates detailed and energic structures with an elaborate sonic vocabulary reaching a radical clarity in transitions of dense to porous episodes and tension to release.
---
Le trio Triche réunit trois improvisateurs d'expérience qui proposent une rencontre naturelle entre leurs langages respectifs. La musique a été entièrement improvisée lors d'un rendez- vous à Vienne en juin 2019 et laisse place à toutes les influences, du jazz minimaliste au punk chambriste.
Matthias Müller commande extraordinairement son instrument en utilisant toutes sortes de sourdines et de respirations continues ainsi que des techniques étendues comme les harmoniques et l'overblowing. Éric Normand utilise son jeu radical sur une basse électrique faite maison, créant un flux électrique interrompu par le geste instrumental. Petr Vrba place sa trompette dans de nouveaux contextes, mêlant acoustique et électronique en lien avec la magie de l'expérience acoustique.
Concentré sur l'essentiel, le trio crée des structures détaillées et énergiques avec un vocabulaire sonore élaboré atteignant une clarté radicale dans les transitions d'épisodes allant du dense au poreux et de tension à libérer.
---
Recorded at Studio Amann (Vienne – AT) by Christoph Amann on June 7 2019.
Edit and mix : Michel F. Côté.
Linocut : Éric Normand.
Graphic Design : Marie-Pierre Morin
Available in CD (digifile cover), FLAC and mp3
Produced by Tour de Bras & Circum-Disc
---