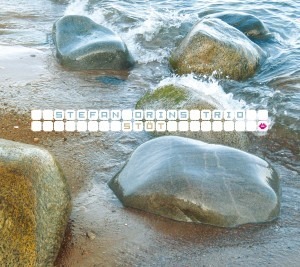 BUY / ACHETER
1 CD-Audio / Digifile
9 tracks / 49'17"
Downloads included
7 €
FLAC / Lossless
Zip file / 269 Mo
5.00 €

mp3 / 320 Kbps CBR 1 Zip file / 148 Mo

5.00 €
The new album of 'Stefan Orins Trio' is called 'Stöt' – 'impulse' in Swedish. Spontaneity has been made a point of honour. Thanks to its fourteen years of existence, the threesome has just published its third album.
Following 'Natt Resa' (2004) and 'Bonheur Temporaire' (2006), 'Stöt' is a delightful mix of complex, melodious and intuitive compositions all at once. The ensemble comes across as a sensitive and energetic unit. It keeps on exploring the three musicians' liberty, space, interactivity and creativity. On this album, the piano player Stefan Orins offers us nine new compositions. It's absolutely worth discovering this new piece of craftsmanship!
"(…) Nothing is superfluous, everything is rightly measured. The accuracy in their triangular conversation, with its free-flowing ideas conjugates with the omnipresent desire to share the deeper meaning (…)" Matthieu Devert (Jazz Magazine)
"(…) they play soundly; the threesome sets and is connected, but that's not what is most important. It's most important to experience that during the performance, the three guys really join up, they let the music come and rise, they finish off higher than they have started (…)" Francis Marmande (Le Monde)

Le nouvel album du Stefan Orins Trio s'intitule « Stöt », « impulsion » en suédois. La spontanéité y est ainsi à l'honneur.
Le trio, fort de ses quatorze années d'existence, publie donc son troisième album, après « Natt Resa » en 2004 et « Bonheur Temporaire » en 2006, « Stöt » est un savoureux mélange de compositions à la fois complexes, mélodiques et intuitives.
L'ensemble résonne comme une masse sensible et énergique. Le trio continue d'explorer la liberté, l'espace, l'interactivité et la créativité des trois musiciens.
Le pianiste Stefan Orins signe ici neuf nouvelles compositions. À découvrir absolument !
« (…) Rien n'est gratuit, tout est bien mesuré. Et que de justesse dans ces conversations triangulaires où la libre circulation des idées est sous-tendue par la volonté permanente d'en partager le sens profond (…) » Matthieu Devert (Jazz Magazine)
«  (…) En fait, ils jouent bien, le trio prend bien, il est lié, mais l'important n'est pas là. L'important, c'est qu'au fil de la prestation les trois garçons se rejoignent vraiment, laissent venir et monter la musique, finissent plus haut qu'ils n'ont commencé (…) » Francis Marmande (Le Monde)
Enregistré et mixé en Juillet 2010 par Benjamin Mraz au Studio Ka à Faches Thumesnil (59). Masterisé par Raphaël Jonin.
---
See also :

---