STEFAN ORINS TRIO
BONHEUR TEMPORAIRE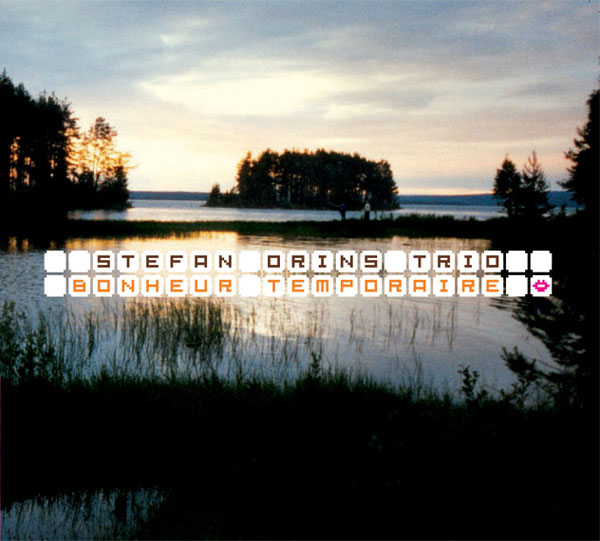 BUY / ACHETER
1 CD-Audio / Digifile 12 tracks / 51'23" Downloads included

5.00 €

FLAC / Lossless 1 Zip file / 302 Mo

5.00 €

mp3 / 320 Kbps CBR 1 Zip file / 144 Mo

5.00 €
Taking its inspiration from Scandinavian landscapes, Stefan Orins's pieces mix harmony, density and energy. Behind the pianist's tunes, which indicate paths to follow rather than compositions in the classical sense, hides a very northern sensibility which suggests the spark of life contained in every little thing. His Swedish roots provide the inspiration that give this music its sense of space and its aerial quality, reminding the listener of Keith Jarrett in the 70s, of Bobo Stenson, or of John Taylor. The group goes beyond the traditional clichés of the piano-bass-drums trio, by putting the communication between musicians at the forefront. The energy flows; spontaneity, lyricism, and simplicity are the keywords here.


Une tempête d'émotions souffle sur une petite mélodie qui résonne comme un air traditionnel… Et la poésie s'élève de ce trio en harmonie constante… Un piano aérien, une basse lumineuse, la batterie enivrante, une musique dense qui nous transporte loin, vers les sommets de notre imagination. Derrière les mélodies de Stefan Orins, qui indique des chemins à suivre plus que des compositions au sens classique du terme, se cache une sensibilité qui suggère l'étincelle de vie contenue dans chaque chose. Une merveille de pureté pour le plus grand plaisir des sens.
Après un premier album remarqué en 2004 (Natt Resa – Circum-Disc) et une série de concerts en 2005, notamment dans les festivals adhérant à l'AFIJMA (Paris Jazz Festival, Cluny, Nevers, les Django d'Or, Festival de Jazz de Tourcoing, Reims, …), le Stefan Orins Trio sort son deuxième album « Bonheur Temporaire ». Il renouvelle la forme du trio piano-contrebasse-batterie avec un sens de la mélodie et une complicité hors du commun. Avec des titres inspirées notamment de la philosophie bouddhique, Stefan Orins propose une musique sensible et énergique, improvisée et lyrique. A découvrir absolument !
Enregistré au Studio Ka à Faches Thumesnil du 30 janvier au 1er février 2006 par Benjamin Mraz, mixé et monté en février 2006 au Studio Ka par Benjamin Mraz. Mastering chez Dyam Music à Paris par Raphaël Jonin.
---
See also :

---