STEFAN ORINS TRIO
OCTOBER 11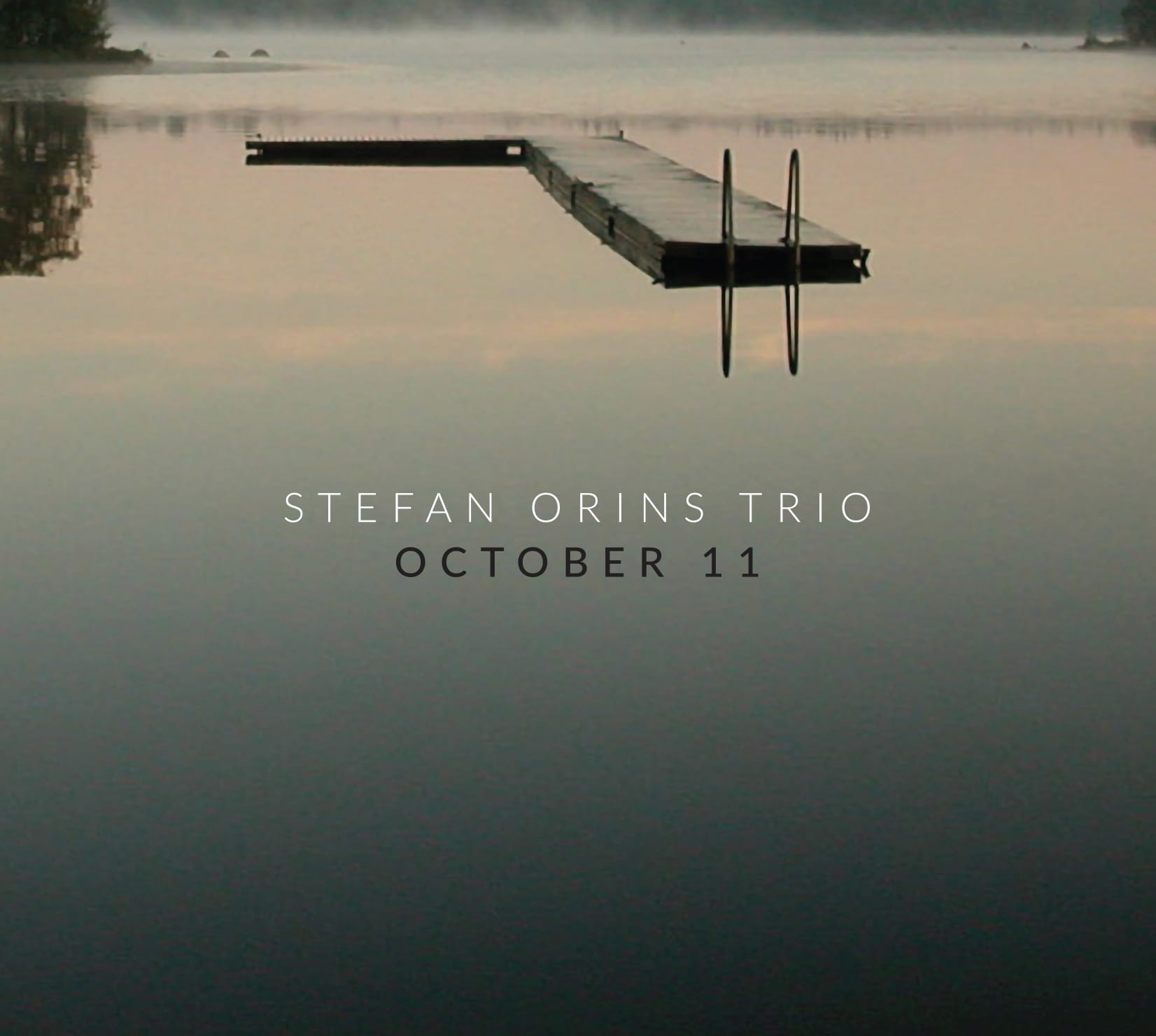 BUY / ACHETER
1 CD-Audio / Digifile

7 tracks / 49:47

Download included

10.00 €

FLAC 96kHz / 24 bits

1 Zip File / 1,17 Go

5.00 €

mp3 320 kbps CBR

320 kbps CBR 1 Zip File / 148 Mo

5.00 €
October 11, 2021, 25 years after the recording of its first demo, the Stefan Orins Trio performs at the Tourcoing Jazz Festival, which supports the group since its beginnings.
Recording of a concert celebrating the 25th anniversary of this trio from Lille. The repertoire consists of old compositions, others more recent and a new piece.
The audience was there, warmly feeding the artists on stage, despite the sanitary restrictions imposing the wearing of masks.
Natt Resa and Fjell Luft were featured on the first album, released in 2004, an album that was hailed at the time by the French press and that would take the trio well beyond the regional borders. The Hindu, the only unreleased track on the album, was inspired by the pianist's various tours in South India as part of the Franco-Indian project "Nandi". The Hindu refers to the newspaper and its exotic content, at least through the prism of a French-Swedish…
Pétales au Vent and Wangari Maathaï, taken from the fifth album "The Middle Way", have a particular resonance on this day. Pétales au Vent is dedicated to the Buddhist philosopher, author, educator, poet and advocate of nuclear disarmament, Daisaku Ikeda who, precisely 60 years to the day, on October 11, 1961, set foot on French soil for the first time.
The concert ends with Taplow Court, from the third album "Stöt", energetic and lyrical which ends on a rhythmic ostinato where the two brothers dialogue until the point of rupture.
The audience calls the trio back to the stage, which performs "För", from "The Middle Way": the song dedicated to their friend Christophe Motury, who passed away in April 2019, is particularly charged with emotion that night…
---
11 octobre 2021, 25 ans après l'enregistrement de sa première maquette, le Stefan Orins Trio se produit au Tourcoing Jazz Festival, qui soutient le groupe depuis ses débuts.
Enregistrement d'un concert célébrant le 25ème anniversaire de ce trio Lillois. Le répertoire est constitué d'anciennes compositions, d'autres plus récentes et d'un morceau inédit.
Le public était au rendez-vous, nourrissant chaleureusement les artistes sur scène, malgré les restrictions sanitaires imposant le port du masque.
Natt Resa et Fjell Luft figurent sur le premier album, sorti en 2004, album salué à l'époque par la presse hexagonale et qui mènera le trio bien au delà des frontières régionales. The Hindu, seul titre inédit de l'album, est inspiré par les différentes tournées du pianiste en Inde du sud au sein du projet franco-indien « Nandi ». The Hindu fait référence au journal et à son contenu exotique, du moins à travers le prisme d'un franco suédois…
Pétales au Vent et Wangari Maathaï, extraits du cinquième album « The Middle Way », ont une résonance particulière ce jour là. Pétales au Vent est dédié au philosophe bouddhiste, auteur, éducateur, poète et avocat du désarmement nucléaire, Daisaku Ikeda qui, précisément 60 ans jour pour jour, le 11 octobre 1961, foulait le sol français pour la première fois.
Le concert se termine par Taplow Court, issu du troisième album « Stöt », énergique et lyrique qui se termine sur un ostinato rythmique où les deux frères dialoguent jusqu'au point de rupture.
Le public rappelle le trio sur scène, qui interprète « För », issu de « The Middle Way » : le morceau dédié à leur ami Christophe Motury, disparu en avril 2019, est particulièrement chargé d'émotion ce soir là…
---
Compositions: Stefan Orins
Recorded live at l'Hospice d'Havré in Tourcoing (F) on October 11 – 2021 by Vincent Leignel & Peter Orins.
Mix & mastering: Peter Orins
Cover photo & graphic design: Stefan Orins
Available in Audio-CD / Digifile, FLAC 96kHz / 24 bits & mp3 320 kbps CBR
Produced by Circum-Disc
---
See Also

---