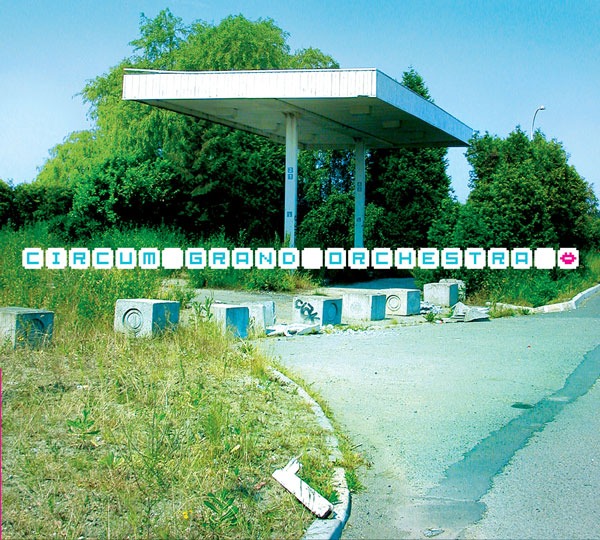 BUY / ACHETER
1 CD-Audio / Digifile 9 tracks / 60'02" Downloads included

5.00 €

FLAC / Lossless 1 Zip file / 408 Mo

5.00 €

mp3 / 320 Kbps CBR 1 Zip file / 177 Mo

5.00 €
CIRCUM GRAND ORCHESTRA is indeed not your ordinary jazz band. When the twelve musicians from CIRCUM, a variable-shaped posse, join forces, you get a double rhythm section (two guitars, two basses, two drums and a piano), reinforced by a powerful wind/brass section of five, and a repertoire which goes from free-form jazz to saucy songs. The result is intense music with a rock'n'roll energy, a music that dares to play, and to free itself from stylistic bonds.
This out-of-the-ordinary band was bound to make an extraordinary record: born from their meeting with singer CHARLENE MARTIN, this is the result of a year-long work on the song format, and more precisely on French chanson (a definite style in itself), a new territory for a music that was mainly instrumental.
The challenge behind this music, written in 2004 by OLIVIER BENOIT, SEBASTIEN BEAUMONT, CHRISTOPHE HACHE et PETER ORINS, was to offer new and contemporary vocal jazz, without any compromise, and with the legacy of free jazz and rock'n'roll in mind.


Formation exceptionnelle, CIRCUM GRAND ORCHESTRA l'est assurément : les 12 musiciens de CIRCUM, collectif à géométrie variable, double section rythmique (2 guitares, 2 basses, 2 batteries et un piano) appuyée par cinq vents des plus énergiques, des compositions riches et variées qui vont du jazz le plus expérimental à la chanson délurée. Tout cela donne une musique dense et rock'n'roll, qui n'hésite pas à se jouer d'elle-même et à s'affranchir de toute contrainte stylistique.
Disque exceptionnel donc, fruit de la rencontre avec la chanteuse CHARLÈNE MARTIN et aboutissement d'un travail autour de la chanson dans cette musique à priori instrumentale.
Créée en 2004, la musique écrite par OLIVIER BENOIT, SÉBASTIEN BEAUMONT, CHRISTOPHE HACHE et PETER ORINS s'est donnée comme défi de proposer un jazz chanté neuf et contemporain, sans compromis, avec à l'esprit l'héritage du free-jazz et du rock'n'roll. Quatre des neuf morceaux du disque sont portés par des textes de jeunes auteurs (SOLVEIG GODELUCK, BARNABÉ MONS, SÉBASTIEN BEAUMONT) ou d'un poète de renom ("Debout" de GUILLEVIC).
---
See also :
---