BRÛLEZ LES MEUBLES
L'APPEL DU VIDE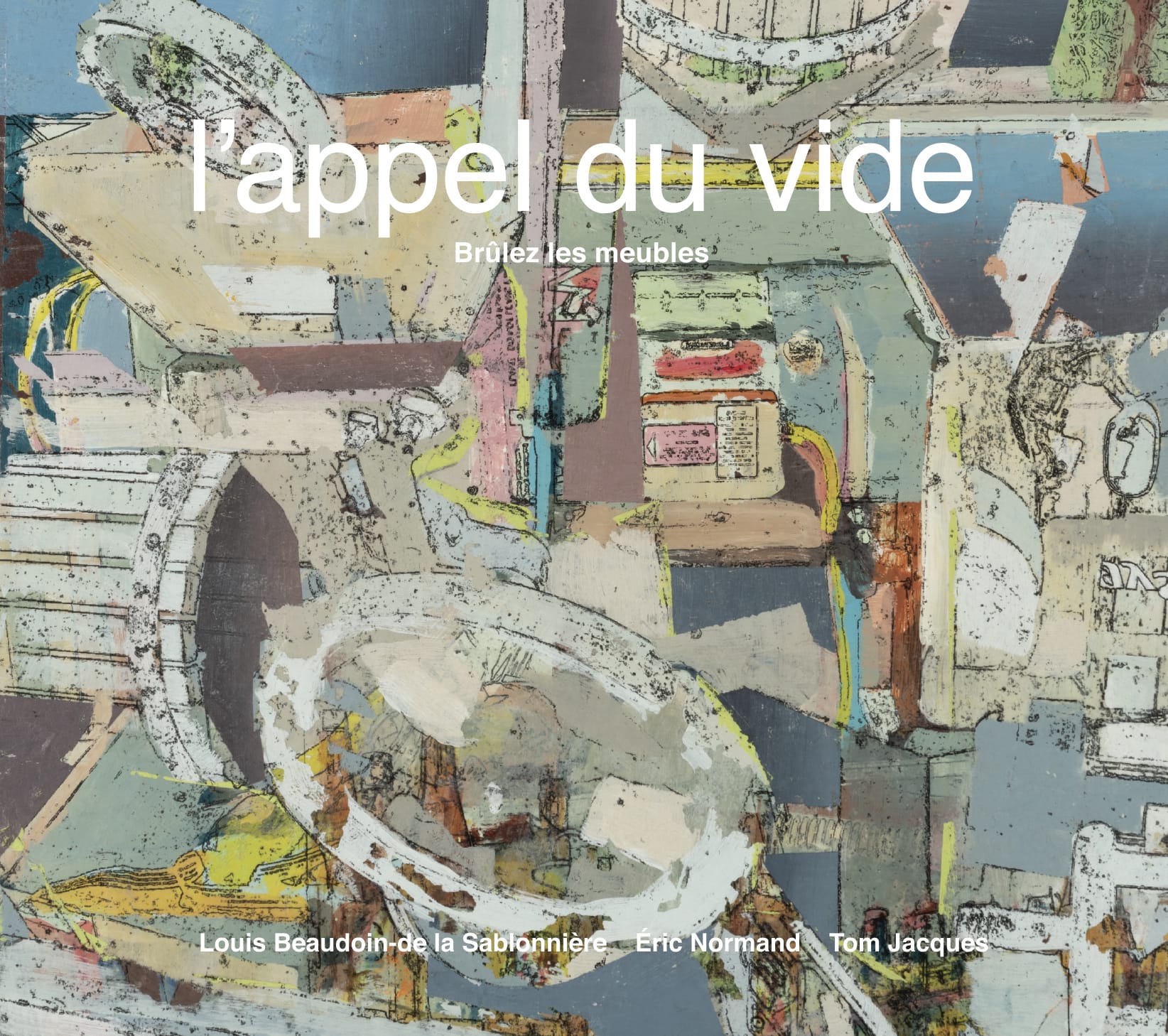 BUY / ACHETER
1 CD-Audio / Digifile

9 tracks / 50:05

Download included

10.00 €

FLAC 44.1kHz / 16 bits

1 Zip File / 553 Mo

5.00 €

mp3 320 kbps CBR

1 Zip File / 158 Mo

5.00 €
Brûlez les meubles is a two-headed musical project imagined by Louis Beaudoin-de la Sablonnière and Éric Normand.
Éric and Louis have known each other for many years and share an interest in each other's creations despite the fact that they evolve in very different genres and backgrounds and that they live more than 500 km from each other. In addition to liking to improvise together, the two composers are records aficionados and share passion for contemporary jazz, among others.
Each time they meet, they invite different musicians to explore their musical universe, to give life to the melodic and simple compositions that they both prepare with pencil during the months that separate their meetings.
In trio or quartet, BLM has seen Jean Derome, Alexandre Robichaud and Félix Hamel pass through its ranks in addition to drummers Tom Jacques, Louis-Vincent Hamel and John Hollenbeck. The music of the ensembles is both modern and simple, abstract, but meditative and nourished by a common passion for the jazz guitar, from Jim Hall to Bill Frisell, from Rene Thomas to Brandon Ross.
In the fall of 2022, the group will release 2 albums:
Tardif, in quartet with Jean Derome (alto saxophone and flute) and John Hollenbeck (drums)
L'appel du vide, in trio with Tom Jacques (drums)
Tom Jacques
Tom Jacques is a multi-instrumentalist and sound artist. His work evolves between composition, improvisation, performance and sound device design, mainly in actuelle music, contemporary music and jazz. For the last 8 years, he has been working with various artists and technicians in order to make his own musical instruments and sound installations. This approach allows him to explore unique musical universes that are unattainable with conventional instruments. Tom Jacques stands out among Quebec's new breed of creative artists. Many of his personal projects and musical ensembles have been acknowledged and supported by the Conseil des Arts et Lettres du Québec through its Bas-Saint-Laurent arts and literature program and its Bas-Saint-Laurent territorial partnership program.
---
Brûlez les meubles est un projet musical bicéphale imaginé par Louis Beaudoin-de la Sablonnière et Éric Normand.
Éric et Louis se connaissent depuis de nombreuses années et partagent un intérêt pour la création de l'autre malgré le fait qu'ils évoluent dans des genres et milieux fort différents et qu'ils vivent à plus de 500 km l'un de l'autre. En plus d'aimer improviser ensemble, les deux compositeurs partagent une boulimie discographique et une passion pour le jazz contemporain (entre autres).
À chaque fois qu'ils se retrouvent, ils convoquent différents musiciens à explorer leur univers musical, à donner vie aux compositions mélodiques et simples que les deux musiciens préparent au crayon plomb, sur des feuilles éparses, durant les mois qui séparent leurs rendez-vous. La musique des ensembles est à la fois moderne et simple, abstraite, mais méditative et nourrie d'une passion commune pour la guitare jazz, de Jim Hall à Bill Frisell, de René Thomas à Brandon Ross.
À l'automne 2022, le groupe publie 2 albums:
Tardif, en quartet avec Jean Derome (saxophone alto et flûte) et John Hollenbeck (batterie)
L'appel du vide, en trio avec Tom Jacques (batterie)
Tom Jacques
Le travail artistique de Tom Jacques, évolue entre la composition, l'improvisation, l'interprétation et la conception de dispositifs sonores. La fabrication de nouveaux dispositifs est au centre de sa démarche compositionnelle, le guidant vers des directions musicales multiples sans le contraindre aux limites des instruments de musique conventionnels. Actif au sein de plusieurs ensembles, il collabore également avec des artistes de tous horizons. Il est notamment lauréat 2021 du Prix de l'artiste de l'année du Bas-Saint-Laurent, décerné par le Conseil des arts et des lettres du Québec, et lauréat 2017 du Prix à la relève artistique du Bas-Saint-Laurent, décerné par Culture Bas-Saint-Laurent.
---
Compositions 1 and 6 by Éric Normand
2,4,7,10 by Louis Beaudoin-de la Sablonnière
3 by Paul Bley
8 by Gilles Vigneault (socan)
5 and 9 by Louis Beaudoin-de la Sablonnière, Éric Normand and Tom Jacques
Recording: Louis Beaudoin-de la Sablonnière
MIx: Bernard Falaise
Artwork: David Lafrance
Graphic design: Marie-Pierre Morin
Produced by Éric Normand and Louis Beaudoin-de la Sablonnière.
Available in CD-Audio / Digifile, FLAC 44.1kHz / 16 bits & mp3 320 kbps CBR
Produced by Tour de Bras & Circum-Disc
---
See Also

---