PETER ORINS
DEAD DEAD GANG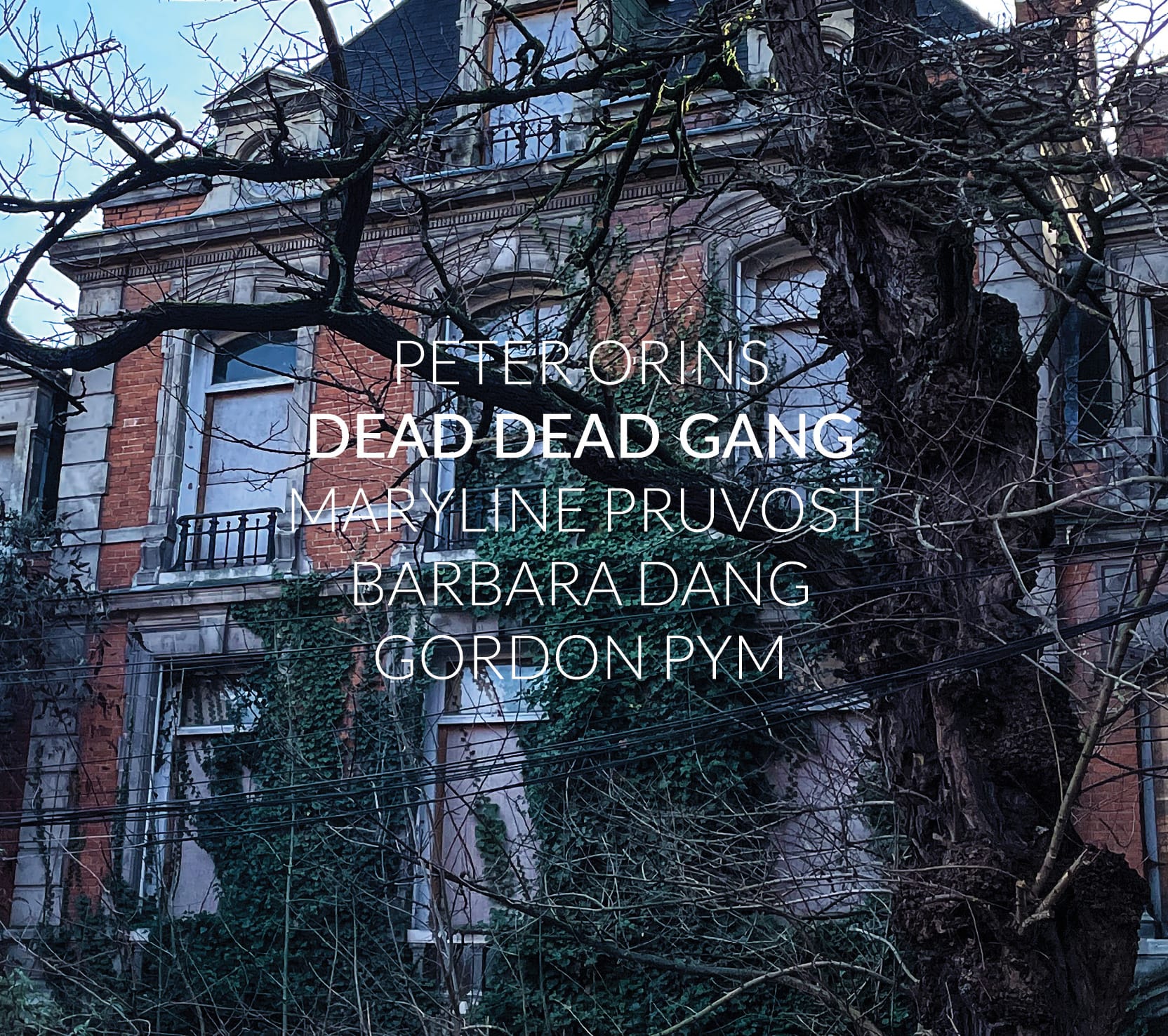 BUY / ACHETER
1 Audio CD / Digifile

4 tracks / 44:36

Download included

10.00 €

FLAC 96kHz / 24 bits

1 Zip File / 931 Mo

5.00 €

mp3 320 kbps CBR

1 Zip File / 138 Mo

5.00 €
Dead Dead Gang is a musical piece composed by drummer Peter Orins, inspired by the 2016 novel Jerusalem by British writer Alan Moore. The music is forged during a residency in 2022 with the Muzzix collective at La Malterie in Lille, and is nourished by the proposals and initiatives of Barbara Dang (piano), Maryline Pruvost (voice and Indian harmonium) and Gordon Pym (electronics and amplified objects).
A true world-story, disproportionate and monumental in size and time, Alan Moore's novel is an experience in itself: of the geographical space (we focus on a city, a precise place, examined from all points of view – macro and micro), of the temporal dimension (we cross more than 2000 years of history which are superimposed and entangled), and finally of this space-time relationship which ends up transforming the city into the sum of all the cities it has been since its foundation, and which does not forget all the human stories which compose it.
The name of the project comes from the Dead Dead Gang that we follow in the novel, a group of ghost children who cross the layers of time of the city.
This is obviously not a literal transcription of the work into music. However, the book itself is rich in sound universes and in diversity of languages and poetic influences, and the presence of superimposed times, images and ghostly presences have never ceased to fascinate the drummer and have entered into resonance with the composer's creative stakes. He thus imagined a musical construction where texts, playing instructions and temporal and geographical superpositions directly from the novel are mixed.
Open writing, therefore, inspired by minimalism but also by the numerous sacred or popular musical references of the book, where melodic writing, textual basis of various instructions, harmony and rhythm are mixed, the whole with a very great freedom of interpretation highlighted by the personalities of each musician. The music, ethereal and stretched, cultivates the sound and formal ambiguity: songs, noises, strange and ghostly harmonies, dissolution or exacerbation of rhythm and silence, slowness and obsession.
---
Dead Dead Gang est une pièce musicale composée par le batteur Peter Orins, inspirée du roman Jérusalem de l'écrivain britannique Alan Moore, paru en 2016. La musique se forge dans le cadre d'une résidence en 2022 avec le collectif Muzzix à la malterie à Lille, et se nourrit des propositions et initiatives de Barbara Dang (piano), Maryline Pruvost (voix et harmonium indien) et Gordon Pym (électronique et objets amplifiés).
Véritable récit-monde, démesuré et monumental, par la taille et le temps, le roman d'Alan Moore est une expérience en lui-même : de l'espace géographique (on se concentre sur une ville, un endroit précis, examiné sous tous les points de vue – macro et micro), de la dimension temporelle (on traverse plus de 2000 ans d'histoire qui se superposent et s'enchevêtrent), et finalement de ce rapport espace-temps qui finit par transformer la ville en la somme de toutes les villes qu'elle a été depuis sa fondation, et qui n'oublie pas toutes les histoires humaines qui la composent.
Le nom du projet vient du gang des Enfantômes que l'on suit dans le roman, groupe d'enfant-fantômes qui traversent les couches de temps de la ville.
Il ne s'agit évidemment pas d'une transcription littérale de l'oeuvre en musique. Cependant, le livre en lui-même est riche en univers sonores et en diversité de langages et d'influences poétiques, et la présence de temps superposés, d'images et présences fantomatiques n'ont eu de cesse de fasciner le batteur et sont entrées en résonance avec des enjeux créatifs du compositeur. Il a ainsi imaginé une construction musicale où se mêlent textes, consignes de jeu et superpositions temporelles et géographiques directement issus du roman.
Ecriture ouverte donc, inspirée du minimalisme mais aussi des nombreuses références musicales sacrées ou populaires du livre, où se mêlent écriture mélodique, base textuelle de diverses consignes, harmonie et rythme, le tout avec une très grande liberté d'interprétation mis en valeur par les personnalités de chaque musicien. La musique, éthérée et étirée, cultive l'ambiguïté sonore et formelle : chansons, bruits, harmonies étranges et fantomatiques, dissolution ou exacerbation du rythme et du silence, lenteur et obsession.
---
Music composed by Peter Orins
Text from Alan Moore JERUSALEM, Copyright Alan Moore. Used by permission of Alan Moore and Knockabout LTD (UK).
Recorded at la malterie – Lille (F) on September 10-12 2022 by Peter Orins.
Mix & edit by Peter Orins.
Mastering by Gabriel Dubois – Laboratoire Central – Brussels (B).
Photos & Graphic Design: Peter Orins
Available in Audio CD / Digifile, FLAC 96kHz / 24 bits & mp3 320 kbps CBR
Produced by Circum-Disc & Muzzix
---