LE BRUIT DES DOFS
LA COMBINATORIQUE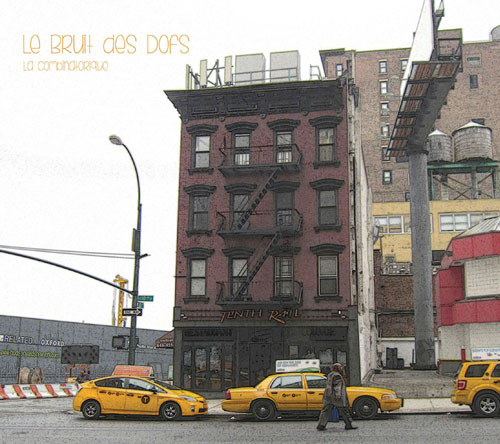 BUY / ACHETER
1 CD-Audio / Digifile

9 tracks / 62:47

Download included

10.00 €

FLAC, 44 kHz / 16 bits

1 Zip File / 416 Mo

5.00 €

mp3, 320 kbps CBR

1 Zip File / 147 Mo

5.00 €
Le Bruit des Dofs is the noise of the world and the mess in our heads.
A music that takes you in a hellish spiral. A powerful, organic jazz, with psychedelic contours, impregnated with progressive rock.
La combinatorique, the trio's new album distributed by Circum-Disc, combines genres, sounds, stories in 9 paintings that remind us that with a guitar, a bass and a drum set we can always shout our rage, taste trance, be ecstatic too, or sink into a frenzied delirium.
---
Le Bruit des Dofs, c'est le bruit du monde et le bordel dans nos têtes.
Une musique qui entraine dans une spirale infernale. Un jazz puissant, organique, aux contours psychédéliques, imprégné de rock progressif.
La combinatorique, nouvel album du trio distribué par Circum-Disc, combine les genres, les sonorités, les histoires en 9 tableaux qui rappellent qu'avec une guitare, une basse et une batterie on peut toujours crier sa rage, goûter à la transe, s'extasier aussi, ou encore sombrer dans un délire frénétique.
---
Recorded from February 20 to 23 – 2017 by Arnaud Dervaux.
Mix: Marcos Cunat.
Mastering: Arnaud Dervaux.
Photos: Jérôme Copin
Available in Audio CD / Digifile, FLAC, mp3
Produced by Le Bruit des Dofs & Circum-Disc
---