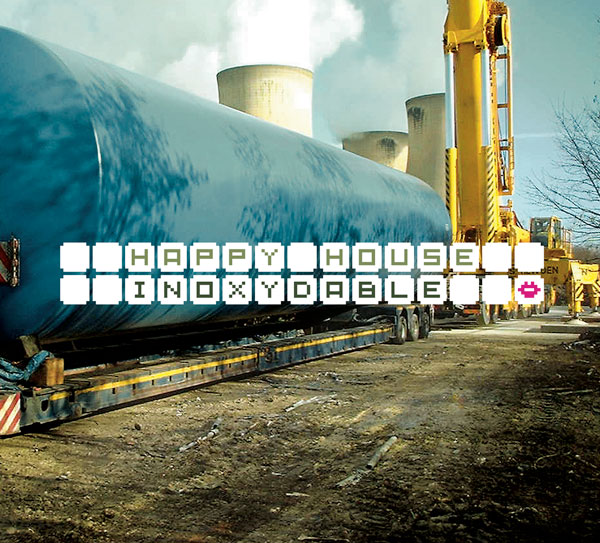 BUY / ACHETER
1 CD-Audio / Digifile 10 tracks / 64'40" Downloads included

5.00 €

FLAC / Lossless 1 Zip file / 428 Mo

5.00 €

mp3 / 320 Kbps CBR 1 Zip file / 180 Mo

5.00 €
Band formed in 1992 by Olivier Benoit, Happy House includes experienced musicians who, after a decade in the spheres of contemporary French jazz, hit a remarkable individual and collective musical maturity. Members of the Orchestre National de Jazz, multiplying collaborations with musicians as Christophe Marguet, Claude Barthelemy, Joëlle Leandre, Martial Solal, Dave Liebman, the four musicians continue serenely their respective careers.
Happy House recently celebrated its 15th anniversary. For this anniversary, Happy House has created new music, temporarily taking his distance from the influence of free jazz of the previous period. Olivier Benoit had fun playing against what was the personality of the orchestra, writing an exclusively melodic music, seemingly simple, but influenced by the rhythmic play and sound of rock music, playing and beating effects melodies used in loops (without machine).
Yet the nature of Happy House remains the same in its beginning : dynamic, intense, invested …



Groupe constitué en 1992 par Olivier Benoit, happy house compte dans ses rangs des musiciens d'expérience, qui, au bout d'une décennie passée dans les sphères du jazz contemporain français, ont atteint une maturité musicale individuelle et collective remarquable. Membres de l'ONJ, multipliant les collaborations avec des musicien(ne)s comme Christophe Marguet, Claude Barthélémy, Joëlle Léandre, Martial Solal, Dave Liebman, les quatre musiciens poursuivent sereinement leurs carrières respectives.
Happy house a fêté recemment ses 15 ans d'existence. Pour cet anniversaire, happy house a créé un nouveau répertoire, prenant provisoirement ses distances avec l'influence free jazz de la période précédente. Olivier Benoit s'est amusé à prendre le contre-pied de ce qui faisait la personnalité de cet orchestre, en écrivant un répertoire exclusivement mélodique, en apparence simple, mais influencé par le jeu rythmique et le son rock, jouant et se jouant des effets de mélodies mises en boucles (sans machine).
Pourtant, le caractère d'happy house reste le même qu'à ses débuts : dynamique, intense, investi…
Enregistré, mixé et monté au Studio Lakanal à Montpellier par Boris Darley en octobre 2007. Mastering chez Marwan Manley Mastering à Paris par Marwan Danoun.

---
See also :
---