ŠKVÍRY & SPOJE
HOTEL SPOJÁR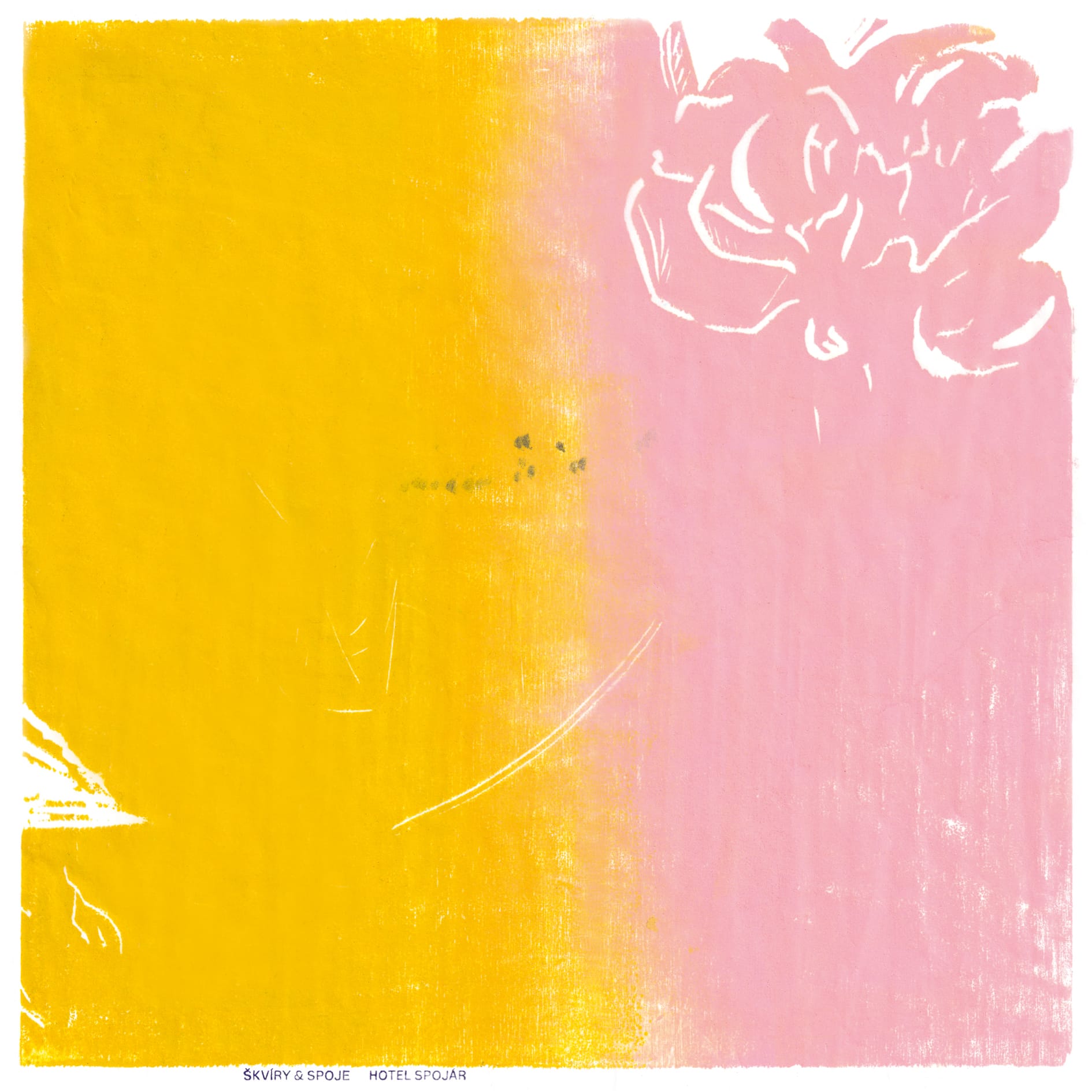 BUY / ACHETER
2 Vinyl 12'' - 140g

6 tracks / 85:38

Download included

25 €

FLAC 44.1kHz / 24 bits

1 Zip File / 953 Mo

10 €

mp3 320 kbps CBR

1 Zip File / 276 Mo

10.00 €
The Czech and Slovak experimental/improv scene is currently experiencing a thriving renaissance. Numerous collectives, groups, and bands are emerging, and venues across both neighboring countries are eagerly hosting their live performances. Among these ensembles is Škvíry & Spoje, a CZ/SK quartet that has been an integral part of this enchanting music environment for the past ten years. Their first physical release, "Hotel Spojár", serves as a double vinyl celebration of their anniversary, featuring a collection of retrospective and present-perspective tracks.
The name Škvíry & Spoje, which translates to "Cracks & Joints," is inspired by construction rather than drug-related connotations. "Škvíry" represents the cracks in a piece of material, while "Spoje" refers to the joining points. This construction analogy reflects the band's approach to their music, which revolves around entirely ad hoc improvisation. The duo Škvíry consists of Michal Matejka on guitar and Petr Vrba on winds and electronics, while the duo Spoje comprises Jozef Krupa on drums and Dalibor Kocián on vibraphone. However, these divisions are not strictly adhered to, as the quartet often engages musically in solos, trios, and quartets, with formations appearing, disappearing, and transforming throughout their sound dialogues.
Each member of the band brings their own seasoned improvisational skills and distinct musical influences from their backgrounds and various projects. The quartet delves into a wide range of musical escapades, including free jazz, noise, experimental sounds, ECM-inspired moods, harmonically complex walls of sound, extended techniques, traditional instrument approaches, polyrhythmic hypno-grooves, and more.
The A/B sides of the release offer a current snapshot of what one might expect to hear during the band's live performances. The C/D sides feature rarely released tracks from the band's earlier days around 2013. These earlier compositions serve as the foundation for the band's current sound. While today's Škvíry & Spoje explore bolder sonic territories and exhibit tighter musical cohesion, their earlier work is already musically eventful, filled with clever and eloquent sonic moments. The release is beautifully presented in a hand-crafted cover designed by Klára Zahrádková.
---
La scène expérimentale/improvisée tchèque et slovaque connaît actuellement une renaissance florissante. De nombreux collectifs, groupes et formations émergent, et les salles de concert des deux pays voisins accueillent avec enthousiasme leurs performances live. Parmi ces ensembles se trouve Škvíry & Spoje, un quatuor tchéco-slovaque qui fait partie intégrante de cet environnement musical envoûtant depuis dix ans. Leur première sortie physique, "Hotel Spojár", célèbre en vinyle leur anniversaire, en proposant une collection de morceaux rétrospectifs et actuels.
Le nom Škvíry & Spoje, qui se traduit en anglais par "Cracks & Joints" (Fissures et Jonctions), s'inspire de la construction plutôt que de connotations liées à la drogue. "Škvíry" représente les fissures dans un matériau, tandis que "Spoje" fait référence aux points de jonction. Cette analogie de construction reflète l'approche du groupe envers sa musique, qui tourne entièrement autour de l'improvisation purement ad hoc. Le duo Škvíry est composé de Michal Matejka à la guitare et de Petr Vrba aux vents et à l'électronique, tandis que le duo Spoje est formé de Jozef Krupa à la batterie et de Dalibor Kocián au vibraphone. Cependant, ces divisions ne sont pas strictement respectées, car le quatuor s'engage souvent musicalement en solos, trios et quatuors, avec des formations qui apparaissent, disparaissent et se transforment tout au long de leurs dialogues sonores.
Chaque membre du groupe apporte ses compétences improvisationnelles éprouvées et ses influences musicales distinctes issues de leurs parcours et de leurs divers projets. Le quatuor explore une large gamme d'aventures musicales, comprenant le free jazz, le noise, les sons expérimentaux, les ambiances inspirées de l'ECM, les murs de sons harmoniquement complexes, les techniques étendues, les approches d'instruments traditionnels, les hypno-grooves polyrythmiques, et bien plus encore.
Les faces A/B de cette sortie offrent un instantané actuel de ce que l'on peut attendre lors des performances en direct du groupe. Les faces C/D présentent des morceaux rarement publiés issus des débuts du groupe vers 2013. Ces compositions plus anciennes servent de fondation au son actuel du groupe. Alors que les Škvíry & Spoje d'aujourd'hui explorent des territoires sonores plus audacieux et font preuve d'une cohésion musicale plus serrée, leurs premiers travaux sont déjà musicalement riches, regorgeant de moments sonores ingénieux et éloquents. La sortie est magnifiquement présentée dans une pochette artisanale conçue par Klára Zahrádková.
---
Cracks & Joints recorded at Dom zvuku by Marek Buranovský.
12/1, Room 66, 12/2 & Ascent recorded at Kamoto Studio by Miroslav Širáň.
Mixed by Marek Buranovský.
Mastered at Laboratoire Central by Gabriel Séverin.
Cover art and graphic design by Klára Zahrádková.
Supported using public funding by Slovak arts Council.
Available in , 2 Vinyl 12'' – 140g, FLAC 44.1kHz / 24 bits & mp3 320 kbps CBR
Produced by Circum-Disc & Rieka
---