TOC
WILL NEVER PLAY THESE SONGS AGAIN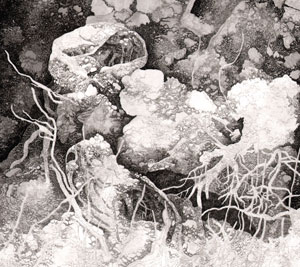 BUY / ACHETER
1 Vinyl / Download Codes 2 tracks / 34'31" Downloads included

10.00 €

Flac HD 96kHz/24bits 1 Zip file / 826 Mb

5.00 €

mp3 / 320 Kbps CBR 1 Zip file / 88 Mb

5.00 €
No, Toc will never play those songs again. They can't do otherwise, can't help to start over every time without being sure not to grind some new manias escaped from his last tours.
Not having gave up belonging to the big family of the music industry, the three musicians continually reinvent their hypnotic free-pop, raising their intoxicating and solar rhythms with a hint of throbbing kraut jazz-core, producing hits without a future, heady and highly addictive…
As their name seems to indicate, Toc members are quite obsessive and even compulsive. Their frenetic, ritualized but non-contagious behaviors bring the listener in a hectic space-time before bringing him back to the mainland in a more or less troubled state.
Sixth album of the trio, after incursions in the northern acoustic (
Qeqertarsuatsiaat
– 2015) and in the wet bayou (
Air Bump
– 2016), rich of his many concerts, experiments and meetings, Toc returns to its electrical and urban channel with fervor.
Unclassifiable and communicative, Toc persists to disturb the spirits since 2008…
---
Non, Toc ne jouera plus jamais ces morceaux. Il ne peut pas faire autrement, ne peut s'empêcher de tout recommencer à chaque fois sans être sûr de ne pas triturer quelques nouvelles manies échappées de ses dernières tournées.
N'ayant pas renoncé à appartenir à la grande famille de l'industrie musicale, les trois musiciens réinventent continuellement leur free-pop hypnotique, relevant leur rythmique enivrante et solaire d'un soupçon de kraut jazz-core lancinant, produisant des succès sans lendemain qui chantent mais hautement addictifs…
Comme leur nom semble l'indiquer, les membres de Toc sont plutôt obsessionnels voire compulsifs. Leurs comportements frénétiques, ritualisés mais non contagieux accompagnent l'auditeur dans un espace-temps en effervescence avant de le ramener à la terre ferme dans un état plus ou moins trouble.
Sixième disque du trio, après des incursions dans le grand Nord acoustique (Qeqertarsuatsiaat – 2015) et dans la moiteur du bayou (Air Bump – 2016), riche de ses nombreux concerts, expérimentations et rencontres, Toc revient à son canal électrique et urbain avec ferveur.
Inclassable et communicatif,  Toc s'obstine à troubler les esprits depuis 2008…
---
All compositions by Toc. Recorded at la malterie (lille) on December 13 – 2016. Mastering by Gabriel Severin at le laboratoire central (Brussels) in September 2017. Artwork "le mur" by Jérôme Minard.
Produced by Circum-Disc with Besides Records, Tour de Bras, L'étourneur, Tandori Records and Do It Youssef!
Avalaible in: Vinyl, mp3 (all download platforms and http://tocmuzzix.bandcamp.com), FLAC HD (96 kHz) (www.circum-disc.com)
---
See Also :

---