TOC & DAVE REMPIS
CLOSED FOR SAFETY REASONS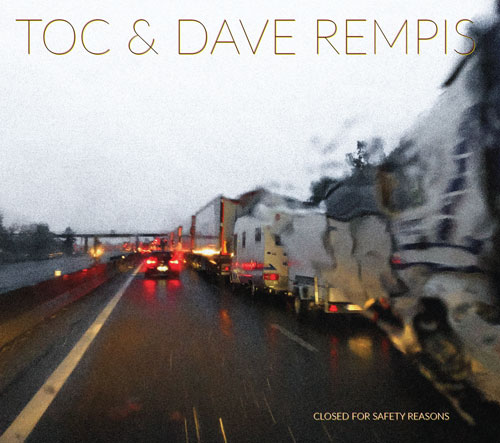 BUY / ACHETER
1 Vinyl 12" - 140 g 3 tracks / 37'04" Downloads included

12.00 €

1 CD-Audio / Digifile 4 tracks / 52'23" Downloads included

10.00 €

Flac HD 96kHz/24bits & mp3 320 Kbps CBR 1 Zip file / 1025 Mb

5.00 €
Toc invited Dave Rempis to join the trio in February 2018 for the release concert of "
Will Never Play These Songs Again
" at the malterie, Lille France. The meeting is instantaneous, the agreement immediate. Could it be otherwise?
The saxophonist is today a Chicago free-jazz figure, after having studied ethnomusicology in Ghana, which is reflected in his Percussion Quartet where his stormy saxophones blow on the embers of untenable rhythms. But it was within the Vandermark 5 that he made his name, before embarking on his own projects such as The Engines, Ballister or the various bands we find on his label Aerophonic.
Toc like not to define themselves… Tirelessly searching since their creation in 2008 where the practice of improvisation will lead them, the three musicians multiply forms and encounters, like to get lost in aesthetics and styles, disturb the landmarks. As their name seems to indicate, Toc's members are quite obsessive and even compulsive. Their frenetic, ritualized but non-contagious behaviors bring the listener in a hectic space-time before bringing him back to the mainland in a more or less troubled state.
In addition to their taste for improvisation without barriers or eyes, Toc and Dave Rempis share a communicative energy and power, play the density and the organic and joyful trance.
The album "Closed For Safety Reasons" was produced as part of a tour in November 2019 that took them from Amsterdam to the South of France, via la malterie where they had a day to record and perform a concert, inviting the saxophonist Sakina Abdou from the Muzzix collective to join them on a track that can be found on the CD.
---
Toc invite Dave Rempis à se joindre au trio en février 2018 lors du concert de sortie du disque « Will Never Play These Songs Again » à la malterie à Lille. La rencontre est instantanée, l'entente immédiate. Pouvait il en être autrement ? 
Le saxophoniste est aujourd'hui une figure du free-jazz de Chicago, après avoir poursuivi une formation d'ethnomusicologie au Ghana, dont se ressent son Percussion Quartet où ses orageux saxophones soufflent sur la braise de rythmes intenables. Mais c'est au sein du Vandermark 5 qu'il s'est fait connaître, avant de se lancer dans ses propres projets comme The Engines, Ballister ou les différents groupes que l'on retrouve sur son label Aerophonic.
Le trio Toc quant à lui aime à ne pas se définir… Avec pour seule balise l'improvisation depuis la création du trio en 2008, les trois musiciens multiplient les formes et les rencontres, aiment se perdre dans les esthétiques et les styles, perturbent les repères. Comme leur nom semble l'indiquer, les membres de Toc sont plutôt obsessionnels voire compulsifs. Leurs comportements frénétiques, ritualisés mais non contagieux accompagnent l'auditeur dans un espace-temps en effervescence avant de le ramener à la terre ferme dans un état plus ou moins trouble. 
Outre leur goût de l'improvisation sans barrière ni oeillère, Toc et Dave Rempis partagent une énergie et une puissance communicative, jouent la densité et la transe organique et jubilatoire. 
Le disque « Closed For Safety Reasons » a été réalisé dans le cadre d'une tournée en novembre 2019 qui les a emmenés d'Amsterdam à la Drôme, en passant par la malterie où ils ont profité d'une journée pour enregistrer et faire un concert, invitant la saxophoniste du collectif Muzzix Sakina Abdou à se joindre à eux sur un titre que l'on retrouve sur le CD.
---
All music composed by Toc & Dave Rempis (& Sakina Abdou for "Temporary Lease)
Recorded on November 11,  2019 at la malterie (Lille – France).
Mix and master Peter Orins.
Available in Vinyl, CD (digifile cover), FLAC HD (96kHz/24bits) and mp3
Produced by Circum-Disc, Do It Youssef! & Tour de Bras
---
See Also :

---