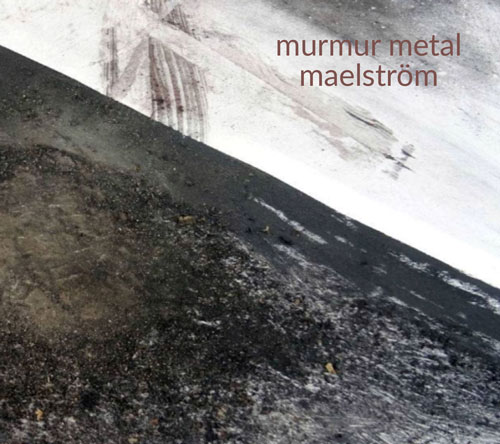 BUY / ACHETER
1 CD-Audio / Digifile
3 tracks / 43:33
Downloads included
10.00 €
FLAC, 44.1 kHz / 24 bits
1 Zip File / 409 Mo
5.00 €
mp3, 320 kbps CBR
1 Zip File / 108 Mo
5.00 €
---
DAVID BAUSSERON : SOUND ACTIONS, IMPROVISATIONS ON METALLIC OBJECTS (PLATE, STRIPS, LAMELLAS, CAGE, PORTAL, COVER, RODS, HALOGEN LAMP BASE, IRON STRAW, TIN BOX, WOOD SAW), ELECTRIC GUITAR, ELECTRONICS, EDITION
---
A protean project created in 2010 after finding raw material in a dumpster of a small metal factory in the Vallée du bout du Monde in Thiers.
David Bausseron's metal instrumentarium already consisted of a few thin strips and slats of mechanical brush found in the street, halogen lamp bases with an astonishing resonance.
Several forms have emerged over the years, from installation and interactive street performances to the most noisy electroacoustic concerts.
Sound actions where the stunt body throws itself into reptative acoustic crossings or amplified tributes to broken faces.
Acoustics, spaces, surfaces, performance, scenography, gesture, minimalism, gigantism, clutter, purity, electroacoustics, improvisation, composition, solo.
This record, "Maelström" is a selection of recordings and the result of ten years of experimentation with metal objects. It brings together two aspects of the guitarist's work on metal materials: acoustic and electroacoustic.
---
Projet protéiforme né en 2010 au détour d'une trouvaille de matière première dans une benne-poubelle d'une petite usine métallurgique de la Vallée du bout du Monde à Thiers.
L'instrumentarium métallique de David Bausseron se composait déjà de quelques fins feuillards et de lamelles de brosse mécanique trouvés dans la rue, de socles de lampe halogène à la résonance étonnante.
Plusieurs formes ont vu le jour au cours des années, de la performance installative et interactive de rue aux concerts électroacoustiques les plus noise.
Actions sonores où le corps cascadeur se jette dans des traversées reptatives acoustiques ou des hommages amplifiés aux gueules cassées.
Acoustique, espaces, surfaces, performance, scénographie, geste, minimalisme, gigantisme, encombrement, épure, électroacoustique, improvisation, composition, solo.
Ce disque, « Maelström » est une sélection d'enregistrements et un aboutissement de dix ans d'expérimentation sur des objets métalliques. Il réunit deux aspects du travail du guitariste sur le matériaux métal : acoustique et electroacoustique.
---
I and II recorded in 2013 at la Gare d'Eau – Lille (F) by Book d'Oreille.
III recorded in 2018 in the basement of the Compagnie de l'Oiseau Mouche – Roubaix (F).
Artwork : Banquet des Cendres, Jean-Marc Musial
Available in 1 CD-Audio / Digifile, FLAC, mp3
Produced by Muzzix & Circum-Disc
---