MORE SOMA
HONDENDODENDANS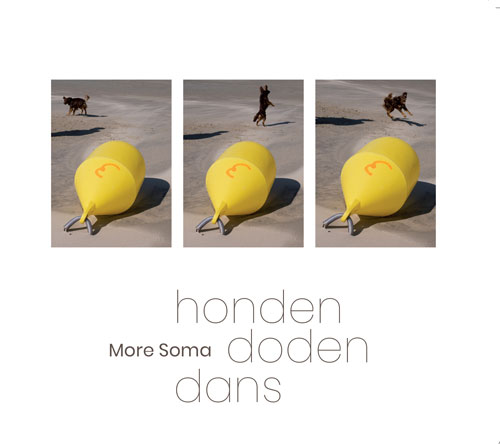 BUY / ACHETER
1 CD-Audio / Digifile 4 tracks / 41'10" Downloads included

10.00 €

FLAC HD / Lossless 1 Zip file / 521 Mo

5.00 €

mp3 320 Kbps CBR 1 Zip file / 84 Mo

5.00 €
The MORE SOMA trio is composed of a saxophone, alternately alto or baritone, a double bass and drums.
The MORE SOMA trio composes the music in real time.
The MORE SOMA trio likes it when it beats.
The MORE SOMA trio shapes its music chopped.
The MORE SOMA Trio also sometimes leans towards the poetry of a strange and penetrating melody.
The MORE SOMA trio only plays under constraint in order to better detach itself from it.
The MORE SOMA trio plays with paradoxes.
The MORE SOMA trio makes up for its mistakes.
The MORE SOMA Trio doesn't complicate things.
The MORE SOMA Trio releases its first record.
With the MORE SOMA trio, we improvise music a bit like playing hide and seek. We try to find each other as we walk away in a tangle of hiccups. The tempo is always slippery, twisted, and the harmony arises where you least expect it. The energy with which each musician tries to carry out his or her mission is most evident. So we open the hatches wide and run straight ahead.
With this first recording, the MORE SOMA trio lays the foundations of a music constructed in an empirical way. We try, we fail, we dodge, we stay the course. Recorded shortly after the creation of the group, it testifies to an urgency to open up the musical possibilities offered by individuality and the collective. MORE SOMA wants it all, right away.
---
Le trio MORE SOMA se compose d'un saxophone tour à tour alto ou baryton, d'une contrebasse et d'une batterie.
Le trio MORE SOMA compose la musique en temps réel.
Le trio MORE SOMA aime quand ça bastonne.
Le trio MORE SOMA façonne sa musique hachée menue.
Le trio MORE SOMA penche aussi parfois pour la poésie d'une mélodie étrange et pénétrante.
Le trio MORE SOMA ne joue sous la contrainte que pour mieux s'en détacher.
Le trio MORE SOMA joue avec les paradoxes.
Le trio MORE SOMA maquille ses erreurs.
Le trio MORE SOMA ne cherche pas midi à quatorze heures.
Le trio MORE SOMA sort son premier disque.
Avec le trio MORE SOMA, on improvise de la musique un peu comme on jouerait à cache cache. On cherche à se retrouver en même temps qu'on s'éloigne dans un entrelacs de propositions hoquetantes. Le tempo est toujours glissant, retors et l'harmonie surgit là où on l'attend plus. On en retient surtout l'énergie avec laquelle chaque musicien tente de mener à bien sa mission. Alors on ouvre grand les écoutilles et on file droit devant.
Avec ce premier disque, le trio MORE SOMA pose les bases d'une musique construite de manière empirique. On essaye, on se plante, on esquive, on garde le cap. Enregistré peu de temps après la création du groupe, il témoigne d'une urgence à défricher les possibilités musicales offertes par les individualités et le collectif. MORE SOMA veut tout, tout de suite.
---
Recorded on July 9 & 10 2019 at la malterie (Lille – F) by David Lamblin.
Mix : David Lamblin.
Mastering : Marlon Wolterlink.
Photo : Laetita Galita.
Graphic design : Catherine Millet
Available in CD (digifile cover), FLAC HD and mp3
Produced by More Soma & Circum-Disc
---