KAZE & IKUE MORI
CRUSTAL MOVEMENT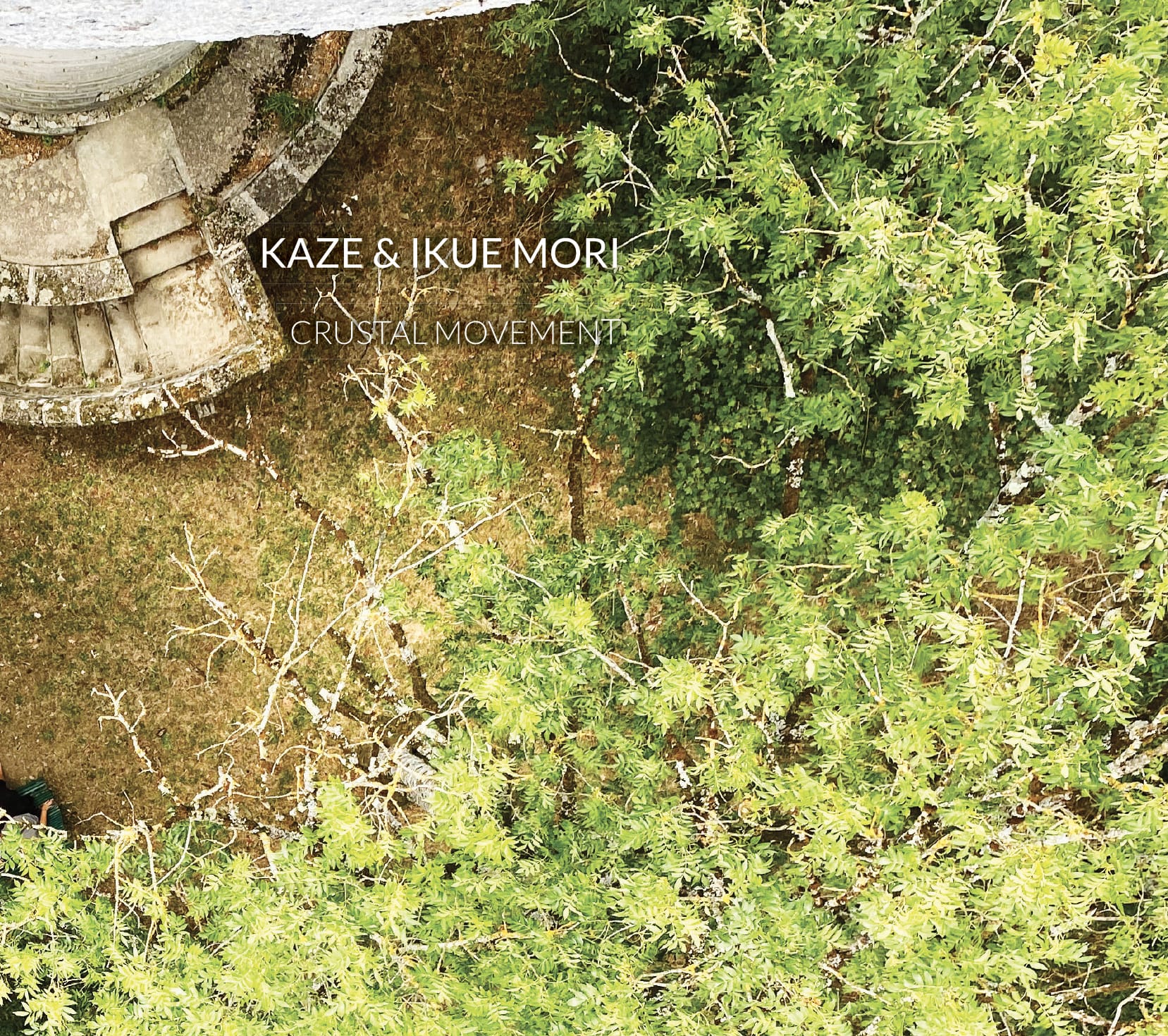 BUY / ACHETER
1 CD-Audio / Digifile

6 tracks / 51:12

Download included

12.00 €

FLAC 48kHz / 24bits

1 Zip File / 698 Mo

5.00 €

mp3 320 kbps CBR

1 Zip File / 164 Mo

5.00 €
Album is a visceral, richly textured hybrid of pre-recorded music files exchanged during pandemic and live performance.
"[Their music is] a well-judged amalgam of adventurous and empathetic ensemble playing, and striking individual flights,"—John Sharpe, All About Jazz
"So intriguing that you'll listen to it as music, not noise, and you'll start to think about the relationship between music and sound and then . . . you'll be hooked–just as I am."—Marc Phillips, The Vinyl Anachronist
On Crustal Movement, the pioneering musician Ikue Mori on laptop electronics joins Kaze – the cooperative quartet featuring Japanese composer-pianist Satoko Fujii and trumpeter Natsuki Tamura plus French trumpeter Christian Pruvost and drummer Peter Orins – to move in new directions as they explore innovative ways of making music. On their first album together since 2020's incendiary Sand Storm, these five sonic explorers weave together pre-recorded music files and live performance. The results are as exciting, interactive, and detailed as if they had recorded entirely live.
In the usual collective spirit of the group, each member contributes compositions for the recording. Knowing that this would be a largely remote effort, they each planned out pieces that were more like written outlines than musical scores. "We all composed a structure and made a blueprint," Fujii said. "In most cases we made a chart on paper, not on music paper. The blueprints have time durations and instrumentation and some instructions like 'play fast' or 'play quietly.'"
Fujii, Tamura, and Mori then proceeded to follow the compositional guidelines and send music files of their performances back and forth around the world via the Internet. Pruvost and Orins then added a new twist to the file-exchange procedure. "Instead of adding individually to the sound files, they did a very interesting thing," Fujii said. "They played along with our files at a concert in Lille and recorded it. Ikue, Natsuki and I were not in the concert, but our recordings were. We try many different ways to make music!"
The combination of live and pre-recorded interactions, guided by compositions designed to accommodate the remotely situated players, results in uncommonly fluid and naturally developing music that belies the circumstances under which it was made. For instance, the Pruvost and Orins composition "Masoandro Mitsoka" guides the quintet from a quiet introduction into a kaleidoscopic group improvisation with acoustic and electronic colors swirling around a dialog between the trumpets. Ikue Mori's "Motion Dynamics" sets up complex ensemble give-and-take that continuously changes the shape and flow of the piece. Fujii's "Crustal Movement" establishes an irregular rhythm that pushes and pulls the group along a zig-zag path into a roiling mass that throws off sparks of color. Tamura's "Rolle Cake" is a subtle tone poem that glides easily through subdued, almost lyrical passages and rumbling, anxious moments. The detail in the group interactions, the organic development of each piece, and the lovely flashes of surprise and discovery are exceptional throughout.
"The music may be quieter than when Kaze plays live," Fujii noted. "We have a tendency to heat up so much and so easily when we're on stage together. That's harder to do when we're remote, but we can still be exploring and intense."
---
Un album viscéral et hybride, riche en textures, enregistré à distance et en public pendant la pandémie.
"[Leur musique est] un assemblage bien dosé d'un jeu d'ensemble aventureux et empathique, et de saisissantes envolées individuelles" – John Sharpe, All About Jazz
"Si intriguant que vous l'écouterez comme de la musique, et non comme du bruit, et que vous commencerez à penser à la relation entre la musique et le son, et alors… vous serez conquis, tout comme moi" – Marc Phillips, The Vinyl Anachronist
Sur Crustal Movement, la pionnière Ikue Mori (électronique) se joint à Kaze – le quartet composé des japonais Satoko Fujii (piano) et Natsuki Tamura (trompette), ainsi que des français Christian Pruvost (trompette) et Peter Orins (batterie) – pour explorer de nouvelles façons de faire de la musique. Sur leur premier album ensemble depuis l'incendiaire Sand Storm de 2020, ces cinq explorateurs sonores associent enregistrements à distance et en public. Le résultat est aussi passionnant, interactif et étoffé que s'ils avaient enregistré entièrement en direct.
Véritable formation collective, chaque membre contribue aux compositions pour l'enregistrement. Sachant qu'il s'agit d'un effort à distance, ils composent des morceaux qui ressemblent davantage à des ébauches écrites qu'à des partitions musicales. "Nous avons tous composé une structure et fait un plan", a déclaré Fujii. "Dans la plupart des cas, nous avons un schéma sur papier, pas sur du papier à musique. Les structures comportent des durées, des instruments et des instructions comme 'jouer vite' ou 'jouer doucement'."
Fujii, Tamura et Mori ont ensuite suivi les directives de composition et envoyé des enregistrements de leurs performances via Internet. Pruvost et Orins ont ensuite ajouté une nouvelle tournure à la procédure d'échange de fichiers. "Au lieu d'enregistrer chacun individuellement, ils ont fait quelque chose de très intéressant", a déclaré Fujii. "Ils ont joué avec nos enregistrements lors d'un concert à Lille et ont enregistré dessus. Ikue, Natsuki et moi n'étions pas au concert, mais nos enregistrements y étaient. Nous essayons de nombreuses façons différentes de faire de la musique !"
La combinaison d'interactions en direct et préenregistrées, guidée par des compositions conçues pour s'adapter aux musiciens à distance, donne lieu à une musique d'une fluidité et d'un développement naturel inhabituels, qui ne tient pas compte des circonstances dans lesquelles elle a été créée. Par exemple, la composition de Pruvost et Orins "Masoandro Mitsoka" mène le quintette d'une introduction apaisée à une improvisation collective kaléidoscopique avec des couleurs acoustiques et électroniques tourbillonnant autour d'un dialogue entre les trompettes. "Motion Dynamics" d'Ikue Mori met en place des échanges complexes qui modifient continuellement la forme et le déroulement de la pièce. Le "Crustal Movement" de Fujii établit un rythme irrégulier qui pousse et tire le groupe en zigzag dans une masse tourbillonnante et étincelante. "Rolle Cake" de Tamura est un subtil poème sonore qui glisse aisément entre passages subtils, presque lyriques, et grondements et tensions. Les interactions minutieuses, le développement organique des pièces et les magnifiques éclats de surprise et de découverte sont exceptionnels.
"La musique est peut-être plus calme que lorsque Kaze joue en direct", note Fujii. "Nous avons tendance à nous réchauffer tellement et si facilement lorsque nous sommes sur scène ensemble. C'est plus difficile à faire lorsque nous sommes à distance, mais nous pouvons toujours être explorateurs et intenses."
---
1 & 5 composed by Christian Pruvost & Peter Orins
2 & 4 composed by Ikue Mori
3 composed by Natsuki Tamura
6 composed by Satoko Fujii
Recorded in Kobe (Japan – Satoko Fujii & Natsuki Tamura), New York City (USA – Ikue Mori) and Lille (France – Christian Pruvost & Peter Orins) between October 2021 and May 2022.
Mix and edit by Peter Orins. CD-Master by Mike Marciano – System Two (NYC – USA).
Cover photo and graphic design by Peter Orins.
Available in Audio-CD / Digifile, FLAC 48kHz / 24bits & mp3 320 kbps CBR
Produced by Circum-Disc and Libra Records
---
See Also

---