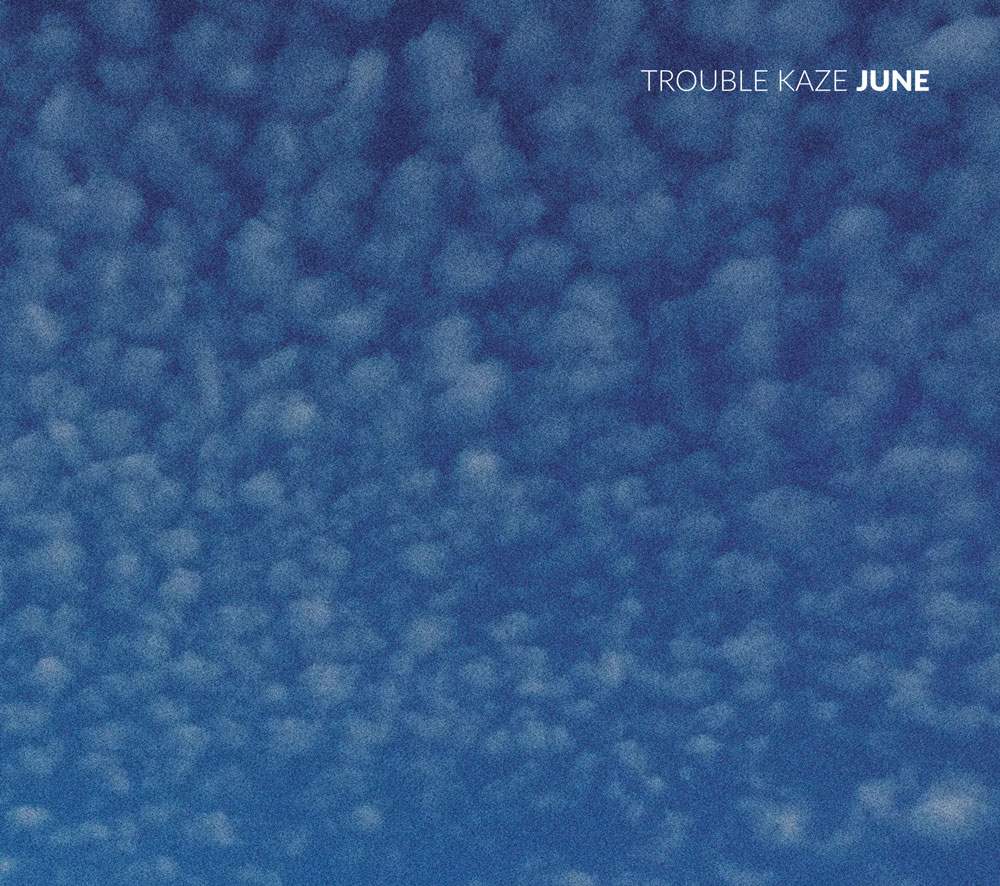 BUY / ACHETER
1 CD-Audio / Digifile 5 tracks / 46'19" Downloads included

7 €

FLAC HD / Lossless 88.2/24 1 Zip file / 390 Mb

5.00 €

mp3 / 320 Kbps CBR 1 Zip file / 112 Mb

5.00 €
Kaze's original line-up (pianist Satoko Fujii, drummer Peter Orins, and trumpeters Natsuki Tamura and Christian Pruvost) are joined by two additional French nationals, pianist Sophie Agnel and drummer Didier Lasserre to form Trouble Kaze and venture further in free improvisation territory.
June introduces Trouble Kaze, the moniker chosen for the newly reshaped combo which adds a second pianist and drummer to the original line-up. "The band can be conceived either as a triple duo or a double trio, hence trouble," explains Peter Orins, who suggested the formation of both Kaze and Trouble Kaze. "Moreover, the word also underlines the ambiguity of the situation." The title of the album comes from the fact that the band was caught on June 20, 2016, which signaled the end of spring, the longest day of the year, and the summer solstice.
The five-part suite was recorded during the band's third performance at La Malterie in Lille, France, a venue that serves as an incubator for artists and also presents concerts. By that time, the sextet had already decided to change their modus operandi. Initially, Orins had envisioned having a road map that would structure the improvisation. By the second concert, they had already given up on that process. This explains why the music develops so organically, with spaces left to silence and minimalism, as the artists work on textures and create a sense of mystery–it is sometimes difficult to identify who is responsible for the otherworldly sounds that can be heard throughout the recording.
While the music is deeply steeped in abstraction, the musicians know when to inject a touch of humor or let their emotions run free. The second part ends with a slow crescendo while the third one concludes in a joyous chaos. The band make extensive use of extended techniques–a term that describes unconventional use of an instrument–including Pruvost's signature of a plastic tube to blow in his trumpet, with Orins and Lasserre in the roles of percussionists rather than drummers. Agnel and Lasserre perfectly blend with the other members of the band. "Very quickly, Christian and I thought about Sophie and Didier because we've known them and played with them for years," Orins says. "To get Sophie and Satoko to play together was very dear to me as well."
---
Trouble Kaze : triple duo, double trio… L'album June voit le quartet franco-japonais Kaze rejoint par la pianiste Sophie Agnel et le batteur Didier Lasserre, s'aventurant un peu plus loin dans les territoires de l'improvisation libre. Deux trompettes, deux pianos, deux batteries.
Partageant un appétit insatiable pour l'expérimentation sonore, une énergie et un enthousiasme débordants, les membres de Kaze multiplient depuis la création du quartet en 2010 les rencontres et les collaborations. Aimant jouer sur le doublement des timbres et les ambiguïtés sonores, comme c'est le cas déjà avec les 2 trompettes, mais également avec chacun des musiciens, très vite est venue l'envie de doubler chaque instrument, un double trio, un triple duo, Trouble Kaze…
A l'image du quartet, Trouble Kaze est sans limite, proposant un free-jazz créatif et puissant, abstrait et ludique, mélodique et "noise". Ce sextet est aussi la rencontre de démarches créatrices individuelles fortes, de compositeurs spontanées, que sont Christian Pruvost et Peter Orins, membres très actifs du collectif lillois Muzzix, Satoko Fujii et Natsuki Tamura, deux des musiciens japonais les plus présents sur la scène free et improvisée internationale, et Sophie Agnel et Didier Lasserre, deux acteurs incontournables de la scène improvisée européenne.
Enregistré en concert à la malterie à Lille en juin 2016, cette suite en 5 parties se développe de façon organique, laissant des espaces au silence et au minimalisme, travaillant les textures sonores et les complémentarités ou similarités entre les musiciens. Abstraite, contrastée et dynamique cette musique n'en est pas moins pleine d'humour, et d'émotions…
---
Recorded live on June 20 2016 at la malterie (Lille – F). Mix : Peter Orins. Mastering : Philippe Tessier du Cros (Paris). Graphic design and photo : Peter Orins.
Produced by Circum-Disc.
Available in CD, FLAC HD (88.2 kHz/24 bits) and mp3
---
See also : 

---