BI-KI ?
QUELQUE CHOSE AU MILIEU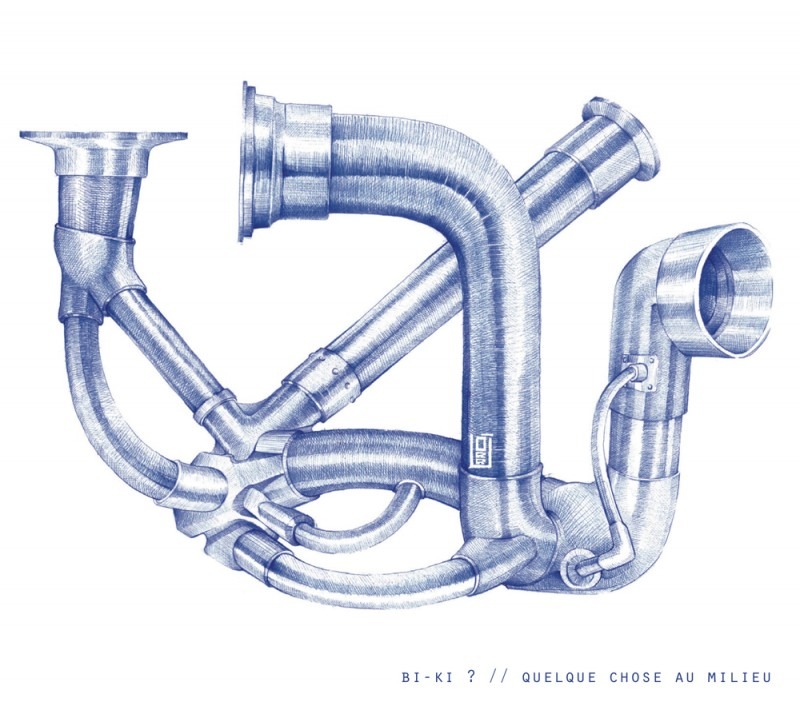 BUY / ACHETER
1 CD-Audio / Digifile 12 track / 69' Downloads included

8 €

FLAC / Lossless 1 Zip file / 315 Mo

5.00 €

mp3 / 320 Kbps CBR 1 Zip file / 139 Mo

5.00 €
Created in 2012, the saxophone duet Bi-Ki ? shows and questions the meeting of two sound identities and two personal paths around the same instrument. In concert situation, usually in the middle of the audience, the duet sculpts a sound material that draws on the acoustic resources of the place they play in. Two voices mix, follow and avoid each other, exploring all the possibilities of the instrument, the density of the timbre as its fragility, and playing with the sound space, real or fantasized. Careful writing, wide open to intuition, takes the listener to unsettling auditory senses, sometimes driving the eardrums crazy. The first release of Bi-Ki ? « Quelque chose au milieu » (« Something in the middle ») is the result of a work on space and sound environment with saxophone player and multifaceted artist Jean-Luc Guionnet. The purpose of this CD is to give to earing a multiplicity of « listening stations » from the duet's music – Jean-Luc Guionnet being here the active recorder. The recording took place in various locations marked for their sound qualities, in the town of Lomme (North of France) with the partnership of the maison Folie Beaulieu. Throughout the recording, they freely recompose a course that gives to listen either the instrumental play, the sound environment, the architecture of the different places, the subjectivity of the recording and the biases of the mix.
---
Créé en 2012, le duo de saxophones Bi-Ki ? expose et interroge la rencontre de deux identités sonores et deux parcours singuliers autour du même instrument.
En situation de jeu, généralement au milieu du public, le duo sculpte une matière sonore qui convoque les ressources acoustiques des sites qu'ils investissent. Deux voix s'entremêlent, se suivent, s'évitent, et explorent toutes les facettes de l'instrument, la densité du timbre comme sa fragilité et jouent avec l'espace sonore, qu'il soit réel ou fantasmé. Une écriture minutieuse, grande ouverte à l'intuition, emmène l'auditeur vers des sensations auditives troublantes, à s'en affoler les tympans.
Le premier disque de Bi-Ki ? "Quelque chose au milieu" est le fruit d'un travail sur l'espace et l'environnement sonore avec le saxophoniste aux multiples facettes artistiques Jean-Luc Guionnet. L'objectif de ce disque est de donner à entendre une multiplicité de « points d'écoute » de la musique du duo ; Jean-Luc Guionnet intervient ici à la prise de son active. L'enregistrement a eu lieu en divers endroits de la commune de Lomme (59), repérés pour leurs particularités sonores, avec la complicité de la maison Folie Beaulieu. A travers le disque, ils recomposent librement un parcours qui donne à écouter à la fois le jeu instrumental, l'environnement sonore, l'architecture des lieux, la subjectivité de la prise de son et les partis pris du mixage.
---
Recorded by Jean-Luc Guionnet from April 14 to 19 2014 in Lomme (France – various locations). Mixed and edited in September 2015 by Jean-Luc Guionnet, Sakina Abdou and Jean-Baptiste Rubin. Drawing by Alessio Orrù. Graphic design by Nathanaëlle Leschevin.
Produced by Circum-Disc, Muzzix and BeCoq
Available in CD (Digifile with booklet), FLAC and mp3
---