GGRIL
PLAYS INGRID LAUBROCK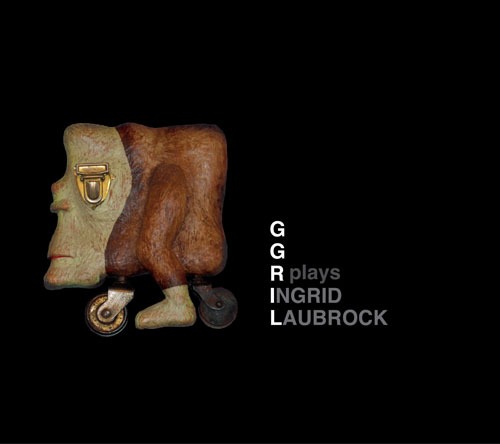 BUY / ACHETER
CD-Audio / Digifile 3 tracks / 31'32" Downloads included

10.00 €

FLAC / Lossless 1 Zip file / 169 Mo

5.00 €

mp3 / 320 Kbps CBR 1 Zip file / 59 Mo

5.00 €
---
ISABELLE CLERMONT : HARP
CATHERINE S. MASSICOTTE : VIOLIN
REMY BELANGER DE BEAUPORT : CELLO
ALEXIS GANIER-MICHEL : CELLO
ALEXANDRE ROBICHAUD : TRUMPET
GABRIEL ROCHETTE-BERIAU : TROMBONE
MATHIEU GOSSELIN : BARYTONE SAXOPHONE
ROBIN SERVANT : DIATONIC ACCORDION
ROBERT BASTIEN : ELECTRIC GUITAR
OLIVIER D'AMOURS : ELECTRIC GUITAR
PASCAL LANDRY : CLASSICAL GUITAR
ERIC NORMAND : ELECTRIC BASS
JONATHAN HUARD : PERCUSSIONS
ANTOINE LETOURNEAU-BERGER : PERCUSSIONS
LUKE DAWSON : DOUBLE BASS
---
Le GGRIL is a motley horde of improvised music enthusiasts in the small Quebec town of Rimouski.
Each year, the group invites 3 to 4 composers of all trends to create new works with it.
After John Butcher, Caroline Kraabel, Jean Derome and Frédéric Blondy, the group welcomed German-American composer Ingrid Laubrock in November 2018.
A close collaborator of Anthony Braxton and a pillar of the New York scene, Ingrid Laubrock took the group into new, less abstract territory than usual.
The album brings together 3 of the 5 pieces created with her.
---
Le GGRIL est une horde hétéroclite de passionnés d'improvisation sévissant dans la petite ville québécoise de Rimouski.
Chaque année, le groupe convie de 3 à 4 compositeurs de toutes les tendances pour créer de nouvelles oeuvres avec lui.
Après, John Butcher, Caroline Kraabel, Jean Derome ou Frédéric Blondy, le groupe recevait en novembre 2018 la compositrice germano-américaine Ingrid Laubrock.
Proche collaboratrice d'Anthony Braxton et pilier de la scène New Yorkaise, Ingrid Laubrock a entraîné le groupe dans des contrés nouvelles, moins abstraites qu'à leur habitude.
L'album réunit 3 des 5 pièces créées avec elle.
---
All music composed by Ingrid Laubrock
Recorded at Salle Desjardins-Telus à Rimouski (QC – Canada) on October 27 – 2018 by Val Bernatchez.
Mix Robin Servant.
Mastering Paul Dolden.
Artwork : Olivier Blot.
Graphic design : Marie-Pierre Morin.
Available in CD (digifile cover), FLAC and mp3
Produced by Circum-Disc & Tour de Bras
---
See also :

---