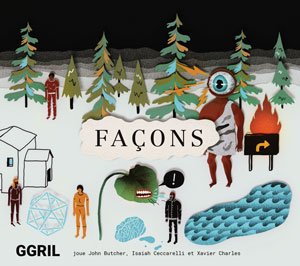 BUY / ACHETER
2 CD-Audio / Digifile 8 tracks / 72'13" Downloads included

15.00 €

FLAC / Lossless 1 Zip file / 492 Mo

5.00 €

mp3 / 320 Kbps CBR 1 Zip file / 148 Mo

5.00 €
---
GGRIL ALEXANDRE ROBICHAUD (TRUMPET) CATHERINE S. MASSICOTTE (VIOLIN) ÉRIC NORMAND (ELECTRIC BASS) GABRIEL ROCHETTE-BÉRIAU (TROMBONE) LUKE DAWSON (DOUBLE BASS) MATHIEU GOSSELIN (BARYTONE SAXOPHONE) OLIVIER D'AMOURS (ELECTRIC GUITAR) ROBERT BASTIEN (ELECTRIC GUITAR) ANTOINE LÉTOURNEAU-BERGER (PERCUSSIONS) RAPHAËL ARSENAULT (VIOLIN) SÉBASTIEN CÔRRIVEAU (BASS CLARINET) THOMAS GAUDET-ASSELIN (ELECTRIC BASS) PASCAL LANDRY (CLASSICAL GUITAR) RÉMY BÉLANGER DE BEAUPORT (CELLO) ROBIN SERVANT (ACCORDION) ELIZABETH LIMA (CLARINET) MARC-ANTOINE MACKIN-GUAY (BARYTONE GUITAR) ISABELLE CLERMONT (HARP) JONATHAN HUARD (PERCUSSIONS) GUESTS CAROLINE KRAABEL (ALTO SAXOPHONE) INGRID LAUBROCK (TENOR SAXOPHONE) JOHN BUTCHER (SOPRANO AND TENOR SAXOPHONE)
---
« GGRIL is a kind of poststructuralist village band.(…) In the performance at FIMAV, it was apparent how thoroughly GGRIL has entered the elite of Québec's musical avant-garde.» STUART BROOMER, Point od Departure ,USA, JANVIER 2014
GGRIL is a large group of improvisers from a small town in eastern Quebec who bring together a colorful and electric instrumentation, a playful and raw dive into liberated territory. GGRIL has been active since 2007 and, in addition to developing a personal repertoire, has worked with musicians of the calibre of Jean Derome, Evan Parker (Uk), Michael Ficher (Au), and Ingrid Laubrock (Usa).
Façons brings together monolithic and obstinate music created during residencies with John Butcher, Isaiah Ceccarelli and Xavier Charles.
Organon was commissioned from Isaiah Ceccarelli in 2016 and premiered in Rimouski on May 1 of the same year. It is a series of monolithic agreements. We must imagine the sound of a great organ, an orchestra of 500 viols playing in unison, a hurdy-gurdy, several bells ringing at the same time, rattles, a crackling sound, a forest fire.
On Your Knees was inspired by a workshop done with Xavier Charles in 2015. The piece is a listening exercise that is now part of the GGRIL's concert repertoire.
Local Fixations was commissioned from John Butcher and premiered with him in April 2018 in Rimouski. Interested in the contrasts of timbres and manners, this piece is the one that leaves the most room for improvisation.
---
«  Le GGRIL est une sorte de groupe villageois poststructuraliste. (…) Lors de la représentation au FIMAV, on a pu constater à quel point le GGRIL est entré dans l'élite de l'avant-garde musicale du Québec. » STUART BROOMER, Point of Departure , USA, JANVIER 2014
Le GGRIL est un grand ensemble d'improvisateurs venu d'une petite ville de l'est du Québec et réunissant une instrumentation bigarrée et électrique, une plongée ludique et crue en territoire libéré. Le GGRIL est actif depuis 2007 et, en plus de développer un répertoire personnel, a travaillé avec des musiciens de la trempe de Jean Derome, Evan Parker (Uk), Michael Ficher (Au), et Ingrid Laubrock (Usa). 
Façons réunit des musiques monolithiques et obstinées créées lors de résidences avec John Butcher, Isaiah Ceccarelli et Xavier Charles.
Organon et été commandée à Isaiah Ceccarelli en 2016 et créée à Rimouski le 1er mai de la même année. Il s'agit d'une suite d'accords monolithiques. Il faut imaginer le son d'un grand orgue, d'un orchestre de 500 violes jouant à l'unisson, d'une vielle à roue, de plusieurs cloches sonnant en même temps, de crécelles, d'un crépitement, d'un feu de forêt.
Sur les genoux a été inspirée d'un atelier fait avec Xavier Charles en 2015. La pièce est un exercice d'écoute qui fait maintenant partie du répertoire de concert du GGRIL.
Local Fixations a été commandée à John Butcher et créée avec lui en avril 2018 à Rimouski. S'intéressant aux contrastes de timbres et de manières, cette pièce est celle qui laisse le plus de place à l'improvisation. 
---
Organon composed by Isaiah Ceccarelli. Recorded by Robin Servant at Desjardins-Telus venue, Rimouski, May 1st 2016
Sur Les Genoux composed by Xavier Charles. Recorded by Val Bernatchez at Desjardins-Telus venue, Rimouski, October 27th 2018
Local Fixations composed by John Butcher. Recorded by Antoine Létourneau-Berger at Coop Paradis, Rimouski, April 22nd 2018.
Edit and mix : Robin Servant and Éric Normand, John Butcher.
Mastering : Paul Dolden
Illustration and graphic design: Charles-Étienne Brochu
Produced by Tour de Bras and Circum-Disc
Available in double CD (digifile cover), FLAC and mp3
---