IVANN CRUZ & PETER ORINS
DES PIEDS ET DES MAINS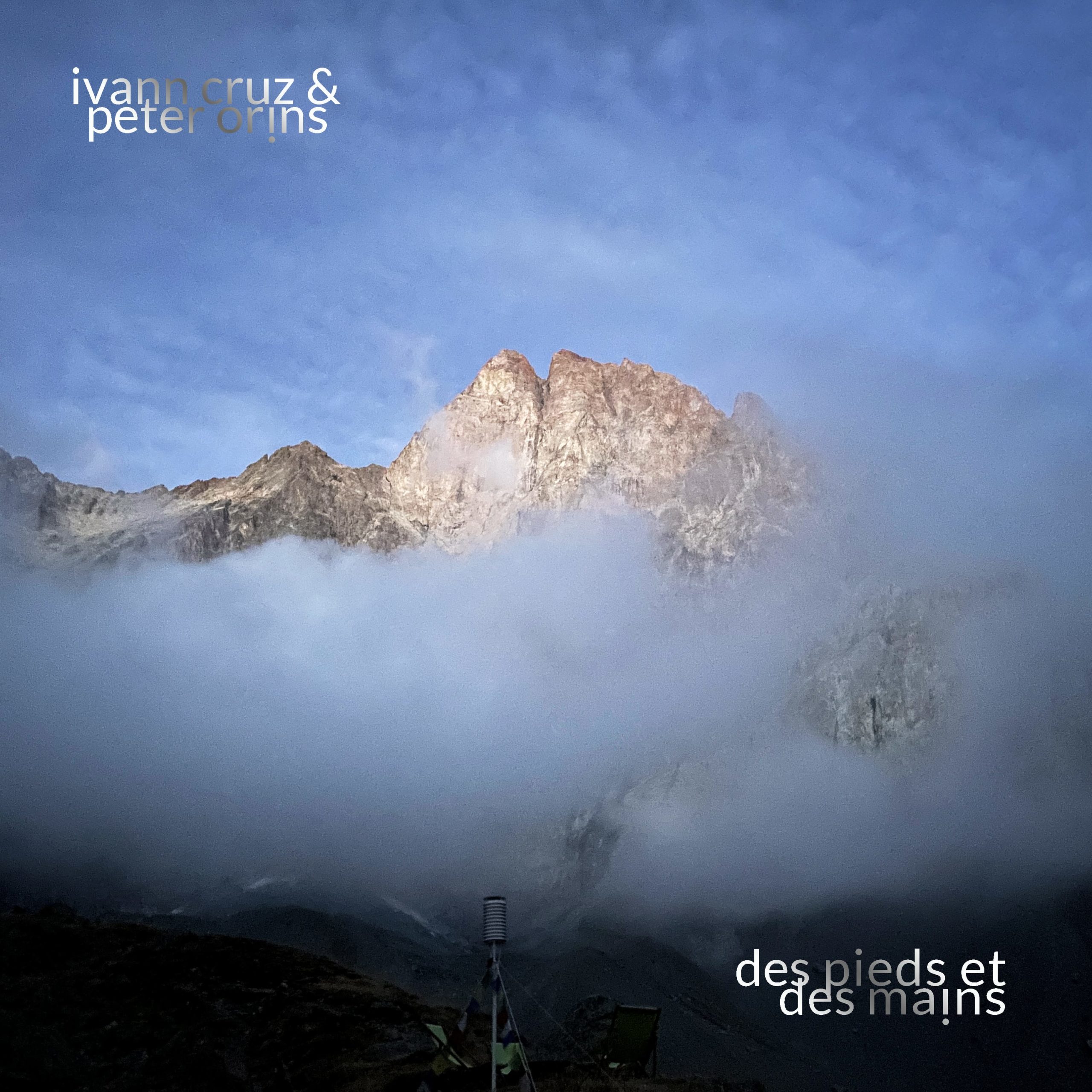 BUY / ACHETER
No Audio CD

0 €

FLAC 48kHz / 24 bits

1 Zip File / 1,15 Go

5.00 €

mp3 320 kbps CBR

1 Zip File / 347 Mo

5.00 €
Des pieds et des mains is a project of walking tour in altitude in and around the Parc des Ecrins where two musicians (Ivann Cruz : electric guitar and Peter Orins : percussions) proposed at each stage a musical improvisation inspired by the place of the refuge or a natural space and by their sensitive experience of the day's hike. The musicians' approach was to invent a singular and poetic relationship between a natural space and an original sound performance by moving around with their instruments and recording soundscapes during their journey. They have thus achieved more than 5000 m of cumulated difference in altitude while carrying all their equipment over a period of 10 days, realized 5 public concerts, 3 outdoor recording sessions and many recordings of soundscapes during the journeys they made. They invented musical impromptus where breaths, rustlings, trickles, rhythms and tensions of the walk in mountain, and other rumours populating the paths of altitude cross. The challenge of this project was to displace the creative habits of the musicians by transforming the natural environment into an active principle of the creative process. This approach allowed to generate new approaches and new musical forms while highlighting the richness of this natural heritage.
The musicians also realized different periods of residency in refuge and mountain hut during the hike in order to carry out a more thorough work of sound creation on these spaces and their surroundings. They also made a recording near a high altitude hut and recordings on wild sites accessible by paths off the marked trails accompanied by a guide around the Font Turbat refuge.
This album is a testimony of these different moments of sound invention where pieces improvised in situ in refuges and in wild sites of altitude are intertwined with sound landscapes gleaned on the paths and sites crossed. Each piece of the album was improvised and recorded in a specific place of their journey while sometimes revealing soundscapes collected during the tour.
---
Des pieds et des mains est un projet de tournée pédestre en altitude dans et à proximité du Parc des Ecrins où deux musiciens (Ivann Cruz : guitare électrique, Peter Orins : percussions) ont proposé à chaque étape une improvisation musicale inspirée par le lieu du refuge ou un espace naturel et par leur expérience sensible de la randonnée de la journée. La démarche des musiciens était d'inventer une relation singulière et poétique entre un espace naturel et une création sonore originale en se déplaçant avec leur instruments et en enregistrant des paysages sonores durant leur parcours. Ils ont ainsi réalisé plus de 5000 m de dénivelés cumulés en portant tout leur matériel sur une période de 10 jours, réalisé 5 concerts publics, 3 séances d'enregistrements en extérieur et de nombreuses captations de paysages sonores durant les trajets parcourus. Ils ont inventé des impromptus musicaux où se croisent souffles, bruissements, ruissellements, rythmes et tensions de la marche en montagne, et autres rumeurs peuplant les sentiers d'altitude. L'enjeu de ce projet était de déplacer les habitudes de création des musiciens en transformant le milieu naturel en un principe actif du processus de création sonore. Cette démarche a permis de génèrer ainsi de nouvelles approches et de nouvelles formes musicales tout en mettant en valeur la richesse de ce patrimoine naturel.
Les musiciens ont également réalisé différents temps de résidence en refuge et cabane au cours de la randonnée afin de mener un travail de création sonore plus approfondi sur ces espaces et leurs alentours. Ils ont ainsi réalisé un enregistrement près d'une cabane d'altitude et des enregistrements sur des sites sauvages accessibles par des chemins hors des sentiers balisés accompagnés d'un guide aux alentours du refuge de Font Turbat.
Cet album témoigne de ces différents moments d'invention sonore où s'entrecroisent des pièces improvisées in situ dans des refuges et dans des sites sauvages d'altitude ainsi que des paysages sonores glanés sur les sentiers et sites traversés. Chaque pièce de l'album a été improvisée et enregistrée sur un lieu spécifique de leurs parcours tout en laissant apparaître parfois des paysages sonores collectés lors de la tournée.
---
Recorded between August 15 and 24 – 2022 in and around the Parc des Écrins (France).
Mix, edit and master January 2023.
This project is supported by the French Government as part of the "Supporting green alternatives in culture" scheme of the France 2030 cultural and creative industries (CCI) sector, operated by the Caisse des Dépôts.
Available in FLAC 48kHz / 24 bits & mp3 320 kbps CBR
Produced by Circum-Disc & Muzzix
---