ZOUBEK / CRUZ / WITKOWSKI
RADIUM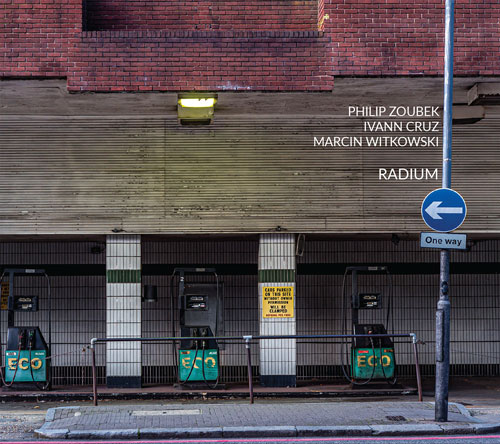 BUY / ACHETER
CD-Audio / Digifile 9 tracks / 54'56" Downloads included

7.00 €

FLAC HD / Lossless 1 Zip file / 1,26 Go

5.00 €

mp3 / 320 Kbps CBR 1 Zip file / 135,4 Mo

5.00 €
Prepared piano, primed guitar, extended drums and electronics.
Since two years of sonic explorations, ambient textures and unstable harmonies, the trio is collectively creating improvised music by deconstructing their instruments in an electro acoustic setting. Their music is driven by the idea of builing a meta instrument, an ego-less creative process to open up new soundworlds and to explore unheard musical territories.
Active on the European improvised music scene, Philip Zoubek, Ivann Cruz and Marcin Witkowski decided to reactivate their collaboration by releasing this first album.
This first opus is an opportunity for them to reveal this uncertain sound territory far from the hierarchies expected by this instrumentation. Over the course of these nine contrasting pieces, they take pleasure in playing with the boundaries between moving electric sound materials and acoustic textures disturbed by a few preparations. The instruments never cease to metamorphose or fade, the gestures collide and intertwine to seek a counterpoint of strings, skins or electronic sounds from which sometimes enigmatic harmonic landscapes emerge; a delightful flow of rubbing, pinching, resonance and percussion in effervescence.
---
Piano préparé, guitare apprêtée, batterie étendue et électronique.
Deux ans d'explorations sonores, de textures ambiantes et d'harmonies instables, le trio crée collectivement de la musique improvisée en déconstruisant leurs instruments dans un cadre électro-acoustique. Leur musique est guidée par l'idée de construire un méta-instrument, un processus créatif sans égo pour ouvrir de nouveaux horizons sonores et explorer des territoires musicaux inouïs.
Actifs sur les scènes des musiques improvisées européennes, Philip Zoubek, Ivann Cruz et Marcin Witkowski décident de ré-activer leur collaboration en sortant ce premier album. 
Ce premier opus est l'occasion pour eux de dévoiler ce territoire sonore incertain loin des hiérarchies attendues par cette instrumentation. Au fil de ces neuf pièces contrastées ils prennent plaisirs à se jouer des frontières entre matières sonores électriques mouvantes et textures acoustiques troublées par quelques préparations. Les instruments ne cessent de se métamorphoser ou s'effacer, les gestes se percutent et s'entremêlent pour chercher un contrepoint de cordes, de peaux ou de sons électroniques d'où émerge parfois des paysages harmoniques énigmatiques; un flux réjouissant de frottements, de pincements, de résonances et de percussions en effervescence.  
---
All music composed by Philip Zoubek, Ivann Cruz & Marcin Witkowski
Recorded on December 10 2017 at la malterie (Lille – France) by Peter Orins.
Mix and master by Marcin Witkowski (Wroclaw – Poland) in February 2019.
Photo Michael Niesemann.
This project was created with the support of Avant Art Festival (Wroclaw – Poland), Vive le Jazz (Köln – Germany), Impakt (Köln – Germany) and Muzzix (Lille – France).
Available in CD (digifile cover), FLAC HD (96kHz/24bits) and mp3
Produced by Circum-Disc and Muzzix
---