CIRCUM GRAND ORCHESTRA
12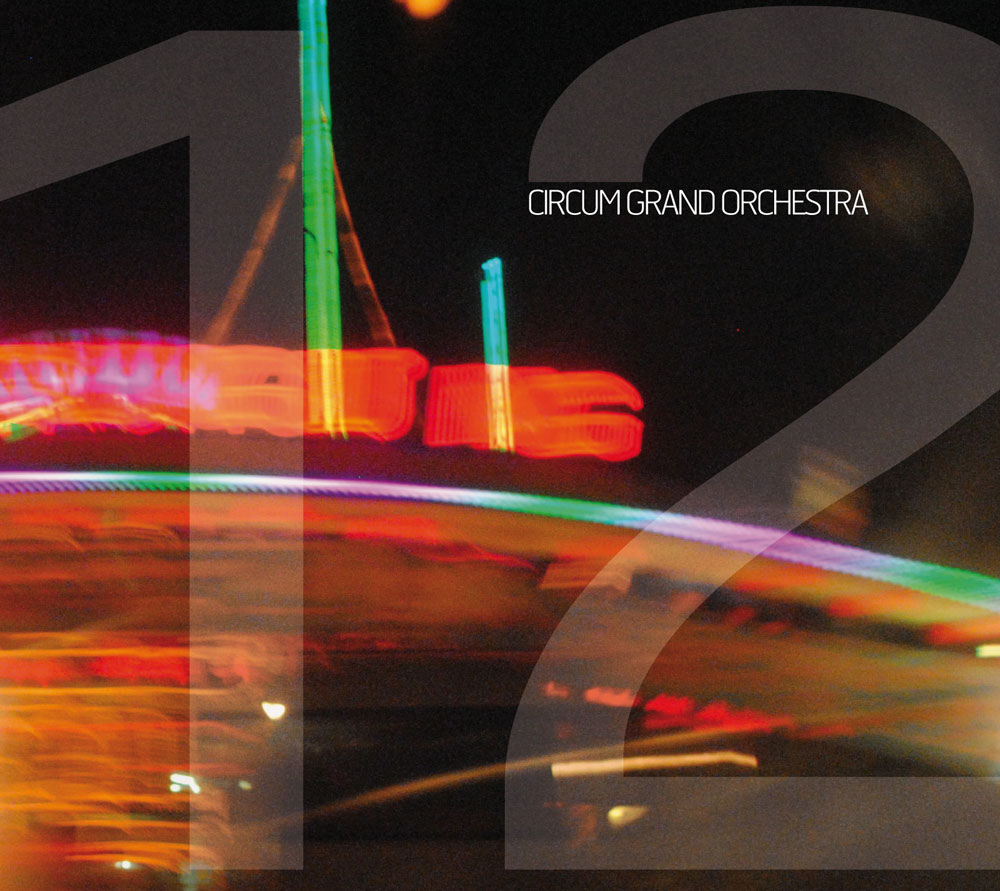 BUY / ACHETER
1 CD-Audio / Digifile 6 tracks / 67'35"" Downloads included

7 €

FLAC / Lossless 1 Zip file / 400 Mo

5.00 €

mp3 / 320 Kbps CBR 1 Zip file / 162 Mo

5.00 €
After a decade led by Olivier Benoit's six-strings, the twelvetet from Lille is now guided by Christophe Hache's four-strings, while remaining true to its form and its musicians. The flagship of Circum collective keeps progressing in the breaks of its music, as if it was one step ahead of its own shadow. From guitar to bass, the electricity remains the same; an astounding movements accelerator (…).
Circum Grand Orchestra's heart keeps pulsating with impetuosity in the depth of its horns. An incisive discourse appears in this acid bath where it is pleasant to plunge. Their sooty lines, heated with the most sparkling rock, sometimes pour out in the contemporary gaps, abstract grooves that make the orchestral mass shine. The changing colors are as so many discussions between the musicians, from confabulation to general tumult.
The strength of this orchestra lies in the freedom for each musician to bring his own fold to the material, without altering the general sewing. No risk of embossed effect: as the Renaissance statues that illustrated their previous album cover, le Ravissement (the Rapture), every detail, every bulge, every sinuosity creates an overall dynamism. Lacy counterpoints, polyrhythm veil; what may seem frenetic, built on the sharp blade of improvisation is actually a constant balance, weighted to the nearest breath. (…) Double meaning is the driving force of Circum Grand Orchestra, with its odd pairs reminding us that twelve is a multiple of three. As for the rapture, our rapture, it remains the exact same. Joyfully ardent, just like this music.
Franpi Barriaux, March 2013 (www.franpisunship.com)

Changement de cordes, mais pas de ligne pour le Circum Grand Orchestra. Après une décennie passée par les six-cordes d'Olivier Benoit, ce sont les quatre cordes de Christophe Hache qui vont guider le dodécatet lillois, fidèle à sa formule et à ses musiciens. Le vaisseau amiral du collectif Circum continue de progresser dans les brisées de sa musique, comme s'il possédait un temps d'avance sur sa propre ombre. De la guitare à la basse, l'électricité reste la même : une formidable accélératrice de mouvements (…).
Le cœur du Circum Grand Orchestra continue à palpiter avec impétuosité dans les entrailles même de ses soufflants. C'est dans ce bain d'acide où il fait bon plonger que se dessine un propos incisif. Leurs lignes charbonneuses, chauffées au rock le plus étincelant s'épanchent parfois dans les brèches contemporaines, rainures abstraites qui font briller la masse orchestrale. Les couleurs changeantes sont autant de discussion entre les musiciens, du conciliabule au tumulte général… (…)
Un pli, un contre-pli  ; la force de cet orchestre réside dans la liberté qu'a chaque musicien d'apporter son propre drapé à l'étoffe sans modifier la couture générale. Aucun risque d'effet gaufré : comme les statues Renaissance qui illustraient leur précédent album, Le Ravissement, chaque détail, chaque renflement, chaque sinuosité est un dynamisme d'ensemble. Une dentelle de contrepoints, un voile de polyrythmie ; ce qui peut paraître frénétique, construit sur la lame affilé de l'improvisation est un réalité un équilibre constant soupesé au souffle près (…). Le double-sens est le moteur de ce Circum Grand Orchestra, avec ses paires impaires qui rappellent que douze est un multiple de trois. Quant au ravissement, le nôtre, il est toujours le même. Joyeusement fougueux, comme cette musique.
Franpi Barriaux, mars 2013 (www.franpisunship.com)

Recorded at Studio Midilive/Vogue (F) in January 2014 by Boris Darley. Edition Peter Orins and Christophe Hache. Mixed at Studio Sextan (F) by Boris Darley and Christophe Hache. Mastering Raphaël Jonin in April 2014.
Produced by Circum-Disc and Muzzix

See also :
---