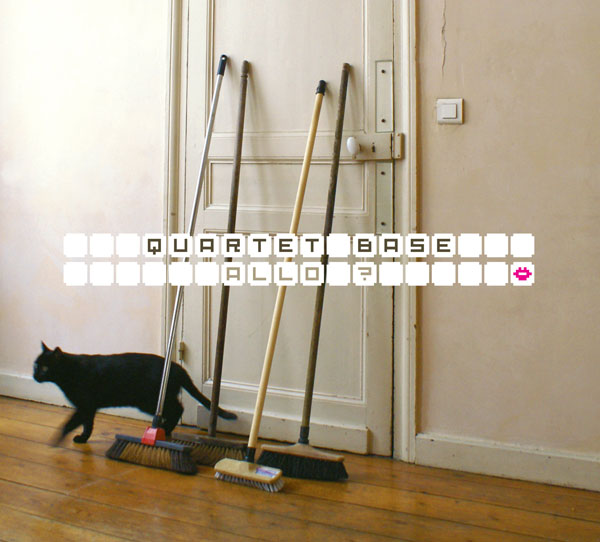 BUY / ACHETER
1 CD Audio / Digifile 10 tracks / 56'24" Downloads included

5.00 €

FLAC / Lossless Zip file / 380 Mo

5.00 €

mp3 / 320 Kbps CBR 1 Zip file / 156 Mo

5.00 €
Quartet Base is an experimental ground, linked to jazz in its purest tradition. It is however not far from free improvisation and electronic music.
With a subtle balance between written and improvised music, between abundance of information and easy listening, between risk taking and emotion, it chooses to emphasize communication, in all its aspects: between the musicians, with the score, with the audience.
Unsettling, energetic, spontaneous, we are easily carried away by this music and the emotions that it creates.



QUARTET BASE est une proposition musicale originale qui se détache du «ce qu'on doit entendre» avec le souci permanent de laisser leur place à la spontanéité, à la surprise, aux débordements que peuvent inspirer ses mélodies et ses rythmes.
Le groupe est un spectacle vivant, un «chantier perpétuel» qui voit ses membres s'épanouir depuis 14 ans.
Quartet Base est devenu un point de ralliement auquel les quatre musiciens reviennent nourris d'expériences qui renouvellent son champ d'expérimentation.
Après une année de résidence à la malterie en 2008, le groupe sort son premier disque pour les labels La Cabine et Circum-Disc.
Enregistré en décembre 2008, mixé en janvier 2009 au Studio Ka à Faches Thumesnil par Benjamin Mraz. Mastering Patrice Kubiak.

---
See also :
---