CIRCUM GRAND ORCHESTRA
LE RAVISSEMENT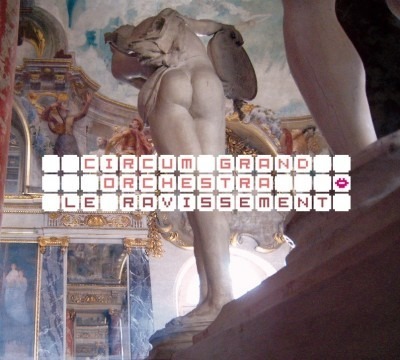 BUY / ACHETER
1 CD-Audio / Digifile 14 tracks / 69'34" Downloads included

10.00 €

FLAC / Lossless 1 Zip file / 501 Mo

5.00 €

mp3 / 320 Kbps CBR 1 Zip file / 168 Mo

5.00 €
In 2010, CGO proudly celebrates its 10th anniversary and releases a second record on Circum-Disc. "Le Ravissement" is the fruit of a new project. After a work centered on "songs" and another "monumental" project with Feldspath (Circum Grand Orchestra + la Pieuvre), the orchestra returns to a purely instrumental form, based on a wide-ranged, rhythmic and lyrical writing, composed mainly by Olivier Benoit. The 6 tracks of the album also allow the band's members to show their qualities as improvisers.
CGO is an outstanding group on several accounts. These 12 musicians from the Circum collective form a double rhythm section–2 guitarists, 2 bassists, 2 drummers and one pianist–supporting a strong, vigorous 5 horn section. The band
delivers rich and varying compositions, from the most experimental jazz to uninhibited songs. The result is a dense and powerful music, always ready to play with itself and free itself from stylistic constraints.


CIRCUM GRAND ORCHESTRA fête en 2010 ses 10 années d'existence et livre un deuxième disque sur le label Circum-Disc, le Ravissement, issu d'une nouvelle création.
Après un projet autour de la chanson, puis un projet « monumental » avec Feldspath (Circum Grand Orchestra + la Pieuvre), l'orchestre renoue avec une musique purement instrumentale, basée sur une écriture riche, à la fois rythmique et lyrique, essentiellement composée par Olivier Benoit.
Les six titres qui composent l'album donnent aussi l'opportunité d'entendre les qualités d'improvisateur des membres de l'orchestre.
Le Circum Grand Orchestra est une formation exceptionnelle à plus d'un titre. 12 musiciens du collectif Circum dans un orchestre à double section rythmique (2 guitares, 2 basses, 2 batteries et un piano) appuyée par cinq vents des plus énergiques, des compositions riches et variées qui vont du jazz le plus expérimental à la chanson délurée. Tout cela donne une musique dense et puissante, qui n'hésite pas à se jouer d'elle-même et à s'affranchir de toute contrainte stylistique.
Enregistré en mai 2009, mixé en juillet 2009 au Studio Ka à Faches Thumesnil par Benjamin Mraz. Mastering Marwan Danoun.
---
See also :
---