FAVREUILLE / MOTURY / ORINS
TILL MINA VÄNNER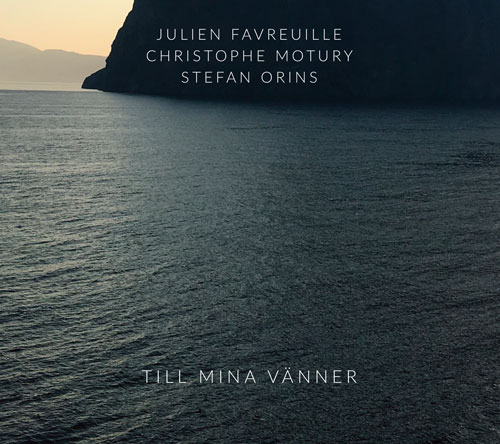 BUY / ACHETER
CD-Audio / Digifile 7 tracks / 34'29" Downloads included

10.00 €

FLAC / Lossless 1 Zip file / 183 Mo

5.00 €

mp3 / 320 Kbps CBR 1 Zip file / 96 Mo

5.00 €
"Till Mina Vänner" means "to my friends" in Swedish, the testimony of a friendship between three musicians who have been playing together in various bands since the early 1990s.
The album opens and closes with the brass duo in unison, Julien Favreuille and his powerful breath on the tenor saxophone, and the poetic velvet of Christophe Motury's fluegelhorn. Pianist Stefan Orins offers this trio a new perspective on his most melodic compositions. "Bodisattva", which opens the album, a Buddhist term for an altruistic state of life, reveals the attitude of the three musicians throughout the album, helping each other to place music and its beauty at the centre of their attention. "Upplösning" (resolution), offers a totally improvised dialogue between the 3 soloists against a background of up tempo. The calm and serenity of "Lugn" (tranquility) evokes the wide open spaces of the pianist's Swedish origins. "Pétales au Vent", the title of a poem collection by Daisaku Ikeda, offers a ballad enhancing Julien Favreuille. "Tabea fyller sju", introduced by the pianist, offers a melody evolving above complex harmonies and asymmetric measures. "Brussels Charleroi" is the sound testimony of the many trips back and forth in Poland that the composer had to make regularly to perform. Finally, "För", a pun meaning "for" or "intended for", is a piece dedicated to Christophe "Pher" Motury, a piece composed as a hymn in homage to the musician's human and musical qualities.
The three friends build a bewitching sound landscape thanks to the mix of their sensitive timbres and their complicit ideas, a story…
---
"Till Mina Vänner" veut dire "à mes amis" en suédois, le témoignage d'une amitié entre trois musiciens qui jouent ensemble dans diverses formations, depuis le début des années 90.
L'album s'ouvre et se ferme sur le duo des cuivres à l'unisson, Julien Favreuille et son souffle puissant au saxophone ténor, et le velours poétique du bugle de Christophe Motury. Le pianiste Stefan Orins propose pour ce trio un nouvel angle de vue sur ses compositions les plus mélodiques. "Bodisattva", qui ouvre l'album, terme bouddhique d'un état de vie altruiste, dévoile l'attitude des trois musiciens tout au long de l'album, s'entraidant les uns les autres à placer la musique et sa beauté au centre de leur attention. "Upplösning" (résolution), propose un dialogue totalement improvisé entre les 3 solistes sur fond de up tempo. Le calme et la sérénité de "Lugn" (tranquillité) évoquent les grands espaces des origines suédoises du pianiste. "Pétales au Vent", titre d'un recueil de poéme de Daisaku Ikeda, offre une ballade valorisant Julien Favreuille. "Tabea fyller sju", introduit par le pianiste offre une mélodie évoluant au dessus d'harmonies complexes et mesures asymétriques. "Bruxelles Charleroi"  est le témoignage sonore, des nombreux allers-retours en Pologne, que le compositeur était amené à faire régulièrement pour se produire. Enfin, "För", jeu de mot qui veut dire "pour" ou "destiné à", est un morceau dédié à Christophe 'Pher" Motury, morceau composé comme un hymne en hommage aux qualités humaines et musicales du musicien.
Les trois amis construisent un paysage sonore envoûtant grâce aux mélanges de leurs timbres sensibles et de leurs idées complices, une histoire…
---
All compositions Stefan Orins
Recorded live at home on May 31 & June 1 2018 by Benoit Ganoote.
Recorded on a Bechstein Grand Piano A190 tuned by Guy Houzet.
Mix and CD-Master by Benoit Ganoote.
Cover photo and artwork by Stefan Orins
Available in CD (digifile cover), FLAC and mp3
Produced by Julien Favreuille, Christophe Motury, Stefan Orins and Circum-Disc.
---