THOMAS GRIMMONPREZ TRIO
KALEIDOSCOPE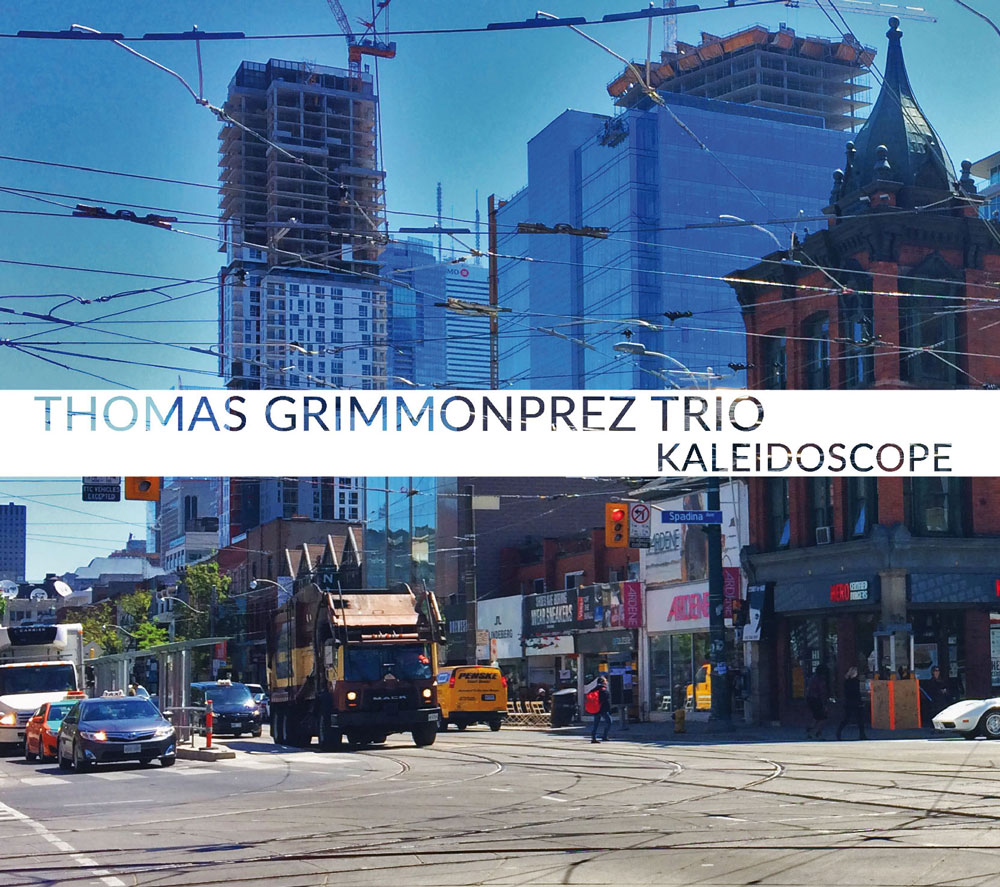 BUY / ACHETER
1 CD-Audio / Digifile 11 track / 53' Downloads included

8 €

FLAC / Lossless 1 Zip file / 349 Mo

5.00 €

mp3 / 320 Kbps CBR 1 Zip file / 151 Mo

5.00 €
"After a first recording « Bleu » which found in me a "drummer leader" soul, it seemed crucial to continue my writing work to clarify, shape and amplify this side of my personality. If the transition from sideman to "drummer leader" was not immediate, it nevertheless revealed obvious and exciting. I always liked to serve the music of others by performing as a sideman, but one day I wanted to get into a project from which I could assert my own identity, rich of many aesthetics which I feed.
The pleasure of composing naturally led me to bring forth a new sound palette, rich, colorful and infinite, echo chamber of my own emotion. Concerned about my emotional balance and listening to my own body, I decided to set to music the various states which sometimes cross me, grab me, excite me, paralyze me or electrify me. I appreciate the emotions that flow and especially the moments of release known by all musicians, I like to feel these energy balls floating around on stage.
Inspired by sensations already experienced, I conducted a work which prompted me to paint eleven drawings with different sound identities from which an emotional and musical "kaleidoscope" emerges, which is the mirror of my soul. Here a place resonates, there a breath whispers,  farther a taste sensation hatches, elsewhere a vibration between two people comes up…
Attracted by the sound of the Fender Rhodes, I have used this instrument to be able to travel my listeners through my harmonic colors. Persevering with the trio playing, I used again the talents of Jeremie Ternoy (piano and Fender) and Christophe Hache (double-bass) to help me shape this new world of sound.
These fluids, impalpable, communicative and lightning get through us and travel in all our concerts and even beyond… intense moments that I like to share with this global community of musicians."
Thomas Grimmonprez
---
"Après un premier disque "Bleu" qui a révélé en moi une âme de "batteur leader", il m'a semblé déterminant de poursuivre mon travail d'écriture afin de préciser, de façonner et d'amplifier cette facette de ma personnalité. Si le passage de sideman à "batteur leader" n'a pas été immédiat, il s'est pourtant révélé évident et excitant. J'ai toujours aimé me mettre au service de la musique des autres en revêtant ce rôle de sideman, mais un jour j'ai eu envie de me lancer dans un projet à partir duquel je pouvais affirmer ma propre identité, riche des nombreuses esthétiques dont je me nourris.
Le plaisir de composer m'a naturellement amené à enfanter d'une nouvelle palette sonore, riche, colorée et infinie, caisse de résonnance de mes propres émotion. Soucieux de mon équilibre émotionnel et à l'écoute de mon corps, j'ai décidé de mettre en musique les différents états qui parfois me traversent, me saisissent, m'enthousiasment, me paralysent ou m'électrisent. Je suis sensible aux émotions qui circulent et plus particulièrement aux moments des lâcher prises que connaissent tous les musiciens, j'aime ressentir ces boules d'énergie qui circulent sur scène.
En m'inspirant de sensations déjà éprouvées, j'ai mené un travail qui m'a incité à peindre onze tableaux aux identités sonores différentes d'où se dégage un "kaléidoscope" émotionnel et musical qui se fait le miroir de mon âme. Ici résonne un lieu, là se murmure une respiration, plus loin éclot une sensation gustative, ailleurs nait une vibration entre deux êtres…
Séduit par la sonorité du Fender Rhodes, j'ai utilisé cet instrument pour pouvoir faire voyager mes auditeurs au travers de mes couleurs harmoniques. Persévérant dans le jeu en trio, j'ai à nouveau eu recours aux talents de Jérémie Ternoy (piano et fender) et de Christophe Hache (contrebasse) pour m'aider à façonner ce nouvel univers sonore.
Ces fluides, impalpables, communicatifs et fulgurants nous transpercent et voyagent au sein de tous nos concerts et même au delà… Moments intenses que j'aime partager avec cette communauté planétaire des musiciens."
Thomas Grimmonprez
---
Recorded at la malterie (Lille – F) from December 21 to 23 – 2015 by Peter Orins. Mixed by Peter Orins.
CD-Master by Raphaël Jonin, Paris.
Photo, cover design and layout by Peter Orins.
Produced by Thomas Grimmonprez and Circum-Disc.
Available in CD (Digifile), FLAC and mp3.
---