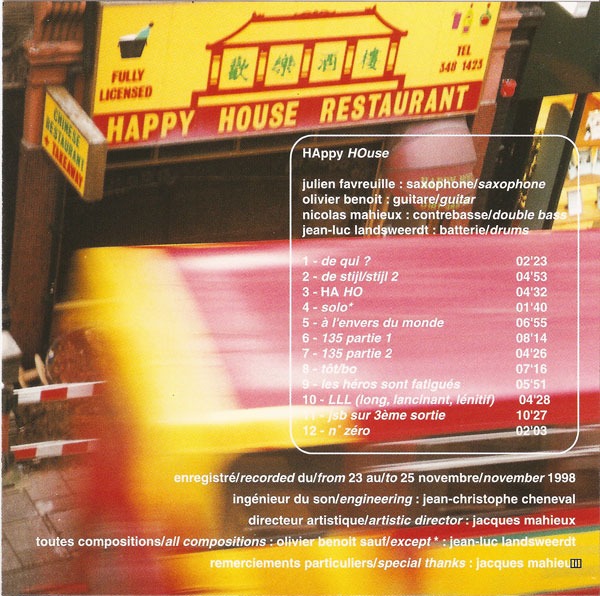 BUY / ACHETER
1 CD-Audio / Cristal Box 12 tracks / 63'13" Downloads included

5.00 €

FLAC / Lossless 1 Zip file / 367 Mo

5.00 €

mp3 / 320 Kbps CBR 1 Zip file / 166 Mo

5.00 €
Happy house is a place of diversity: based on a hybrid architecture, it exploits various styles, from intense lyricism to chaos, playing on contrasts, superposition, or on the contrary absolute unity. The written pieces are the bone structure of a mobile: nothing stays still, and the group takes the listener in a circle of unexpected and irresistible movements. This music, sometimes puzzling, is as bright as a deep commitment, without any trick.
"The scores of guitarist Olivier Benoit take this quartet down the difficult path of destructured jazz, a path which the musicians take with conviction and unrestrained energy. Sometimes puzzling because terribly inventive, this music will be a treat to those who love impulsive explosions tamed by a faultless structure."

Happy House est un lieu de diversité : à partir d'une architecture hybride, il exploite des registres variés, du lyrisme intense au chaos, jouant le jeu de l'opposition, de la superposition ou au contraire de l'unité la plus radicale. L'écriture est l'ossature d'un mobile : aucun élément ne reste figé, et l'ensemble entraîne l'auditeur dans un cercle de mouvements imprévus et irrésistibles. Cette musique parfois déroutante a l'éclat d'un engagement profond, sans artifice.
Disque paru en 2003 sur le label Kinpatsu.
---
See also :
---