ABDOU / DANG / ORINS
LESCENCE/GMATIQUE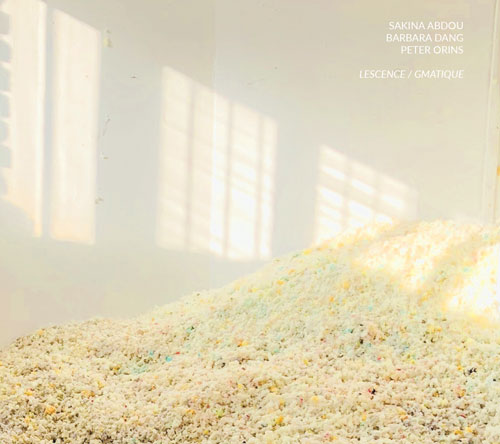 BUY / ACHETER
CD-Audio / Digifile 2 tracks / 34'38" Downloads included

7.00 €

FLAC HD / Lossless 1 Zip file / 674 Mo

5.00 €

mp3 / 320 Kbps CBR 1 Zip file / 80,3 Mo

5.00 €
A trio. Saxophone. Piano. Drums. Notes. Noise. Maybe melodies. Repetitive, surely. Hijacked instruments. Pure tones. Returned timbres. Relief, backgrounds. Maybe some foregrounds too. Minimal. But full. It's vegetable, wet, organic. It's suspended, tense, all delicate. Time stops, and passes.
Playing on minimalist modes and an ultra-reduced sound volume, Sakina Abdou, Barbara Dang and Peter Orins explore the timbres and the extended techniques of their instruments, play on the differences in plans and substances, blur the sound image.
The three musicians are active members of the Lille-based collective Muzzix, playing together in different projects such as La Pieuvre, the Grand Orchestre de Muzzix, Moondog – Round The World of Sounds, Toc & The Compulsive Brass, Tombstones, etc…
Having studied the recorder (ancient and contemporary music), then the saxophone, Sakina Abdou can be heard in the duo Bi-Ki? and Eve Risser's Red Desert Orchestra, with the Dedalus ensemble or in a duo with Raymond Boni. A pianist with a classical and jazz background, Barbara Dang's sound universe ranges from written experimental music to improvised music. She plays in duet with Sophie Agnel, with the Dedalus ensemble and develops a repertoire of experimental solo music. Peter Orins is a drummer of jazz, improvised and experimental music. Leading or accompanying many projects and encounters, he plays notably with Satoko Fujii, Dave Rempis, Toc, etc…
---
Un trio. Un saxophone. Un piano. Une batterie. Des notes. Du bruit. Des mélodies peut être. Répétitif sûrement. Des instruments détournés. Des sons purs. Des timbres retournés. Du relief, des arrières plans. Peut être des premiers plans aussi. Minimal. Mais plein. C'est végétal, humide, organique. C'est en suspens, en tension, tout en délicatesse. Le temps s'arrête, et passe.
Jouant sur des modes de jeu minimalistes et un volume sonore ultra réduit, Sakina Abdou, Barbara Dang et Peter Orins explorent les timbres et les techniques étendues de leurs instruments, jouent sur les différences de plans et de matières, brouillent l'image sonore.
Les trois musiciens sont des membres actifs du collectif lillois Muzzix, jouant ensemble dans différents projets tels que la Pieuvre, le Grand Orchestre de Muzzix, Moondog – Round The World of Sounds, Toc & The Compulsive Brass, Tombstones, etc… 
Ayant étudié la flûte à bec (musique ancienne et contemporaine), puis le saxophone, on peut entendre Sakina Abdou dans le duo Bi-Ki?, le Red Desert Orchestra d'Eve Risser, avec l'ensemble Dedalus ou encore en duo avec Raymond Boni. Pianiste de formation classique et jazz, l'univers sonore de Barbara Dang va de la musique expérimentale écrite à une musique improvisée. Elle joue en duo avec Sophie Agnel, avec l'ensemble Dedalus et développe un répertoire de musique expérimentale en solo. Peter Orins est un batteur de jazz et de musiques improvisées et expérimentales, il multiplie les projets et rencontres et joue notamment avec Satoko Fujii, Dave Rempis, Toc, etc…
---
All music composed by Sakina Abdou, Barbara Dang & Peter Orins
Recorded on July 8,  2018 at la malterie (Lille – France) by Peter Orins.
Edition and mix Peter Orins.
Available in CD (digifile cover), FLAC HD (96kHz/24bits) and mp3
Produced by Circum-Disc & Tour de Bras
---