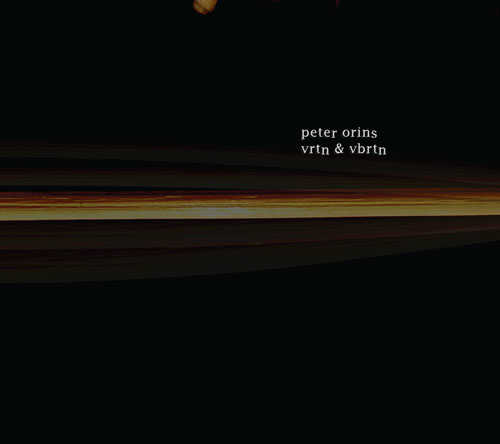 BUY / ACHETER
1 CD-Audio / Digifile

2 tracks / 50:16

Downloads included

10.00 €

FLAC HD, 96 kHz 24 bits

1 Zip File / 924 Mo

5.00 €

mp3, 320 kbps CBR

1 Zip File / 113 Mo

5.00 €
Continuing his solitary explorations, Peter Orins used an impeded year to initiate two distinct developments that enrich his approach to the drum solo.
The piece VRTN is a variation, or an extension, of the piece Happened By Accident, the subject of the eponymous album released in 2019 (Circum-Disc – LX014). It takes up the use of the drums as a resonator of various objects, wood, metal, glass, and the preponderance of the unexpected, by introducing accidents and interactions. The musician adds electronic treatment, which we find in his first record (Empty Orchestras – 2013), produced by Pure Data software: a device, designed in collaboration with Antoine Rousseau, autonomous enough to influence him in an unpredictable way. The electronics, in addition to more randomness and confusion on the sources of the timbres, causes a magnifying effect on the "microscopic" sounds, and plays with the resonances and vibrations by adding strange harmonic progressions.
VBRTN incorporates an extended technique found somewhat by chance by the drummer: inserting a thin woodstick between a cymbal and a floor tom, the play on the cymbal making the drumhead vibrate and resonate. Multiplying this device here with 3 floor toms and 3 cymbals, the resonators thus obtained produce long drones where the very low register meets subtle harmonics, creating moving melodies, beats and vibrations.
---
Poursuivant ses explorations solitaires, Peter Orins a profité d'une année un peu empêchée pour initier deux démarches distinctes qui viennent enrichir son approche du solo de batterie.
La pièce VRTN est une variation, ou une extension, de la pièce Happened By Accident, objet du disque éponyme sorti en 2019 (Circum-Disc – LX014). Elle reprend l'utilisation de la batterie en résonateur d'objets divers, bois, métal, verre, et la prépondérance de l'inattendu, par l'introduction d'accidents et d'interactions. Le musicien y ajoute le traitement électronique, qu'on retrouve dans son premier disque (Empty Orchestras – 2013), produit par le logiciel Pure Data : un dispositif, conçu en collaboration avec Antoine Rousseau, suffisamment autonome pour l'influencer de façon imprévisible. L'électronique, outre plus d'aléatoire et de confusion sur les sources des timbres, provoque un effet loupe sur les sons « microscopiques », et joue les résonances et les vibrations en y ajoutant d'étranges progressions harmoniques.
VBRTN reprend quant à elle un mode de jeu trouvé un peu par hasard par le batteur : insérer une fine baguette de bois entre une cymbale et un tom basse, le jeu sur la cymbale faisant ainsi vibrer et résonner la peau du tambour. Multipliant ici ce dispositif avec 3 toms basse et 3 cymbales, les résonateurs ainsi obtenus produisent de longs drones où le très grave côtoie de subtiles harmoniques, créant mélodies mouvantes, battements et vibrations.
---
All music composed and performed by Peter Orins
VRTN recorded on April 9 & 28 – 2020
VBRTN recorded on December 18 – 2020
Recorded at la malterie (Lille – F)
Mix & edit by Peter Orins
Available in Audio CD / Digifile, FLAC HD, mp3
Produced by Peter Orins & Circum-Disc
---
See Also
---