STEFAN ORINS
SUMMER'S HOPES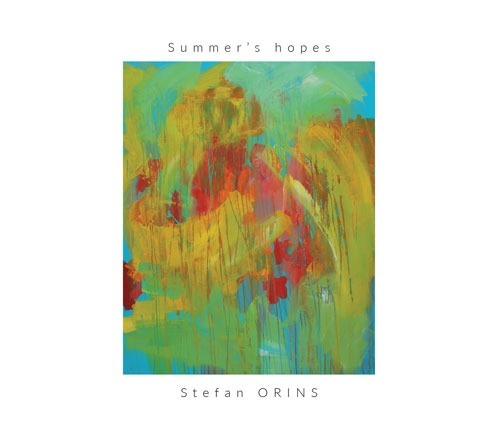 BUY / ACHETER
CD-Audio / Digifile 12 tracks / 48' Downloads included

10.00 €

FLAC / Lossless 1 Zip file / 198 Mo

5.00 €

mp3 / 320 Kbps CBR 1 Zip file / 114 Mo

5.00 €
Summer's Hopes is a painting from Patricia Jeanne Delmotte, that inspired me these 12 improvisations. Painted during summer 2018 in the heart of her garden, she was inspired by nature, with its colors, lights and the emotions it provides.
The point was not for this artist to reproduce a landscape or to represent flowers, plants and trees, but rather an attempt to translate, through abstraction, the impression left by nature. On March 2019, sound engineer Benoit Ganoote offered me to record piano solo improvisations. Looking at the painting on the wall in front of me, I improvised, trying to give an account through music of what the painting produced on me…
Patricia Jeanne Delmotte and Stefan Orins have formed an unusual artistic duo since 2008, while one is painting and the other plays the piano. Their complicity and their obstinacy to advance in their respective art and in their common project constantly push them to sharpen their listening and their vision. They cultivate a fertile ground for improvisation in their duo called «Bonheur Temporaire» (named after an album by Stefan Orins Trio). They do not hesitate to embark on various experiments such as residencies, show openings or visual concerts to establish a living contact with the audience.
---
12 improvisations en piano solo inspirées de la toile « Summer's Hopes » de Patricia Jeanne Delmotte
« Summer's Hopes », une peinture de Patricia Jeanne Delmotte, a été la source d'inspiration de ces 12 improvisations. Peinte au cours de l'été 2018 au cœur de son jardin, cette artiste a été inspirée par la nature, avec ses couleurs, ses lumières et les émotions qu'elle procure.
Il ne s'agissait pas pour elle de reproduire un paysage ou de représenter des fleurs, des plantes et des arbres, mais plutôt d'essayer de traduire, par l'abstraction, l'impression laissée par la nature. En mars 2019, l'ingénieur du son Benoit Ganoote m'a proposé d'enregistrer des improvisations en piano solo. Face à la peinture accrochée sur le mur, j'ai improvisé en essayant de traduire en musique ce que cette magnifique toile produisait sur moi…
Patricia Jeanne Delmotte et Stefan Orins forment un duo artistique atypique depuis 2008, tandis que l'un peint et l'autre joue du piano. Leur complicité et leur obstination à avancer dans leur art respectif et dans leur projet commun les poussent constamment à aiguiser leur écoute et leur vision. Ils cultivent un terrain fertile pour l'improvisation dans leur duo appelé « Bonheur Temporaire » (d'après le titre du second album du Stefan Orins Trio). Ils n'hésitent pas à se lancer dans des expérimentations diverses comme des résidences, vernissages ou concerts visuels pour établir un contact vivant avec le public.
---
All music composed by Stefan Orins
Recorded at home on March 12, 13, 14 2019 by Benoît Ganoote. Mix and cd-master Benoit Ganoote.
Cover Photo "Summer's Hopes" painting by Patricia Delmotte. Artwork by Stefan Orins.
Available in CD (digifile cover), FLAC and mp3.
Produced by Circum-Disc & Stefan Orins
---