LA GRANDE PEREZADE
URBAN BUSH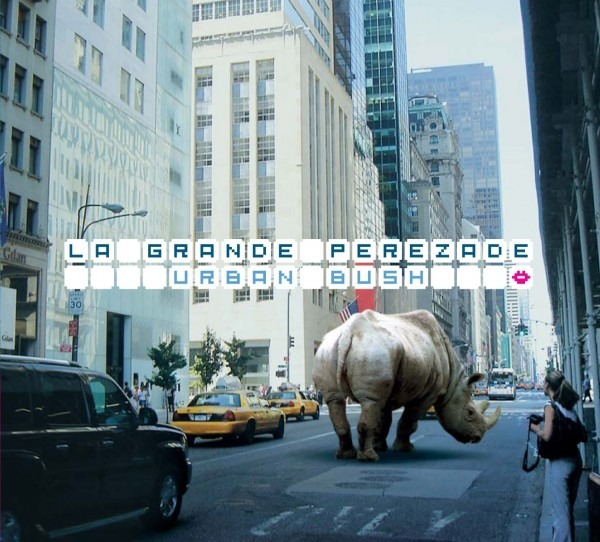 BUY / ACHETER
1 CD-Audio / Digifile 11 tracks / 76'21" Downloads included

5.00 €

FLAC / Lossless 1 Zip file / 388 Mo

5.00 €

mp3 / 320 Kbps CBR 1 Zip file / 193 Mo

5.00 €
---
LUDIVINE ISSAMBOURG : FLUTE
SAMUEL BELHOMME : TRUMPET, FLUGELHORN, VOICE
RÉMY GARÇON : SAXOPHONES, VOICE
THOMAS REMONDIÈRE : TROMBONE, VOICE
SYLVAIN CHOINIER : GUITAR, VOICE
EMMANUEL PIQUERY : KEYBOARDS, VOICE
NICOLAS TALBORT : DOUBLE BASS, VOICE
EMMANUEL PENFEUNTEUN : DRUMS, VOICE
JEAN-BAPTISTE PEREZ : SAXOPHONES, COMPOSITIONS
GUEST : DEBORAH LENNIE-BISSON : VOICE
---
Composed of musicians from the jazz and improvised scene from Paris and Normandy, this mini big-band offers a bold music, caressing improvised music, repetitive or rock.
From the telluric power of the big-band to the murmur of a duo, the palette of nuances and instrumentation used to explore varied universe, recalling sometimes Ennio Morricone sometimes Barry Guy orchestra or Willem Breuker.
The first opus summarizes the work done for several years on the compositions of Jean-Baptiste Perez with the desire to ensure maximum freedom within the writing, alternating total improvisations and very written passages , reconciling savagery and sophistication.



Composé de musiciens issus de la scène jazz et musiques improvisées bas-normande et parisienne, ce mini big-band libertin propose une musique audacieuse, caressant la musique improvisée, répétitive ou encore le rock.
De la puissance tellurique du big-band au murmure d'un duo, la palette de nuances et d'instrumentation permet d'explorer des univers variés, rappelant tantôt Ennio Morricone tantôt Barry Guy orchestra ou Willem Breuker.
Ce premier opus résume le travail réalisé depuis plusieurs années sur les compositions de Jean-Baptiste Perez avec le désir de garantir le maximum de liberté au sein de l'écriture, alternant improvisations totales et passages très écrits, réconciliant sauvagerie et sophistication.
Enregistré par Samuel Neaud au DOC du 29/01 au 02/02/2007. Mixé par Samuel Neaud et Jean-Baptiste Perez. Mastering Christophe Menanteau.
---