GARBOWSKI / CRUZ / ORINS
LINES OF FLUX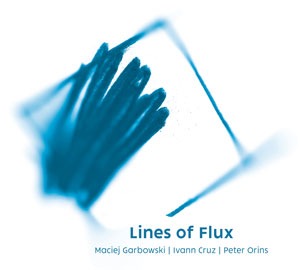 BUY / ACHETER
1 CD-Audio / Digifile 12 tracks / 54'24" Downloads included

7.00 €

FLAC / Lossless 1 Zip file / 217 Mo

5.00 €

mp3 / 320 Kbps CBR 1 Zip file / 136 Mo

5.00 €
The meeting between Ivann Cruz and Maciej Garbowski within a European project in 2010 led to the creation of several groups mixing this Polish double bassist and composer and the musicians of the Muzzix collective, such as the Garbowski-Cruz Quartet and the Wei3 trio.
After a series of concerts in Poland, Peter Orins and Ivann Cruz  join Maciej Garbowski at the Institute of Music Performance in Katowice to take the risk of making an urgent live recording. This stolen moment gives rise to a record where minimalist jazz and free chamber music mix. A free and intimate music….
"In a magnetic field between opposite poles, the flux lines have the same general shape and orientation. The flux density is considerable along and near a line connecting the poles. As the distance from the line connecting the poles increases, the flux density decreases.
Lines of flux are intangible; they cannot be seen. But they can be observed indirectly, and they produce demonstrable effects." Maciej Garbowski
---
La rencontre entre Ivann Cruz et Maciej Garbowski au sein d'un projet européen en 2010 a permis la création de plusieurs formations mêlant ce contrebassiste et compositeur polonais et les musiciens du collectif Muzzix, comme le Garbowski-Cruz Quartet et le trio Wei3.
En terminant une série de concerts en Pologne, Peter Orins et Ivann Cruz dévient de leur route pour rejoindre Maciej Garbowski à l'Institute of Music Performance de Katowice pour se risquer à l'urgence d'un enregistrement sur le vif. Ce moment volé donne lieu à un disque où se mêlent jazz minimaliste et free music de chambre. Une musique libre et intimiste…
"Dans un champ magnétique entre pôles opposés, les lignes de flux ont la même forme générale et la même orientation. La densité de flux est considérable le long et à proximité d'une ligne reliant les pôles. Plus la distance de la ligne reliant les pôles augmente, plus la densité de flux diminue.
Les lignes de flux sont intangibles ; elles ne sont pas visibles. Mais elles peuvent être observées indirectement et produisent des effets démontrables." Maciej Garbowski
---
Recorded on November 13 and 14 2017 at the Institute of Music Performance – Katowice (PL) by Mateusz Nawrocki. Mix by Peter Orins and Ivann Cruz. Mastering Michal Rosicki.
Produced by Fundacja IMP and Circum-Disc
Available in CD (digifile cover), FLAC and mp3
---
See also :
---