UN ENSEMBLE
POINTS SANS SURFACE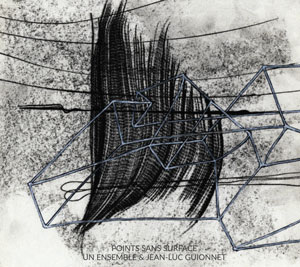 BUY / ACHETER
1 CD-Audio / Digifile 12 tracks / 65'37" Downloads included

12.00 €

FLAC / Lossless 1 Zip file / 252 Mo

5.00 €

mp3 / 320 Kbps CBR 1 Zip file / 126 Mo

5.00 €
---
JULIA-HANADI AL ABED : ELECTRONICS LAURIE BATISTA : VOICE TANGUY BERNARD : SOUSAPHONE BENJAMIN BONDONNEAU : CLARINET CHRISTOPHE CARDOEN : LIGHTS PATRICK CHARBONNIER : TROMBONE ERIC CAMARA : DOUBLE BASS AND VIOLA DA GAMBA PAOLO CHATET : TRUMPET DAVID CHIESA : ELECTRIC PIANO FRAME JEAN-LUC GUIONNET : ALTO SAXOPHONE THOMAS LACHAIZE : SAXOPHONES LOIC LACHAIZE : SOUND JULIETTE LACROIX : CELLO DELPHINE LAFON : VOICE GUILLAUME LAIDAIN : ANALOG SYNTHESIS DIDIER LASSERRE : SNARE DRUMS AND CYMBALS BRUNO LAURENT : DOUBLE BASS JOHANN LOISEAU : FLUTES, SMALL PERCUSSIONS, THEREMIN JOHANN MAZÉ : DRUMS MATHIAS PONTEVIA : PERCUSSIONS CHRISTOPHE RATIER : BASS CLARINET JEAN MARC REILLA : ANALOG SYNTHESIS, ELECTRONICS JULIA ROBIN : DOUBLE BASS JEAN ROUGIER : DOUBLE BASS FRÉDÉRIC ROUMAGNE : ELECTRIC GUITAR IAN SABOYA : ELECTRIC GUITAR CLAUDE SAUBOLE : ACOUSTIC GUITAR JULIEN SELLAM : VIOLIN STÉPHANE TORRÉ-TRUÉBA : INDIAN HARMONIUM, VOICE
---
Points sans surface is a composition by Jean-Luc Guionnet for the Un Ensemble, a large ensemble created in 2012 under the direction of David Chiesa.
The piece includes a sound system for 25 musicians and 8 speakers.
It is also a visual experience generated by light. The general device consists of an acoustic and electroacoustic spatialization of sound. The audience is surrounded by musicians and speakers. Each instrumentalist is picked up by a microphone connected to a mixing console offering the possibility of amplifying these sources and broadcasting them again, according to the needs of the room. The sound then takes on a three-dimensional dimension: an acoustic distance (musicians), a proximity (loudspeakers), a verticality (musicians and loudspeakers are placed at different heights). Jean-Luc Guionnet indicates partition positions, and sometimes shouts them out. The musicians throw diagonals, correspondences, throws towards the walls, the floor, the ceiling. Sometimes, we perceive blocks or, on the other hand, lost solos. Beyond the autonomies of play, timbres and tempo, an indescribable feeling of sound invasion of the air settles in, disappears, returns, we hear like an orchestra that would scrap with another, elsewhere.
---
Points sans surface est une composition de Jean-Luc Guionnet pour le Un Ensemble, grand ensemble né en 2012 sous l'impulsion de David Chiesa.
La pièce inclue un dispositif sonore pour 25 musiciens et 8 haut-parleurs.
C'est aussi une expérience visuelle générée par la lumière. Le dispositif général consiste en une spatialisation acoustique et électroacoustique du son. Le public est entouré par les musiciens et les haut-parleurs. Chaque instrumentiste est capté par un micro relié à une console de mixage offrant la possibilité d'amplifier ces sources et de les rediffuser, selon les besoins de la pièce. Le son prend alors une ampleur tridimensionnelle : un lointain acoustique (les musiciens-nes), une proximité (les haut-parleurs), une verticalité (musiciens et haut-parleurs sont placés à différentes hauteurs). Jean-Luc Guionnet indique des positions de partition, et quelquefois les crie. Les musiciens jettent des diagonales, des correspondances, des lancers vers les murs, le sol, le plafond. Parfois, on perçoit des blocks ou, à l'inverse, des solos perdus. Par delà les autonomies de jeux, de timbres et de tempi, une indescriptible sensation d'envahissement sonore de l'air s'installe, disparaît, revient, on entend comme un orchestre qui ferraillerait avec un autre, ailleurs.
---
Edit, mix : Jean-Luc Guionnet / Loic Lachaize
Mastering : La part des anges – Pierre Etchandy
Produced by Le Un Ensemble & Circum-Disc
Available in CD (digifile cover), FLAC and mp3
---