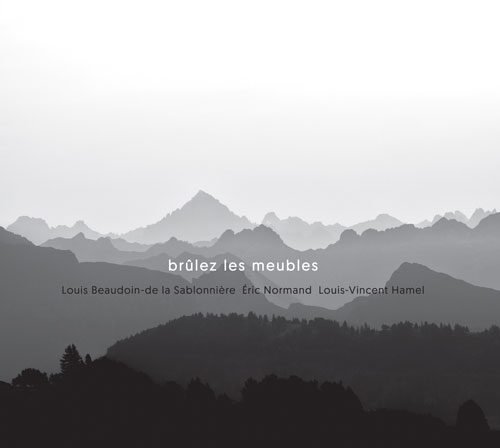 BUY / ACHETER
1 CD-Audio / Digifile 7 tracks / 37'51" Downloads included

7.00 €

FLAC HD / Lossless 1 Zip file / 456 Mo

5.00 €

mp3 / 320 Kbps CBR 1 Zip file / 97 Mo

5.00 €
The trio Brûlez les meubles (« Burn the furniture ») is the meeting of three musicians with very different paths around the desire to create a jazz guitar trio that is oblique in the history of the genre.
Nourishing aesthetic filiations with many precursors, from Jim Hall to Sonny Sharrock via Abercrombie or Bill Frisell, the trio stands out by a marked indifference to the habitual harmonic progress of jazz as for the repetitive movements and prefers melodic lines with indefinite harmony (harmolodie?) and incisive riffs.
Louis Beaudoin-de la Sablonnière is a guitarist and bachelor of music at the Université of Sherbrooke. On the 7-string guitar, he cradles as much as he cuts through in an assumed creative gesture and delivers his riffs in a jovial spirit of last night on earth. He is part of the jazz / rock group Gisèle who has released two albums and made several shows throughout the province. He has performed in various improvised music contexts with different backgrounds. He has been part of the Atypical dance collective as a musician / composer and performs solo regularly.
Éric Normand is an improviser, bassist, composer, singer and lyricist, instrument designer and producer of records and concerts. He defines himself as an epidisciplinary artist, a free electron animated by the spirit of the encounter, by the defense of freedom and the spirit of co-creation.
He lives in a far area in Rimouski, Quebec, and is the Artistic Director of Tour de Bras, an organization dedicated to improvisation music. For the last ten years, he has also directed a large improvisers orchestra (GGRIL).
Improviser, Eric invents a personal and radical language. Equipping his bass with an electronic paraphernalia made by himself, he forces himself to reinvent instrumental gestures. He becomes a tamer of electricity who, by precise and light gestures, cultivates a refined chamber bruitism, but always at the edge of the ravine. He favors duets and trios with Xavier Charles, Philippe Lauzier, Jim Denley, Pierre-Yves Martel, Martin Tétreault, in addition to many impromptu meetings.
Louis-Vincent Hamel is one of the most popular young drummers on the Quebec jazz scene. He has been heard alongside Yannick Rieu, Samuel Blais, Gentiane MG, Gabrielle Shonk and many other musicians.
In addition to playing regularly in Montreal, he has toured extensively in Quebec, Europe and Asia.
---
Le trio Brûlez les meubles est la réunion de trois musiciens aux parcours fort divergents autour du désir de créer un trio de guitare jazz qui s'inscrit de façon oblique dans l'histoire du genre.
Nourrissant des filiations esthétiques avec de nombreux précurseurs, de Jim Hall à Sonny Sharrock en passant par Abercrombie ou Bill Frisell, le trio se démarque par une indifférence marquée pour les progressions harmoniques habituelles du jazz comme pour les mouvances répétitives et privilégie des lignes mélodiques à l'harmonie indéfinie (harmolodie ?) et des riffs incisifs.
Louis Beaudoin-de la Sablonnière est un guitariste, bachelier en musique de l'Université de Sherbrooke. À la guitare 7 cordes, il berce autant qu'il tronçonne dans un geste créatif assumé et livre ses riffs dans un jovial esprit de dernier soir sur terre. Il fait partie du groupe de jazz/rock Gisèle qui a sortie deux albums et fait plusieurs spectacles un peu partout dans la province. Il a joué dans plusieurs contextes de musique improvisée avec différentes formations. Il a fait partie du collectif de danse Atypique en tant que musicien/compositeur et se produit en solo régulièrement.
Éric Normand est improvisateur, bassiste, compositeur, chanteur et parolier, concepteur d'instruments et producteur de disques et de concerts. Il se définit comme un artiste épidisciplinaire, électron libre animé par l'esprit de la rencontre, par la défense de la liberté et de l'esprit de co-création.
Il vit en région éloignée, à Rimouski (Québec), et est directeur artistique de Tour de Bras, un organisme voué aux musiques d'improvisation. Il y dirige aussi, depuis dix ans, un grand orchestre d'improvisateurs (le GGRIL).
Improvisateur, Éric invente un langage personnel et radical. Équipant sa basse d'un attirail électronique de sa fabrication, il se force à réinventer la gestuelle instrumentale. Il devient un dompteur d'électricité qui, par des gestes précis et légers, cultive un bruitisme de chambre raffiné, mais toujours au bord du ravin. Il privilégie les duos et trios avec Xavier Charles, Philippe Lauzier, Jim Denley, Pierre-Yves Martel, Martin Tétreault, en plus de nombreuses rencontres impromptues.
Louis-Vincent Hamel est un des jeunes batteurs les plus en demande sur la scène du jazz québécois. On l'a entendu aux côtés de Yannick Rieu, Samuel Blais, Gentiane MG, Gabrielle Shonk et de nombreux autres musiciens.
En plus de jouer régulièrement à Montréal, il a fait de nombreuses tournées au Québec, en Europe et en Asie.
---
Recorded in July – 2017 at La Pointe Sec – Saint Maxime du Mont Louis (QC – Canada).
Mix by Louis Beaudoin-de-la-Sablonnière
CD-Master by Charles-David Dubé.
Photo by Jeff Humbert. Graphic design by Marie-Pierre Morin
Produced by Louis Beaudoin-de-la-Sablonnière and Eric Normand for Tour de Bras and Circum-Disc
Available in CD, FLAC HD (48 kHz/24 bits) and mp3
---