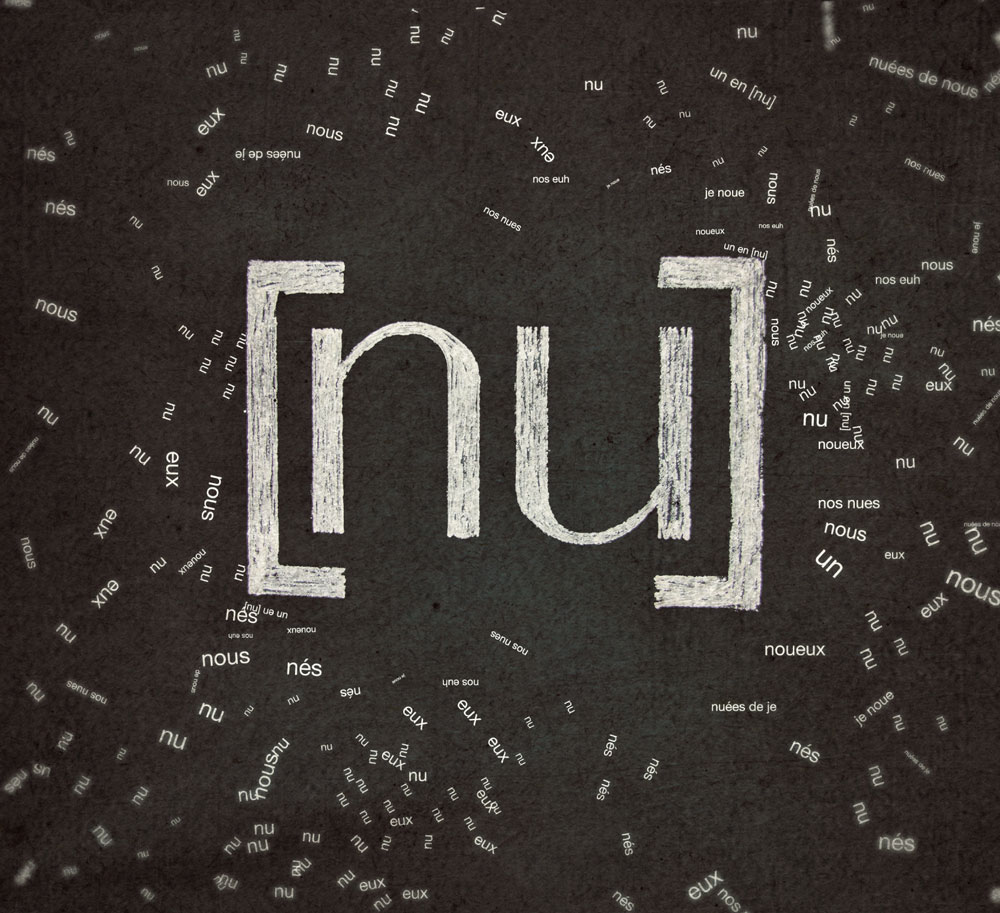 BUY / ACHETER
1 CD-Audio / Digipack 12 tracks / 60'49" Downloads included

12.00 €

FLAC / Lossless 1 Zip file / 382 Mo

5.00 €

mp3 / 320 Kbps CBR 1 Zip file / 188 Mo

5.00 €
[nu], or "nous" in phonetics (meaning « we » in french), is a poetic and musical exploration of the author Thomas Suel, trumpet player Christian Pruvost and Jeremie Ternoy at the Fender Rhodes. [nu] is a poem concert that mirrors the individual and the collective, seeking interactions between meanings and sounds.
The poetry of Thomas Suel undress us, probing what gives us our humanity and uniting our solitudes. From sound poetry to classical verse, through accumulations or polysemy, his writing mixes lexicons, modes of versification and rhythmic constructions. His soundful and melodic language, powerful and sensitive, creates meaning games by shifting tones and inspires the listener very personal images.
With various playing modes, the musical language of Christian Pruvost and Jeremie Ternoy feeds with raw sound data, voice (including the words about "nous", collected in residences) or instrumental materials, from white noise to frequencies more often reserved for electronic music. The musicians include continuous breath, prepared instruments and electronic treatment that bring the listener into a world of concrete music. They also introduce noisy elements, sound objects from everyday life and from our common environment, allowing to combine poetry and soundscapes. To combine materials and sounds with harmonic and rhythmic parts, they take to the minimalist and repetitive music by stretching the time, creating melodic, harmonic and rhythmic illusions.
On stage, [nu] is a "multiphonic" show. Listeners are surrounded by speakers with different sound color and put them in a situation of immersion.


[nu], ou "nous" en phonétique, est une exploration poétique et musicale de l'auteur Thomas Suel, du trompettiste Christian Pruvost et de Jérémie Ternoy au Fender Rhodes. [nu] est un poème-concert mettant en miroir l'individu et le collectif, cherchant les interactions entre les sens et les sons.
La poésie de Thomas Suel "nous" déshabille, sondant ce qui fonde notre humanité et unissant nos solitudes. Allant de la poésie sonore à la versification classique, en passant par les accumulations ou la polysémie, son écriture mélange les lexiques, les modes de versification et les constructions rythmiques. Sa langue sonore et mélodique, percutante et sensible, crée des jeux de sens en décalant les sonorités et fait naître ainsi chez l'auditeur des images très personnelles.
Grâce à différents modes de jeu, le langage musical de Christian Pruvost et Jérémie Ternoy se nourrit des données brutes du son, de matières sonores vocales (notamment des paroles sur le « nous », récoltées lors de résidences) ou instrumentales inouïes, depuis le bruit blanc jusqu'à des fréquences plus souvent réservées aux musiques électroniques. Les musiciens intègrent souffle continu, préparation et traitements électroniques qui emmènent l'auditeur dans un univers de musique concrète. Ils introduisent également des objets sonores de la vie courante et de notre environnement commun, permettant d'allier poésie et paysages sonores. Afin de combiner matières et corps sonores avec pièces harmoniques et rythmiques, ils empruntent aux musiques minimalistes et répétitives en étirant le temps, créant des illusions mélodiques, harmoniques et rythmiques.
Sur scène, [nu] est un spectacle « multiphonique ». Les auditeurs sont entourés de haut-parleurs de différentes couleurs sonores pour les placer en situation d'immersion. [nu] est un poème-concert à ressentir intensément, nous convaincant que le je et le nous peuvent encore vivre ensemble…


Produced by la Compagnie Générale de l'Imaginaire
---