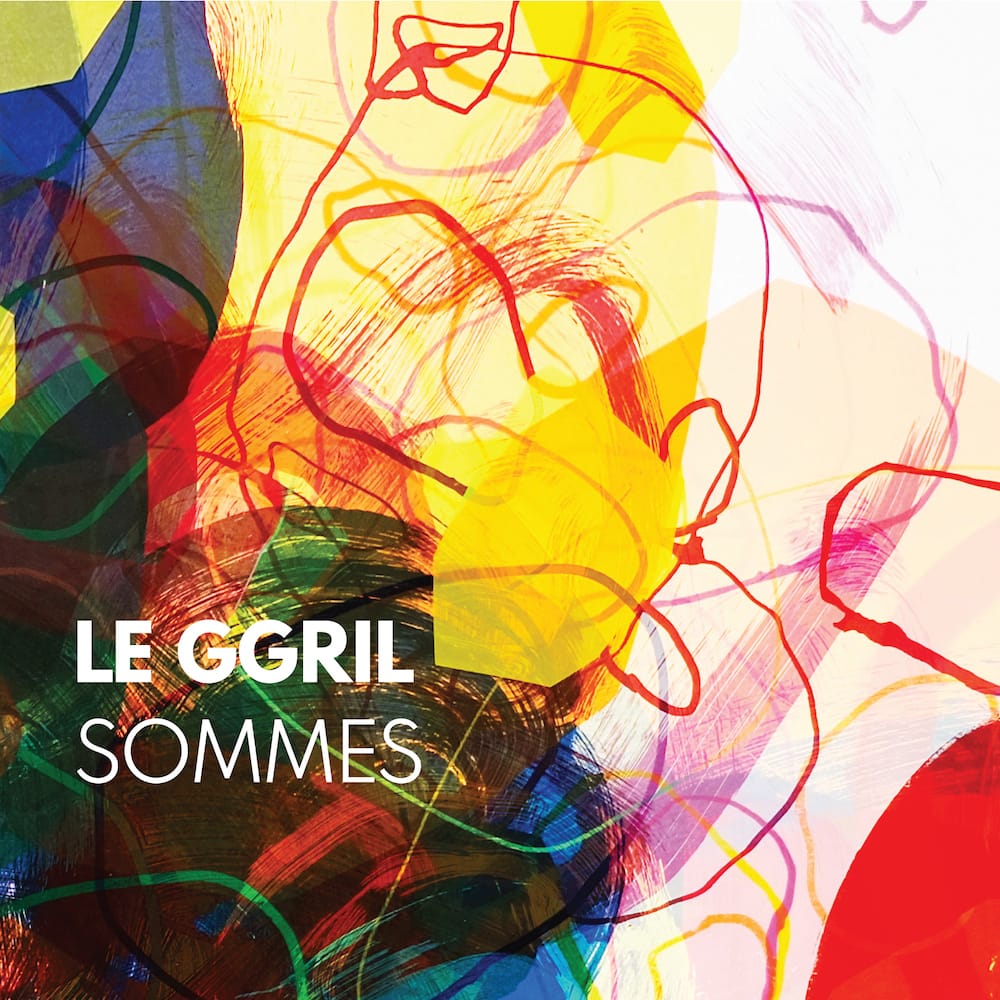 BUY / ACHETER
1 CD-Audio / Digifile

17 tracks / 49:47

Download included

17.00 €

FLAC 44.1kHz / 24 bits

1 Zip File / 1,17 Go

5.00 €

mp3 320 kbps CBR

320 kbps CBR 1 Zip File / 148 Mo

5.00 €
GGRIL is a motley and joyful crew of musicians from the small, culturally vibrant town of Rimouski in eastern Quebec. In their first decade and a half together, they've worked with many of improvised music's leading lights, including Evan Parker, Ingrid Laubrock, and Xavier Charles. This year, they're celebrating their milestone 15th anniversary with the release of their 7th recording, the ambitious and gargantuan Sommes: three discs, 12 commissioned pieces by 12 different composers, 21 musicians, and epic 211 minutes of music.
For this new release on the Tour de Bras label, the group revisits music from their storied history, performing compositions by a mix of Canadian and international composers written specifically for the ensemble between 2012 and 2020. Produced and mixed by Michel F. Côté under the musical direction of Guido Del Fabbro, and recorded by Bernard Grenon at the Coopérative de Solidarité Paradis in September 2020, Sommes represents GGRIL at the height of their creative powers. This is truly new music, spontaneous and alive, created by an unlikely and exciting ensemble.
"LE GGRIL, a totally boss improvisational band working in the tradition of Butch Morris' ensembles or Globe – large masses of hard blown improvisation interwoven with more delicately wrought sounds, all done with a crazy energy level."
BYRON COLEY, The Wire
---
Le GGRIL est une ensemble hétéroclite de musiciens de la ville de Rimouski, dans l'est du Québec. Au cours de leur 15 années d'existence, ils ont travaillé avec de nombreux chefs de file de la musique improvisée, dont Evan Parker, Ingrid Laubrock et Xavier Charles. Cette année, ils célèbrent leur 15e anniversaire avec la sortie de leur 7e enregistrement, l'ambitieux et gar- gantuesque SOMMES : trois disques, 12 pièces commandées à 12 compositeurs.trices, 21 musicien.nes et 211 minutes de musique.
Pour cette nouvelle sortie sur l'étiquette Tour de Bras, le groupe revisite la musique de leur riche histoire, interprétant des com- positions d'un mélange de compositeurs canadiens et interna- tionaux écrites spécifiquement pour l'ensemble entre 2012 et 2020. Produit et mixé par Michel F. Côté sous le direction musi- cale de Guido Del Fabbro, et enregistré par Bernard Grenon à la Coopérative de Solidarité Paradis en septembre 2020, Sommes représente le GGRIL au sommet de sa puissance créatrice. C'est vraiment de la nouvelle musique, spontanée et vivante, créée par un ensemble improbable et passionnant.
"Le GGRIL, un groupe d'improvisation totalement fou travaillant dans la tradition des ensembles de Butch Morris ou de Globe, de grandes masses d'improvisations soufflées entrelacées avec des sons plus délicatement travaillés, le tout avec un niveau d'énergie fou." – BYRON COLEY, The Wire
---
Music composed by Frédéric Blondy, Robert Marcel Lepage, Lisa Cay Miller, Malcolm Goldstein, Caroline Kraabel, Allison Cameron, Martin Arnold, Lori Freedman, Michel F. Côté, Jean Derome, Gus Garside.
Recorded at Coop Paradis in Rimouski (CA) from September 21 to 27 – 2020, except Éistphéist recorded on October 19 – 2020 at Salle Desjardins-Telus (Rimouski).
Recording: Bernard Grenon
Musical direction for the recording: Guido Del Fabro
Realisation and mix: Michel F. Côté
Cutting: Mario Gauthier
Illustration: Tania Girard-Savoie for le GGRIL
Graphic Design: Marie-Pierre Morin
Available in Audio-CD / Digifile, FLAC 44.1kHz / 24 bits & mp3 320 kbps CBR
Produced by Tour de Bras & Circum-Disc
---
See Also

---