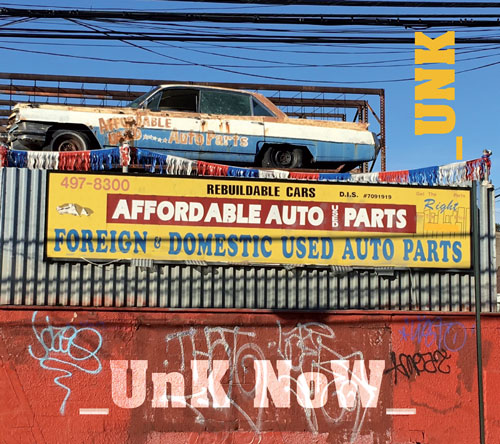 BUY / ACHETER
7 tracks / 52'58" Downloads included

10.00 €

FLAC HD / Lossless 1 Zip file / 1 Go

5.00 €

mp3 320 Kbps CBR 1 Zip file / 131 Mo

5.00 €
We don't really know how to pronounce _UNK or which letter is missing… ! _UNK invites, leaves open and then tries to create surprise, starting with its name proposed as an enigma but also through the music that the quartet gives to hear.
Formed in 2015, _UNK offers for its first CD a repertoire made up solely of original compositions but also an unpredictable arrangement of a Choral by Olivier Messiaen, which is definitely in line with _UNK's desire to surprise.
_UNK clears, mixes and confronts genres offering a contemporary, energetic, electric, urban jazz tinged with rock. A jazz that could be described as progressive, sometimes experimental, but also very written, melting groove, improvisations and atmospheric ballads with melodies that are sometimes unusual, eccentric, lyrical and sensitive.
---
On ne sait pas vraiment comment prononcer _UNK ni quelle lettre il manque… ! _UNK invite, laisse ouvert et tente alors de créer la surprise à commencer par son nom proposé comme une énigme mais aussi à travers la musique que le quartet donne à entendre.
Formé en 2015, _UNK offre pour son premier disque un répertoire uniquement constitué de compositions originales mais aussi un imprévisible arrangement d'un Choral d'Olivier Messiaen s'inscrivant décidément dans le désir qu'_UNK a de vouloir surprendre.
_UNK défriche, mixe et confronte les genres offrant un jazz contemporain, énergique, électrique, urbain teinté de rock. Un jazz qu'on pourrait qualifier de progressif, parfois expérimental, mais aussi très écrit melant groove, improvisations et ballades atmosphériques aux mélodies tantôt insolites, excentriques tantôt lyriques et sensibles.
---
Recorded in February 2019 at Studio « La Fabric » (Roubaix – F) by Frédéric Candeille.
Mix : Christophe Maerten.
Mastering : Julien Marga (Dafli Studio).
Graphic design : Catherine Millet
Available in CD (digifile cover), FLAC and mp3
Produced by _Unk & Circum-Disc
---