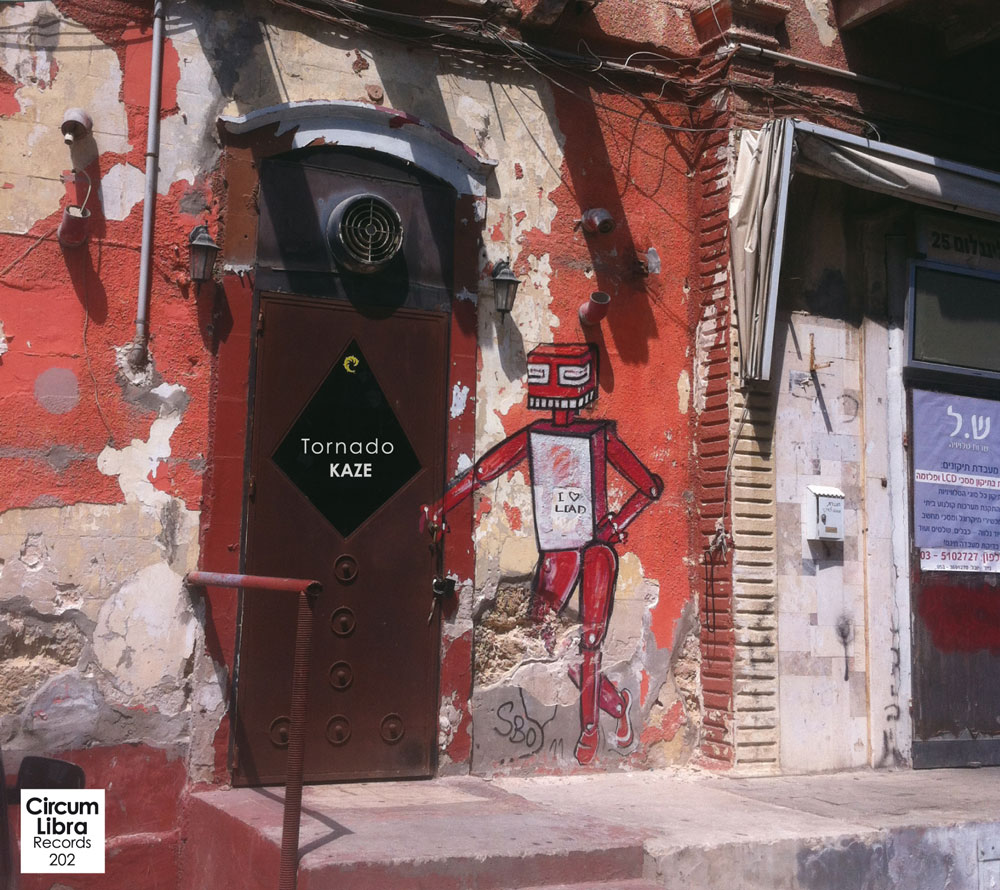 BUY / ACHETER
1 CD-Audio / Digifile 5 tracks / 51'11" Downloads included

5.00 €

FLAC / Lossless 1 Zip file / 317 Mo<

5.00 €

mp3 / 320 Kbps CBR 1 Zip file / 144 Mo

5.00 €
This is only the second recording of the KAZE quartet, though the quartet sounds as if these four musicians have been playing and known each other for many years. The quartet members have formed an immediate bond and imaginative communication, in studio, on stage and off stage, but there is more to the picture. Each of them, individually and together as a powerful unit, are gifted storytellers. The five compositions on Tornado tell us enchanting, fascinating and bewildering stories.
The stories that pianist Satoko Fujii, trumpeters Natsuki Tamura and Christian Pruvost and drummer Peter Orins wish to tell us are not ones that aim for simple, straight ahead narratives. These complex, multi-layered stories divert into many side alleys, full of weird distractions and exotic, amusing surprises. But these stories manage to keep the tension throughout and seize our imagination.
The five compositions – penned by Tamura, Orins and Fujii, reveal their many secrets after repeated listenings. First these compositions bewitch you with their level of intense and focused energy, the imaginative and commanding musicianship, and, obviously, the infinite musical vocabulary. Then you are tempted to learn more about the raging and dramatic interplay, to understand the extended breathing techniques of Tamura and Pruvost, maybe even attempt to reconstruct a coherent sequence of sonic events. But again and again you find yourself surrendering to these exceptional and arresting musical stories, adopting their unique, intuitive perspectives.
These elaborate compositions-stories succeed to penetrate into our inner souls, to hold our attention and expand our imagination because they are so vivid and true. They tell us something profound about the most honest commitment to art, the responsibility of an artist to communicate her or his art with passion; to move and motivate us with this art and to reconnect us with our often repressed thoughts and desires; asking us to be alive, now, in this moment, to fully enjoy this most inspiring and beautiful music.
~Eyal Hareuveni



Cet album n'est que le deuxième de KAZE, et pourtant il donne l'impression que les quatre musiciens se connaissent et jouent ensemble depuis de nombreuses années. La connexion entre eux a été immédiate, leur manière de communiquer pleine d'imagination, que ce soit en studio, sur scène ou en coulisses, mais il y a bien plus à en dire. Pris individuellement, ou dans l'ensemble que forme Kaze, tous sont de talentueux conteurs d'histoires. Les cinq compositions de Tornado nous relatent des récits tout aussi enchanteurs et fascinants que déroutants.
En effet, les histoires de la pianiste Satoko Fujii, du trompettiste Natsuki Tamura et du batteur Peter Orins ne sont pas de celles qui visent une narration simple ou rectiligne. Ce sont plutôt des histoires composites, à niveaux multiples, qui dévient sur des chemins variés, des histoires pleines de mystérieuses distractions et de surprises exotiques. Des histoires qui entretiennent une certaine tension d'un bout à l'autre et s'emparent de notre imagination.
Les cinq compositions, écrites par Tamura, Orins et Fujii, ne révèlent leurs nombreux secrets qu'après plusieurs écoutes. Au premier abord, elles vous ensorcèlent par leur énergie intense et concentrée, une maîtrise musicale inventive et impérieuse, et un vocabulaire musical infini. Ensuite, arrive la tentation d'en savoir plus sur l'interaction, intense et théâtrale, de comprendre les vastes techniques de souffle de Tamura et Pruvost, peut-être même de chercher à reconstruire une suite logique d'évènements sonores. Pourtant, encore et toujours, on s'abandonne à ces histoires exceptionnelles et captivantes, en adoptant leurs intuitives et uniques perspectives.
Ces compositions élaborées parviennent à pénétrer au plus profond de nos âmes, elles retiennent notre attention et développent notre imagination, car elles sont frappantes de justesse. Elles nous racontent un aspect profond de l'engagement le plus sincère à l'art, la responsabilité qu'a un artiste de communiquer son art avec passion, de nous émouvoir et de nous stimuler, ainsi que de nous reconnecter avec nos pensées et désirs souvent réprimés ; elles nous demandent d'être vivants, là, maintenant, pour apprécier au mieux cette musique superbe et inspirante.
– Eyal Hareuveni



Recorded October 2 and 3, 2012 by Patrice Kubiak at Studio Ka, Faches Thumesnil (F). Mixed on December, 2012 by Peter Orins. Mastered on January 2013 by Scott Hull at Scott Hull Mastering, New York.



Produced by Circum-Disc and Libra Records



see also :

---