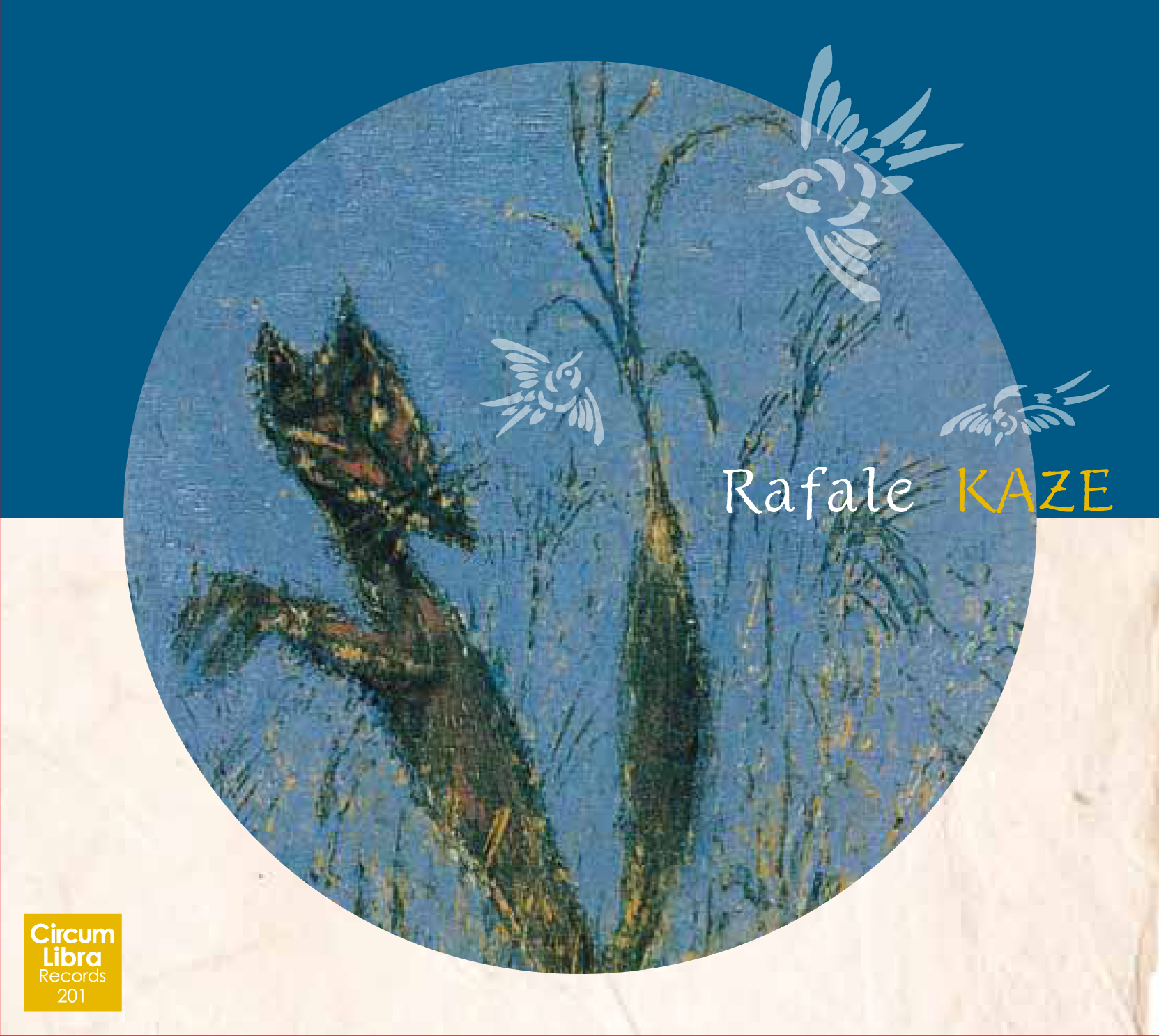 BUY / ACHETER
1 CD-Audio / Digifile 6 tracks / 60' Downloads included

5.00 €

FLAC / Lossless 1 Zip file / 348 Mo

5.00 €

mp3 / 320 Kbps CBR 1 Zip file / 144 Mo

5.00 €
French drummer Peter Orins and trumpeter Christian Pruvost join Satoko Fujii and Natsuki Tamura to form an electrifying new collective quartet called Kaze on their debut recording, Rafale. Fujii met Orins in November 2002, when her Japanese quartet played on a double bill with Impression in Lille, France. "I had very bad jet lag, but I didn't feel sleepy at all while they performed before our set because I was so fascinated with their performance," Fujii explains in her liner notes to the album. "It was not like any music I had heard before. It is wild but it is also very intellectual."
Almost eight years later, she and Tamura had a chance to perform with Orins and he suggested that they play with Pruvost as well. "His playing is extraordinary—beyond our expectations," Fujii says. "It sounds unlike anything else." Their next opportunity to play as a quartet came eight months later in November 2010 in Krakow, at a concert in celebration of the bicentennial of Frederick Chopin's birth. Tamura composed "Noise Chopin" in honor of the occasion and the great Polish pianist-composer's spirit hovers over the music on more than one occasion. It was this concert that became Rafale.
The quartet has an instant chemistry and it's clear from the beginning that there's no predicting where they will take the music. For instance, on Orins's "Marie – T," drummer and pianist engage in a duet of strange juxtapositions and odd contrasts, Fujii playing an explosive, ebbing and flowing solo as Orins maintains a subdued, even-keeled percussion commentary. Then as Fujii plays beautiful, almost Chopin-like chords, Orins counters with eerie high-pitched electronic tones. Tamura and Pruvost are trumpet soulmates, both possessed of antic imaginations and an insatiable curiosity about the kinds of sounds they can get from their instrument. Their opening duet on "Polly" is an extraordinary dialogue of bizarre sounds produced by extended techniques that is both wildly inventive and completely musical. Even as Orins pushes the band with a punishing groove, the trumpeters continue to banter back and forth, inspiring one another. Fujii's "The Thaw" brings out the group's more lyrical side, but they still mix sonic abstractions into their melodic improvising. "I hope to keep this project going and see how it grows in future," Fujii says. "For musicians, getting good collaborators means a lot. It is like getting the best friends in life."
Orins and Pruvost are both members of the musicians' collective, Muzzix, based in Lille, France. They are involved together in several project of this collective, such as Circum Grand Orchestra, La Pieuvre, Impression, … and both develop their solo work, Christian Pruvost released his first solo recording in 2010, Ipteravox.

Peter Orins rencontre Satoko Fujii et Natsuki Tamura en 2002, alors qu'il invite à la malterie à Lille le quartet de la pianiste. Ils ont alors l'occasion d'entendre le projet du batteur, Impression, et très vite des liens se créent entre le batteur et la pianiste, une envie de musique, tant les connexions sont évidentes.
Avril 2010, Peter Orins invite enfin les 2 musiciens japonais dans le cadre du festival Muzzix, avec pour quatrième compagnon le trompettiste Christian Pruvost. Naît alors une musique libre et sans limite, où les propositions musicales de chacun (écrites ou non) provoquent une alchimie instantanée. Au jeu explosif et gracieux de Satoko Fujii répond une batterie rock, usant du contrepoint et du contraste, tandis que les deux trompettistes, tous deux possédés d'une imagination antique et d'une curiosité insatiable autour de leur instrument, se complètent et se fondent joyeusement.
Quelques mois après cette création, les musiciens se rencontrent à nouveau pour jouer en Allemagne et en Pologne, notamment pour un concert à Cracovie, dans le cadre du bicentenaire de la naissance de Chopin. C'est à cette occasion que Natsuki Tamura compose Noise Chopin, et Satoko Fujii Blast, deux hommages appuyés au compositeur, et c'est ce concert qu'on retrouve sur ce disque.
Satoko Fujii est une pianiste japonaise prolifique : multipliant les big band (à Tokyo, New York ou Nagoya), elle dirige également plusieurs formations, dont plusieurs quartet et projets avec Natsuki Tamura (Four avec Mark Dresser et Jim Black, Quartet avec notamment Tatsuya Yoshida des Ruins, Min-Yoh Ensemble avec Curtis Hasselbring et Andrea Parkins…). Natsuki Tamura, outre ces projets, mène également son propre quartet, Gato Libre.
Christian Pruvost et Peter Orins sont tous deux membres du collectif lillois Muzzix, issu du Crime et de Circum. Ils participent ensemble à de nombreux projets de ce collectif (Circum Grand Orchestra, La Pieuvre, Impression, Signal Box, …), et ont tous deux un projet solo, Christian Pruvost ayant sorti en 2010 son premier opus, Ipteravox, sur le label Helix/Circum-Disc.
---
See also :

---