GARBOWSKI – CRUZ QUARTET
RASHOMON EFFECT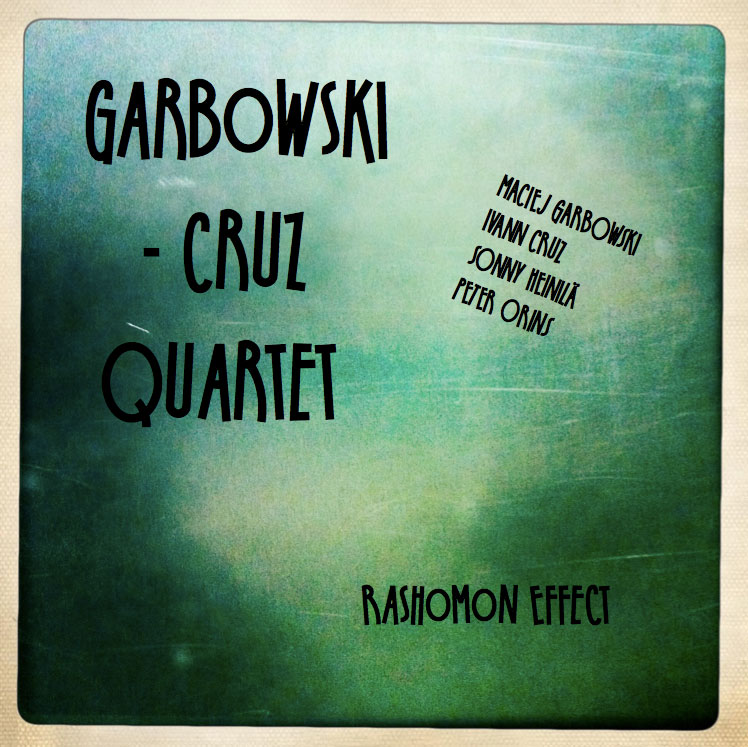 BUY / ACHETER
1 CD Cristal Box 12 tracks / 55'27" Downloads included

5.00 €

FLAC / Lossless 1 Zip file / 306 Mo

5.00 €

mp3 / 320 Kbps CBR 1 Zip file / 121 Mo

5.00 €
Ivann Cruz and Maciej Garbowski meet in 2010 in the JazzPlaysEurope project.
In response ot this first meeting, the two musicians decide to form a new project : they surround themselves with Peter Orins (Lille) on drums and Kari Heinilä on saxophones and flutes. They decide to compose the music together and in two steps, in the manner of a correspondence, by games of distorted quotes, of extensions and deconstructions.
The project combines the different musical universe of the musicians, with aesthetic from jazz to rock, through improvised music and contemporary of traditional music.
Ivann Cruz and Peter Orins are both members of the Muzzix collective. Maciej Garbowski, bass player from Katowice in Poland, is the founder of the RGG trio, and plays regularly with Maciej Obara, Terje Rypdal, Jon Fält, … He's part of the Take Five Europe operation in 2012. Kari Heinilä is a finnish sax and flute player, member of the UMO Orchestra since 1987, and founder of chamber music ensemble Alberto.

Ivann Cruz et Maciej Garbowski se rencontrent en 2010 au cours du projet JazzPlaysEurope.
Pour donner suite à cette première rencontre, les deux musiciens décident de former un nouveau projet où chacun propose un musicien à l'autre. Ils s'entourent de Peter Orins (Lille) à la batterie et Kari Heinilä (Finlande) aux saxophones et flûtes. Ils décident de composer la musique à quatre mains et en deux temps, à la manière d'une correspondance, par des jeux de citations déformées, de prolongements et de déconstructions.
Le projet mêle les différents univers musicaux des musiciens, avec des esthétiques allant du jazz au rock, en passant par les musiques improvisées et la musique contemporaine ou traditionnelle.
Ivann Cruz et Peter Orins sont tous deux membres du collectif Muzzix. Maciej Garbowski, contrebassiste originaire de Katowice en Pologne, est membre fondateur du trio RGG, et se produit notamment avec Maciej Obara, Terje Rypdal, Jon Fält, … Il participe notamment à l'opération Take Five Europe en 2012. Kari Heinilä est un saxophoniste et flûtiste finlandais, membre depuis 1987 de l'orchestre UMO, et fondateur de l'ensemble de musique de chambre Alberto.

Recorded at Studio Ka in Faches Thumesnil (F) by Patrice Kubiak on March 21 and 22 2012. Mixed and mastered by Jan Smoczynski at Tokarnia (Nieporet, Poland).



Produced by IMP and Circum-Disc
---